Article by Daniel Tessier
After the success of a series set in the Elizabethan era, Richard Curtis and Ben Elton moved to an equally visually striking but less well-known period. Blackadder the Third saw the saga move over two centuries ahead to the Georgian Regency, when England was under the rule of the legendarily mad King George III, and his notoriously gluttonous and vain son, the future George IV, acted as Prince Regent. After the sprawling opening series The Black Adder and the comparatively tight Blackadder II , the third series saw the central cast reduced even further, with only four cast members appearing in all six episodes.
As always, Rowan Atkinson was the star of the show, but the Blackadder dynasty had continued its descent, with the latest holder of the name no longer a nobleman at all. Mr. E. Blackadder, Esq. is a mere butler to the Prince, although he seems blessed with the most cunning and intelligence of all the Adders Black. As a servant with far more intellect than his master, Blackadder exists in a state of continual frustration and is frequently subjected to humiliation by his master, whom he views with utter contempt. Still, working for the Prince guarantees bed, board and access to cash, particularly when said Prince is unable to keep an eye on his saleable belongings, and is stupid enough to think the point of cards is to lose all your money. An episode typically sees the Prince fall victim to the latest fad, to the irritation of Blackadder, who nonetheless comes up with a clever ruse to turn the situation to his advantage and make a fat wad of cash.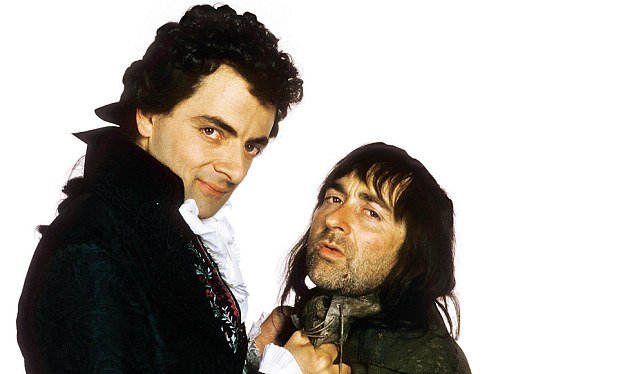 Where there's a Blackadder, there's a Baldrick, and Tony Robinson is naturally present. With Blackadder now reduced to the status of butler, Baldrick has to sink even lower, and is now officially a "butler's dogsbody," an absolute nothing. Frequently the butt of Blackadder's frustrations, Baldrick is "last in life's great pecking order... unless there's an earwig around here." This Baldrick seems a little brighter than his Elizabethan ancestor, but he's still not exactly what we'd call sharp, and has taken his predecessor's interest in turnips to a new level, now having an absolute mania for them.The relationship between Blackadder and Baldrick is a little more complex, too. Now that they're closer in station, Blackadder truly resents Baldrick, who in turn is more than willing to fling a few insults at his master. Yet there seems to be some affection between them, too, and they frequently refer to each other as "Balders" and "Mr. B." Also, while Blackadder is scarcely referred to as Edmund, we do learn Baldrick's first name at last: it's Sod Off.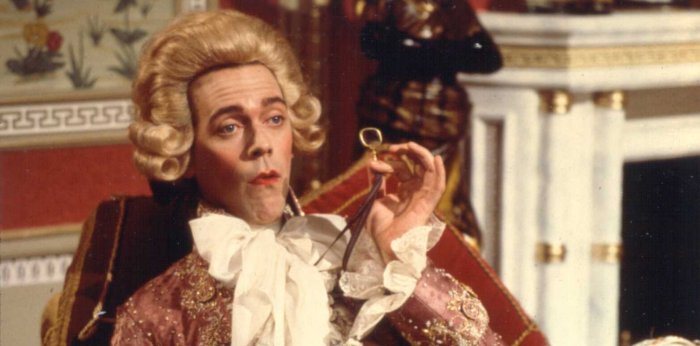 The third core character is, of course, Prince George himself, an absolute tour de force performance by Hugh Laurie. Still a few years off A Bit of Fry and Laurie and Jeeves and Wooster , Prince George was Laurie's first big solo role, and he's often the funniest thing in any given episode. The Prince was, in reality, scorned by his ministers and hated by his public, who despised his extravagant way of life, his reckless spending and his general irresponsibility. In one of the funniest jokes of the series, Prince George is consistently referred to as fat by everyone from Blackadder to Pitt the Younger, in spite of being portrayed by the relatively svelte Laurie. Prince George is also portrayed as being stupider even than Baldrick, and is easily taken in by Blackadder's cleverness.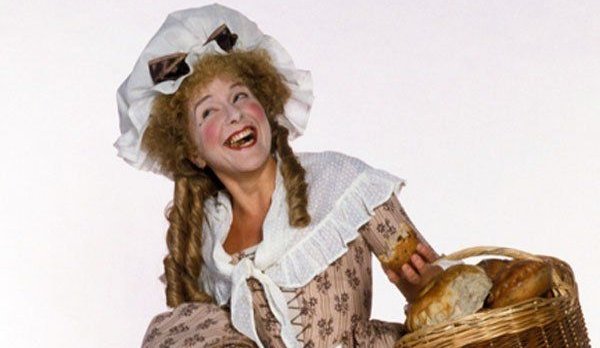 The fourth regular role was that of Mrs Miggins, whose oft-mentioned but never seen ancestor ran a pie shop in Blackadder II . Helen Atkinson-Wood, who had become good friends with both Ben Elton and Rowan Atkinson early in her career, takes this minor role and makes it unforgettable. Mrs Miggins is a raucous coffeeshop owner, each episode seeing her swept up in whatever fad the Prince is backing, but utterly devoted to Blackadder, in spite of his contempt for her (and, indeed, pretty much everyone). Although Mrs Miggins is very much a side character to the central three, Blackadder the Third wouldn't be the same without her. The series has only three main locations: the Prince's chambers, the servants' quarters, and Mrs Miggins's coffeehouse, the latter being a place Blackadder can interact with various characters away from the Prince.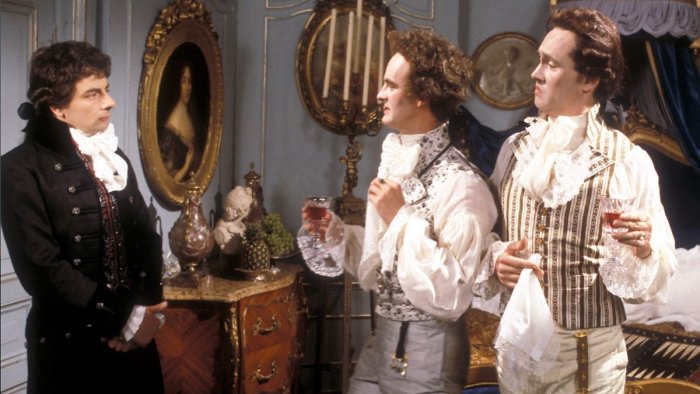 In spite of the tendency for actors to recur throughout the Blackadder saga, none of the regulars beyond Blackadder and Baldrick were carried over to the third series. However, with the exception of Patsy Byrne, they all made memorable guest roles. Tim McInnerny, wary of being typecast, declined to carry on as a new incarnation of Lord Percy, whose role as aristocratic idiot was taken on by Prince George. McInnerny appears in the third episode as Lord Topper ( aka le Comte de Frou-Frou, aka the Scarlet Pimpernel), showing his range far better than Percy ever let him. Former Queenie Miranda Richardson has a memorable guest role as Miss Amy Hardwood ( aka the Shadow) in the fifth episode, who seduces then betrays Blackadder. However, the most unforgettable guest performance has to be Stephen Fry's turn as the Duke of Wellington in the series sixth and final episode. A bellowing, violent lunatic, Wellington gives Fry the chance to meet his comedy partner Laurie and repeatedly beat him round the head for a long joke. Fry would play the Duke again for the special Blackadder Back and Forth some years later, as well as in the 2000 film Sabotage!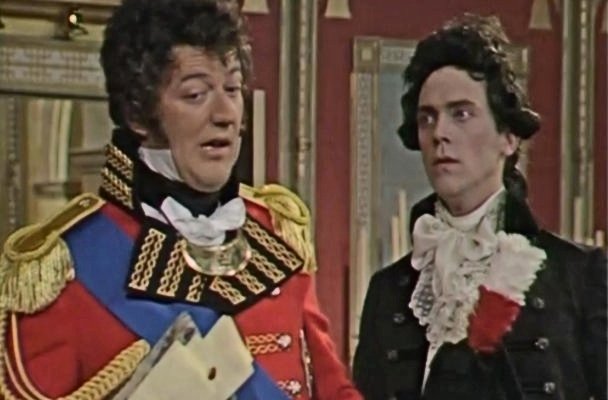 The series featured many other notable actors in special guest roles. Robbie Coltrane, not yet a superstar and still some years off his big hit Cracker, but already making a career as a film actor, had a memorable turn as Dr. Samuel Johnson, putting more invective into the word "sausage" than anyone before or since. Round the Horne star Hugh Paddick and Carry On regular Kenneth Connor appeared as two ridiculously hammy actors hired to assist the Prince with his elocution. Both Nigel Planer (already recognisable for The Young Ones and The Comic Strip Presents... ) and Chris Barrie (a year before the broadcast of Red Dwarf) appeared alongside McInnerny in Revolutionary France (with Barrie the only cast member capable of a recognisably French accent). Warren Clarke, already notable for film appearances including A Clockwork Orange but some years away from his TV hit Dalziel and Pascoe, appears as the blunt Northern industrialist father of Miranda Richardson's character.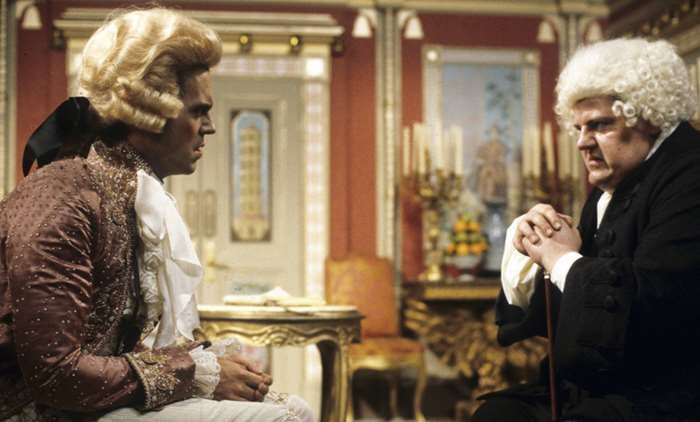 Each episode was given a punning title that played on the style of the works of Jane Austen (according to Blackadder, "a huge Yorkshireman with a beard like a rhododendron bush"). " Dish and Dishonesty" sees Blackadder attempt to nobble an election, up against increasingly younger William Pitts. Vincent Hanna, then a recognisable face from coverage of countless by-elections, appeared as his own great-great-grandfather. The episode also featured the "Standing at the Back Dressed Stupidly and Looking Stupid" Party, who, while a pastiche of the Monster Raving Loony Party, actually wear the colours of UKIP.
"Ink and Incapability " revolves around Baldrick accidentally incinerating Johnson's first dictionary, and Blackadder having to write a new copy overnight, lest he be murdered by Byron, Shelley and Coleridge. " Nob and Nobility" is an instalment in England's long hatred of the French, featuring revolting revolutionaries, foppish aristocrats and some rampant xenophobia from Blackadder. " Sense and Senility" revolves around the theatre and judicious use of the unlucky word "Macbeth!" " Amy and Amiability" has one of the better titles, although it was mistakenly listed in the Radio Times under its even better working title, "Cape and Capability." Naturally, this episode involves Blackadder becoming a highwayman to try to raise some money, after the Prince fails to marry into fortune and secure his butler's comfortable way of life.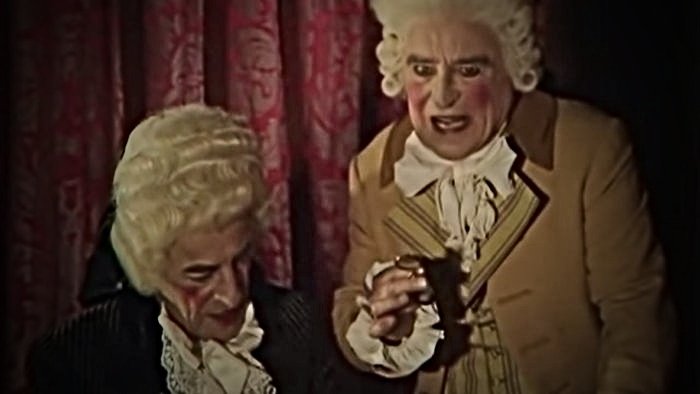 The final episode of the series, "Duel and Duality" (absolutely the cleverest title) sees the Duke of Wellington vow to kill the Prince for "soiling" his two nieces. Blackadder concocts an ingenious scheme whereby he and the Prince swap identities, in order that Blackadder will fight the duel instead. However, it will actually be Blackadder's psychopathic Scottish cousin MacAdder (Atkinson under a huge orange wig and affecting a ridiculous Highland accent) who fights the duel... if all goes according to plan. With all the switching around and last minute escapes from death, Blackadder the Third remains the only series that Blackadder unequivocally survives.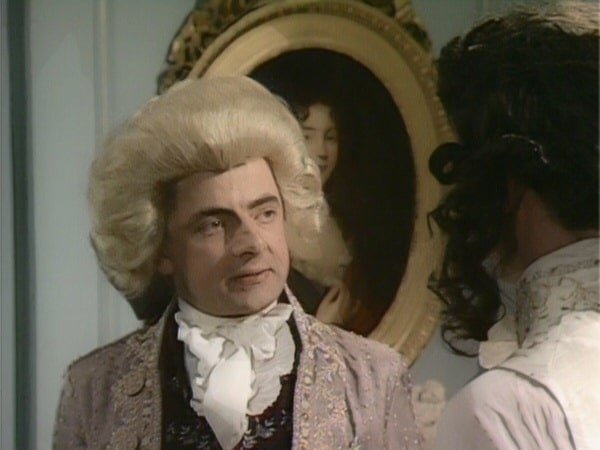 While Elton and Curtis clearly know their history, their approach to historical accuracy has never been particularly stringent. Quite rightly, the jokes come first and historical correctness second. Blackadder the Third, though, is gleefully anachronistic, with no care for whether characters and situations could coincide. Dr. Johnson, for example, died decades before the Regency began, and the French Revolution was also over by the time Prince George took his place as Regent. These are some of the more glaring errors, but there were many more, but for most viewers, the 18th and early 19th centuries are interchangeable, and the only reason you'll like jokes about Prince George's beach hut is if you live within shouting distance of Brighton Pavilion. The entire setting is really an excuse for some truly opulent sets and costumes. Unsurprisingly, the series was nominated for a design award at the 1988 BAFTAs, along with a nomination for best make-up and one for Atkinson as "Best Light Entertainment Performance." The series won "Best Comedy Series" at those awards.
The series would have a strong legacy in the Blackadder saga, with the setting revisited in 1988's time-hopping Christmas Special Blackadder's Christmas Carol. That same year, Blackadder and Baldrick, seemingly in their Regency incarnations, appeared on sketches for BBC Radio 4's Woman's Hour , showing women how tough life was in the past. While Atkinson-Wood did not reappear in any Blackadder productions, Hugh Laurie remained a regular, appearing as a new iteration of George in the following series Blackadder Goes Forth and having a role in every special episode of the programme. In its own right, Blackadder the Third boasts some of the funniest material of the entire saga, with Elton and Curtis perfecting Blackadder's style of acerbic wit, devastating put-downs and elaborate metaphors. While the Regency might not be the most immediately recognisable period for the British public, setting a sitcom in the era was a very cunning plan.
About the Writer of this article, Daniel Tessier 
Dan describes himself as a geek. Skinny white guy. Older than he looks. Younger than he feels. Reads, watches, plays and writes. Has been compared to the third, fourth, fifth, sixth, seventh, eighth, tenth, eleventh and twelfth Doctors, and the Dream Lord. Plus Dr. Smith from 'Lost in Space.' He has also had a short story published in Master Pieces: Misadventures in Space and Time a charity anthology about the renegade Time Lord.
Dan's web page can be here: Immaterial
Published on October 2nd, 2020. Written by Daniel Tessier for Television Heaven.