The Comic Strip Presents
1982 | United Kingdom
Review: John Winterson Richards
British stand up comedy was traditionally a variety act, filling the time between singers or strippers or whatever, until the 1979 opening of the Comedy Store, a London venue dedicated specifically to comic performance, which became the birthplace of "alternative comedy" in the UK. The definition of "alternative" in this context is a matter of debate, but the "alternative" comedians in early 1980s Britain had two defining characteristics.
First, they were resolutely political, by which they always, without question, meant left wing, contrasting themselves with "traditional" comics, whom they dubbed "right wing," even if most were apolitical or at least prepared to tailor their material to whoever was paying them for the gig that night.
The second difference was that they did not confine themselves simply to telling jokes like the "traditional" stand ups. They were prepared to experiment on stage with a range of performance styles, including physical comedy, monologue, imitation, farce, improvisation, and surrealism. When the experiments worked, it was exciting and energetic. When they did not, it was a vindication of the critics who said it was certainly "alternative" - an alternative to laughs.
In 1980, an ultra-talented group led by Peter Richardson left the Comedy Store to do their own show at the Raymond Revuebar, a sleazy strip club somewhat at odds with the feminist principles of "alternative comedy." No doubt it was some form of irony. Perhaps to give some gender balance they recruited Dawn French and Jennifer Saunders to the central cadre of Richardson, Rik Mayall, Adrian Edmondson, Nigel Planer, and Alexei Sayle. This was the beginning of the Comic Strip.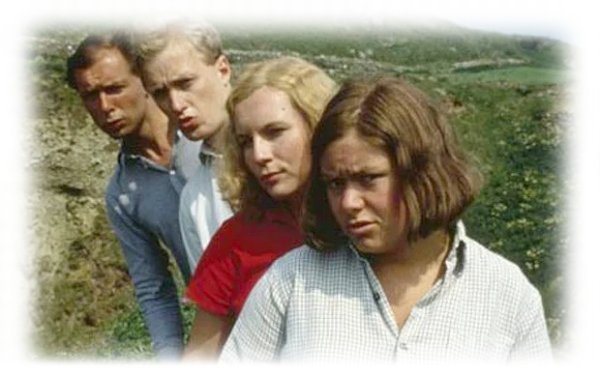 It was a fairly informal grouping. Over the years, most of the members were very busy doing other things as well and its individual projects usually involved some but not all. In their absences, the group was joined by other leading names from the "alternative comedy" circuit, as well as more mainstream, even "traditional" figures. The combined cast list of all their projects now reads almost like a 'Who's Who' of 1980s British comedy.
For the embarrassing fact is that these Anti-Establishment rebels were, like their counterparts in the early 1960s, welcomed into the Establishment almost immediately. Contracts rained down on our young heroes, especially from the BBC and the incipient Channel 4.
So while Mayall, Edmondson, Planer, and Sayle went off to do The Young Onesfor the Beeb, Richardson closed a deal with Channel 4 - it is said that he was originally intended for the role of Mike in 'The Young Ones' which went eventually to Christopher Ryan: It is strange that Richardson, the driving force of the group and in many ways the most talented, has been the only one never to get his own major series or a regular leading role in one. Instead, with his somewhat mysterious writing partner, the late Pete Richens, he did become principal writer of most of the 42 free standing episodes on different channels, and later four feature films, all produced under the label The Comic Strip Presents...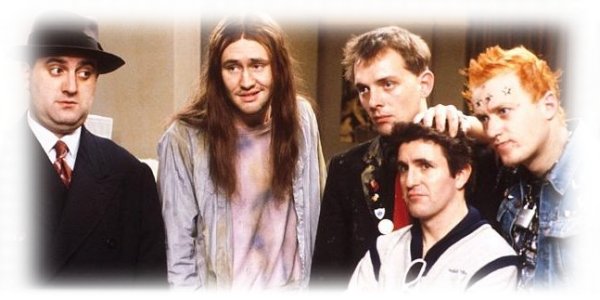 That Channel 4 commission was the best possible start for both parties. The new channel's whole strategy was to be seen as "different," deliberately on the edge and slightly subversive. A series of free standing "situation comedies" in the "alternative" style was just what they needed. The best of them, 'Five Go Mad in Dorset,' was shown on its opening night and it was one of the shows that helped to define the Channel 4 image for years to come.
It was a vicious but very funny satire on Enid Blyton's much loved 'Famous Five' series of children's books. These are the epitome of all the traditional "middle class" values that angry "alternative comedy" is supposed to be against. That said, like all the best satire, it is distinguished by a perceptive eye for detail in its target. Someone involved in 'Five Go Mad in Dorset' obviously must have read a lot of 'Famous Five' at one point.
Indeed, if one really has to put class labels on things - there is no reason why we should, but 'Comic Strip' itself seems fascinated by the subject - then "alternative comedy" in general is very much a "middle class" exercise if ever there was one.
By the time they got to 'Five Go Mad in Dorset,' most of the "alternative" comedians who had started out as stand up performers also had some substantial experience as actors. This enabled them to keep commendably straight faces throughout, which added greatly to the satirical impact. That level of discipline was not achieved in all the projects that followed.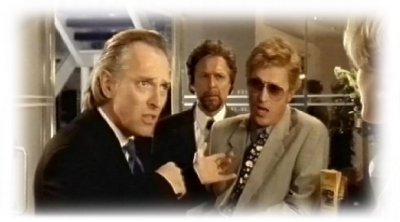 This review is only an overview of the whole enterprise. A number of the individual free standing episodes and "specials" are worthy of separate reviews of their own. Others are not. The experimental nature of "alternative comedy" ensured that there were more failures than successes. Yet even the failures were usually interesting failures, and the successes were classics - or would have been if the show had a more consistent reputation for quality.
One undoubted success that was recognised - winning the Golden Rose of Montreux in 1988 - was 'The Strike,' one of the best satires of Hollywood ever made outside Hollywood.
It is the story of Paul, a former Welsh miner - Sayle, in his finest hour as an actor - whose filmscript about the 1984 Miners' Strike is optioned by a big American producer, played by Robbie Coltrane, a regular 'Comic Strip' collaborator. Paul seems to envisage a Ken Loach style political drama, but is slowly forced, nudged, and coaxed into compromise after compromise until the movie becomes a stereotypical "blockbuster" unconnected with any historical reality.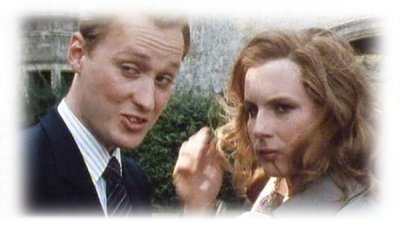 While it is a sharply observed satire on the state of American and British cinema in the 1980s, it extends its satire beyond that. Given the original politics of "alternative comedy," it is surprising how it also takes accurate aim at the Left and at how it portrays its opponents in films.
This self-satire is taken up a notch in 'GLC: the Carnage Continues,' an unofficial sequel to 'The Strike' based on a casual joke made towards its end. A free standing episode for the BBC in 1990, 'GLC' purports to be a complete Hollywood movie, with Coltrane as Charles Bronson as Ken Livingstone. Before the final gun battle when Saunders as Brigitte Nielsen as Margaret Thatcher stormed County Hall - an event more conventional history tends to ignore - Coltrane/Bronson/Livingstone offers assault rifles to a bunch of the "alternative" comedians playing themselves. All make their excuses and slip away.
Many a true word is spoken in jest. By that point, the "alternative" comedians were getting less political - and , indeed, less alternative. The mainstream beckoned. Mayall was already playing a Conservative MP in The New Statesman - an evil one, of course, but too over the top to be able to claim he was undermining by satire. French was soon to go on to play a Vicar in what is arguably the most "middle class" comedy ever made, while Saunders was to eviscerate the metropolitan Left in Absolutely Fabulous.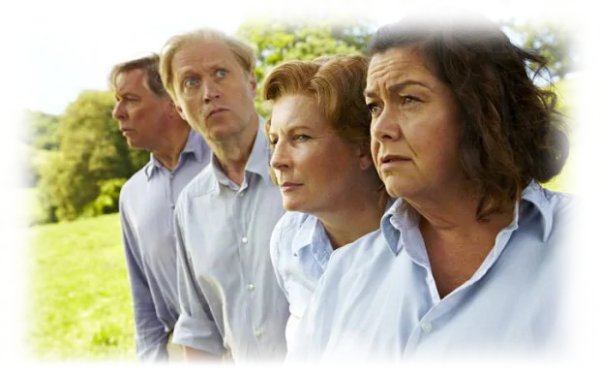 The 1980s were the glory days of "alternative comedy" and the Comic Strip. Both staggered on in different forms since then, but the truth was that they needed something against which they could push. Margaret Thatcher, or rather the Thatcher Years, gave them that. When she went, they had nothing left - except the knowledge that she had not been brought down by their comedy but by her own party, and that she had still won most of the battles that mattered. This is reflected in 'Red Nose of Courage,'the most openly political Comic Strip Presents, broadcast on the night of the 1992 General Election: it seems to be a lament for the politics of conflict at a time when centrist consensus was again becoming fashionable.
The best Comic Strip episodes are satirical. They also made some memorable farces, such as 'Mr Jolly Lives Next Door,' but these are not to everyone's taste. It is on their satires that the Comic Strip deserve to be judged, and the best of them have aged better than any other aspect of "alternative comedy."
This satire is not necessarily political. To give a parallel example, the best of the Comic Strip feature films, 'The Supergrass,'is a satire on crime thrillers that works well because it is structured very effectively as a straight crime thriller. It is a pity their subsequent outings to the cinema did not learn from this success instead of lapsing into absurdity.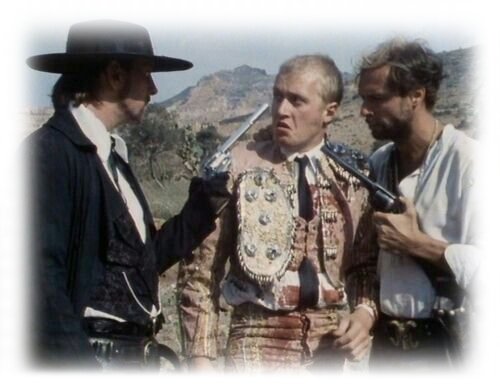 The best of all their television satires is arguably 'A Fistful of Travellers' Cheques,' an affectionate tribute to Spaghetti Westerns which was filmed on location in Andalusia, where many of them were made. As with 'Five Go Mad in Dorset' and 'The Strike,'Richardson shows he has an easy familiarity with his subject matter. It may have been a genre close to his heart since he returned to it in 'GLC' when he played Lee Van Cleef as Tony Benn.
For the final irony of "alternative comedy" is that the angry young men - and, occasionally, women - of the early 1980s were at their best not when they ranted about what they hated but when they wrote about what they loved.
John Winterson Richards
John Winterson Richards is the author of the 'Xenophobe's Guide to the Welsh' and the 'Bluffer's Guide to Small Business,' both of which have been reprinted more than twenty times in English and translated into several other languages. He was editor of the latest Bluffer's Guide to Management and, as a freelance writer, has had over 500 commissioned articles published.
He is also the author of 'How to Build Your Own Pyramid: A Practical Guide to Organisational Structures' and co-author of 'The Context of Christ: the History and Politics of Rome and Judea, 100 BC - 33 AD,' as well as the author of several novels under the name Charles Cromwell, all of which can be downloaded from Amazon. John has also written over 80 reviews for Television Heaven.
John's Website can be found at John Winterson Richards
Books by John Winterson Richards:
Published on June 29th, 2020. Written by John Winterson Richards for Television Heaven.