The Young Ones
1982 | United Kingdom
Review: Brian Slade
'Once In Every Lifetime…' were the lyrics, given a punk variation on the Cliff Richard hit, that signalled the opening of a BBC show that rocked situation comedy to its core. Rebellious teenagers up and down the country glued themselves to their television sets in the 1980s to witness total anarchy on their screens, a defiant gesture to Thatcher's Britain, as University students Rick, Neil, Mike and Vyvyan brought us a comedy programme the like of which does indeed only come along once in every lifetime – The Young Ones.
Up until 1982, situation comedy had largely held a certain level of class definition and age. The idea that a sitcom could be aimed at teenagers had never really been explored, but when Ben Elton was brought in to expand on ideas already in place by Rik Mayall and Lise Mayer, the result was ground-breaking. Elton himself had been host at The Comedy Store when opportunity came knocking. A university graduate just a few years before, with his biting left-wing satire Elton was the perfect combination of rebellion and rage to take on the challenge of moulding The Young Ones into television gold.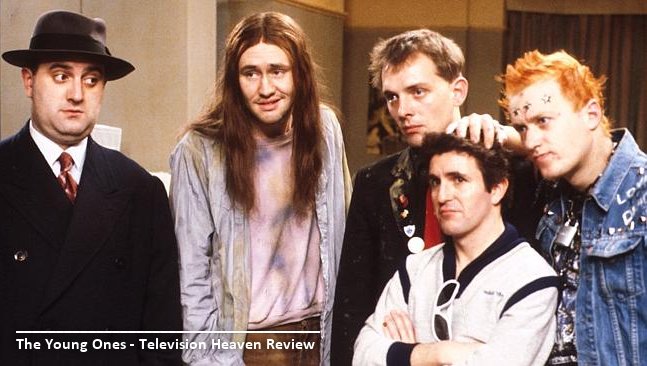 The show centred upon four undergraduates, who appeared to have no interest in their university life, and their surreal antics sharing a house together that they rented from the evil Jerzei, played in a mock-Russian manner by Alexei Sayle, along with a number of other characters all members of the Balowski family to which Jerzei belonged.
The tenants in the run-down home that appeared fit only for demolition are an eclectic bunch of misfits who seem to have as little time for one another as they do for their university. Rik Mayall portrays Rick. Partly rebellious, of the four he is the one most keen to fit in and hang on to creature comforts, but he wants to be seen to be rebelling against everything Margaret Thatcher stands for. For the most part, Rick comes up against Vyvyan Basterd, played with relish by Adrian Edmondson. Vyvyan is an explosive character in every way possible. Studying medicine, his appearance is that of the stereotypical anarchist punk rocker, with spiked hair and studs through various body parts, and his solution to most challenges involves random acts of violence.

At the opposite end of the violence spectrum is Neil, played by Nigel Planer. Neil is a fearful hippy, and the occasions on which Rick and Vyvyan do agree on things tend to be when they involve rounding on their peace-loving housemate. And finally, standing largely aside while chaos ensues, is Mike, played by Christopher Ryan. He maintains a cool demeanour that draws out a level of loyalty and respect from the other housemates that places him very much as the leader of the house.
The Young Oneswas a brash, anarchic, noise-making sitcom from the off. While there were underlying stories to each episode, there was no running theme to connect them beyond four students living in rebellious poverty. The episodes themselves included musical interludes from bands that mysteriously set up in one of the rooms of the house, and they had plenty of surreal cutaways, none more so than when Vyvyan stuck his head out of a train window to see exactly why you shouldn't stick your head out of a train window. With his head promptly severed, Vyvyan's head lies on the track from where it hurls abuse at his body stumbling around trying to be reunited!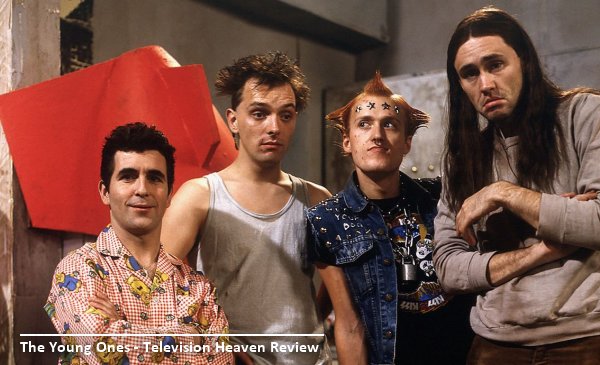 The formula for the programme understandably remained the same throughout the twelve episodes that were spread across two series. Neil is the undoubted victim in the house, held onto primarily because none of the others are prepared to do any chores. Neil is frequently frustrated at the lack of appreciation for his efforts, and his naivety when praise does come his way only serves to have him sucked into actually doing even more unappreciated work.
The particular highlight of the two series is undoubtedly the gang's trip to be on University Challenge. Representing Scumbag College, they are pitted against the kind of opposition that they loathe – the well-off Thatcher products at the opposite end of the wealth spectrum. This quartet, representing Footlights College, Oxbridge, are played by other up-and-coming comics of the time in Stephen Fry, Hugh Laurie and Emma Thompson, along with writer Ben Elton.
The Young Onesheralded a new kind of sitcom, and as with the cosier light entertainment offerings at the time, existing mainstream comedies were now fair game. The stars of the alternative comedy movement were very much on their way to taking over the screens for the coming years. The symbolism was never better displayed than when the opening credits of The Good Life were played, only to have Vyvyan burst through the projection to announce his utter hatred of the programme and its stars for being so nice. There follows a heated debate between the four main characters and Neil's on-screen parents about one of leading ladies of The Good Life, Felicity 'Treacle' Kendal as she is referred to here, before a policeman enters and floors Rick with a kitchen chair.
The Young Oneseventually brought the curtain down on its characters in typically surreal fashion. After robbing a bank, the quartet make a getaway in a stolen double-decker bus, which Vyvyan then drives through a giant billboard of Cliff Richard and over a cliff edge. The final scene sums up the show succinctly. With a stash of cash under their arm, Rick remains as conflicted as ever. 'Who needs qualifications? Who cares about Thatcher and unemployment?' he cries. The cause is gone now that they have the money to do whatever they want, albeit he still refers to his bizarre circle of friends as, 'crazy, mad, wild-eyed, big-bottomed anarchists.'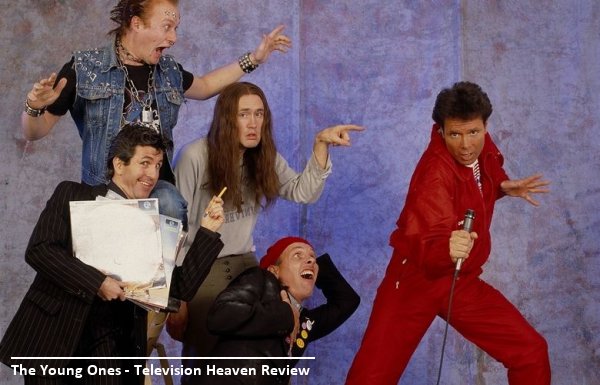 When it was first aired, The Young Ones inevitably ruffled feathers and the fact that the BBC aired it within days of the launch of new hard-hitting Channel Four cannot have been coincidence, although the show seemed very out of place with the Corporation. It did however pick up on the spirit at the time in the more rebellious younger generation. It's for that reason that it shouldn't work looking at it nearly 40 years later. However, it's a testament to the quality of the writing and the impact that the show made that it does still remain extremely funny. Bottomand Filthy Rich and Catflapwere the spawns from The Young Onesand the stars, both central and peripheral, went on to have massive comedy careers. So whether you find the programme still funny, or simply enjoy it as a nostalgic reminder of the kind of show that your parents wouldn't let you watch, there's no doubting that in many ways The Young Ones is the hugely entertaining birthplace of many of the comedy writers and performers we have been watching ever since.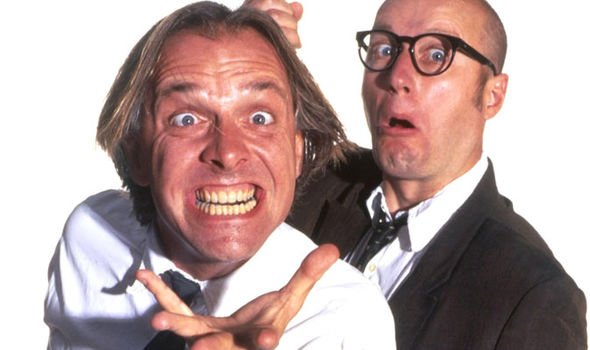 Brian Slade
Born and raised in Dorset, Brian turned his back on a twenty-five-year career in IT in order to satisfy his writing passions. After success with magazine articles and smaller biographical pieces, he published his first full-length work, `Simon Cadell: The Authorised Biography'.
Brian is a devoted fan of the comedy stars of yesteryear, citing Eric Morecambe, Ken Dodd, Harpo Marx and Dudley Moore amongst his personal favourites. He was drawn to the story of Simon Cadell through not only `Hi-de-hi!' but also `Life Without George', a programme he identified with having grown up in the Thatcher era. 
Published on June 22nd, 2020. Written by Brian Slade for Television Heaven.