Duty Free
1984 | United Kingdom
Review: Brian Slade
When people think of a television comedy that throws misbehaving Brits in with sun, sea and sangria, it's inevitable that they will think of Benidorm. However, long before Madge and her Garvey family were feuding at the Solana, ITV had already had a surprise holiday hit that achieved significant ratings success while leaving critics non-plussed. Eric Chappell, writer of hits like Rising Damp and Only When I Laugh had given us Duty Free with writing partner Jean Warr.
In the 1980s, while Channel Four was busy ruffling establishment feathers with controversial comedy or importing American ratings-winners, the BBC and ITV had sitcom land all to themselves. While most people deem Auntie Beeb to be the winner of the shows around at the time, once in a while the commercial opposition would find an unexpected ratings winner – and so it proved to be with the much-maligned Duty Free.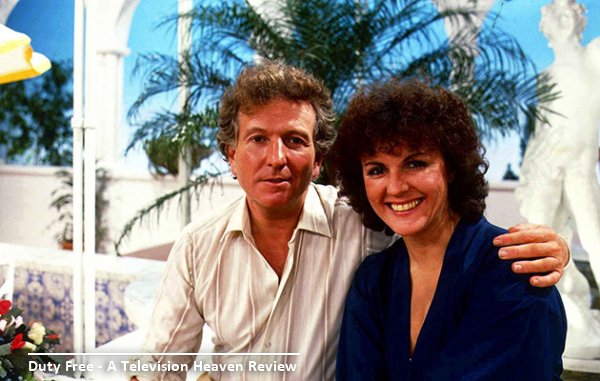 The programme centres upon two couples with very different marital issues, who meet while on holiday in Marbella. David and Amy Pearce have been married for some years but the spark appears to have gone from their relationship. They hope that a holiday paid for by David's redundancy may help. David, played in wonderful embarrassing-Dad style by the inimitable Keith Baron, finds himself chasing after Linda Cochran (Joanna Van Gyseghem). David's marriage to Amy is stale, and he clearly feels somewhat emancipated by Amy, Gwen Taylor delivering her put-down judgements on her husband's failings with gusto.
Linda's own marital problems stem from the fact that her husband Robert (Neil Stacy) is largely oblivious to her and more interested in making sure that his social standing remains steadfast in true English hierarchical form. The pair are a well-to-do couple from Henley-on-Thames, but Linda feels starved of attention.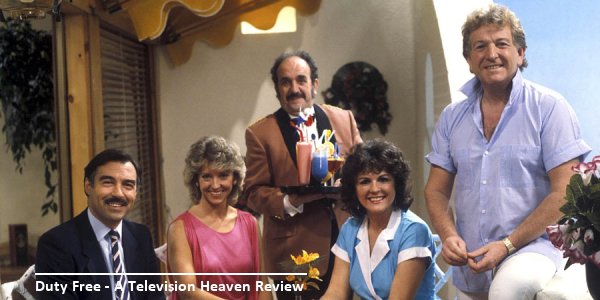 From the moment they check in at their hotel, David is attempting to rise above his own working class background. Masking his limited travel history and poor quality luggage, he and Amy run into Linda in the hotel lobby. After agreeing to meet her and her husband for dinner, David is immediately on the charm offensive, including stretching the truth about his travel experience and his career. It's here that we first meet Robert, a man unimpressed by travel outside of the UK and always unhappy to meet foreigners, being particularly wary of what the Germans think. He spends his time picking holes in the catering, the environment and the locals and considers the only thing worth looking forward to on his break be the end of the holiday.
By day two of the holiday David is full of a new zest for exploring his new surroundings, based on the advice of Linda, who gets more attention from David than she does from her own spouse. Amy is already uncomfortable at the new relationship between her husband and the woman she swiftly calls 'the vampire.' David is dismissing his plans with Amy in preference to plans with Linda, which prompts constant putdowns from Amy – literally in one case as Amy swiftly bundles Linda into the hotel fountain.
The show falls into a familiar pattern. Secret assignations between David and Linda are frequently thwarted. David is forever trying to play the suave, sophisticated traveller and attempting to satisfy Linda's passions, while Linda is just grateful for the attention of somebody who appears to appreciate her. Robert remains oblivious to everything going on between the pair, obsessed as he is with the failings of the foreign clientele. David's continual tall stories of his worldly-wise life are bubbles swiftly burst by Amy, who herself poisons Linda's mind with fictitious tales of David's failing health and inadequacies.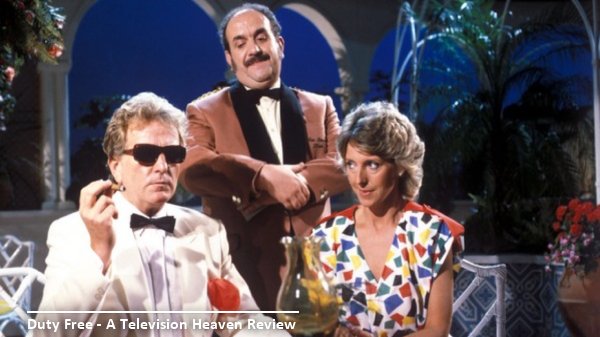 To stretch the story across its 22 episodes, guest stars were thrown in. A particular highlight was the appearance of Judith Chalmers, battling to film an episode of popular travel magazine show Wish You Were Here, while Fraser Hines appears as a rather flirty and egotistical incarnation of himself. And a frequent highlight was the comedic bafflement of Carlos, a waiter frequently witnessing the confusing and self-destructive battles between the Cochrans and the Pearces.
Keith Baron had been largely retired from acting when Duty Free became available to him, but he swiftly ditched his restaurant business to take the part of David, so impressed was he by the script. Chappell and Warr had come up with the idea as a next step for a stage play Chappell had written called We're Strangers Here, which Warr felt worth expanding on for television. Critics however despised it, but the more they panned it, the more Baron's faith in the show became justified, hitting as many as 18 million viewers at its peak.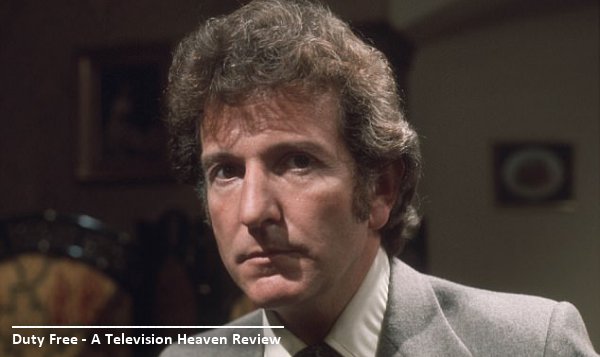 The doubters liked neither the premise nor the scripts, but it mattered not. Fans loved it and that was what kept it on the screens for three series and a Christmas special. In a nod to its predecessor, Keith Baron guest starred in an episode of Benidormas the town's mayor, mocking the local fiestas and bureaucratic red tape in a brief but affectionate homage to the show that had gone before it twenty years previous. Unlike Benidorm, Duty Free was filmed on a television set, with no location filming until its Christmas Special finale in 1986, showing the stage show roots from which it grew. That allowed it the luxury of returning to the stage in 2014, evidencing the affection of the British public for the programme.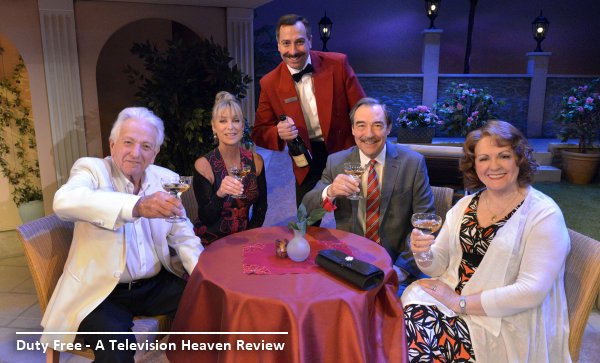 It's fair to say that Duty Free will not be on many people's lips when asked for the names of some classic comedy. But equally, it's wrong to jump on the bandwagon with the critics of the time and criticise it alongside so much of commercial television's comedy output at that time. Its core story is nothing more than two members of two couples flirting excessively while trying to escape the trappings of their own lives. It's harmless, better written than newspaper archives would have you believe, and above all, Duty Free is a nostalgic and enjoyable piece of holiday escapism.
Brian Slade
Born and raised in Dorset, Brian turned his back on a twenty-five-year career in IT in order to satisfy his writing passions. After success with magazine articles and smaller biographical pieces, he published his first full-length work, `Simon Cadell: The Authorised Biography'.
Brian is a devoted fan of the comedy stars of yesteryear, citing Eric Morecambe, Ken Dodd, Harpo Marx and Dudley Moore amongst his personal favourites. He was drawn to the story of Simon Cadell through not only `Hi-de-hi!' but also `Life Without George', a programme he identified with having grown up in the Thatcher era. 
Published on June 15th, 2020. Written by Brian Slade for Television Heaven.