Miami Vice
1984 | United States
Miami Vice was a result of a two-word memo sent to former Hill Street Blues writer and producer Anthony Yerkovich, by NBC boss Brandon Tartikoff. The memo simply read; "MTV Cops". 
What Tartikoff wanted was fast moving action, video-style editing and effects, plenty of glitz, high fashion and a throbbing rock music sountrack. What he got - was exactly that! The series launched two relative unknown actors into starring roles, as two Miami vice cops patrolling the sleazy drug-infested back streets of a seemingly glamorous resort city. 
Don Johnson was cast as Sonny Crockett, the rough-edged former football star with a failed marriage behind him. He lived alone on a boat called St Vitus Dance which was guarded by his pet alligator, Elvis. His partner, Ricardo Tubbs was played by Philip Michael Thomas. Tubbs' story was that he had arrived from New York in search of the Columbian drug dealer who had murdered his brother - then decided to stay and transferred from being an NYPD street cop to a Miami detective. 
Produced by Michael Mann, the series followed a strict colour-co-ordinated code of lime green and hot neon pink with pastels for daytime interiors and deep blue and purple for nightime skylines - no earth colours were allowed as director Bobby Roth later recalled: "There are certain colours you are not allowed to shoot, such as red and brown. If the script says 'A Mercedes pulls up here,' the car people will show you three or four different Mercedes. One will be white, one will be black, one will be silver. You will not get a red or brown one. Michael knows how things are going to look on camera." In fact, some street corners of South Beach, where location filming took place, were so run down that the production crew actually decided to repaint the exterior walls of some buildings before filming.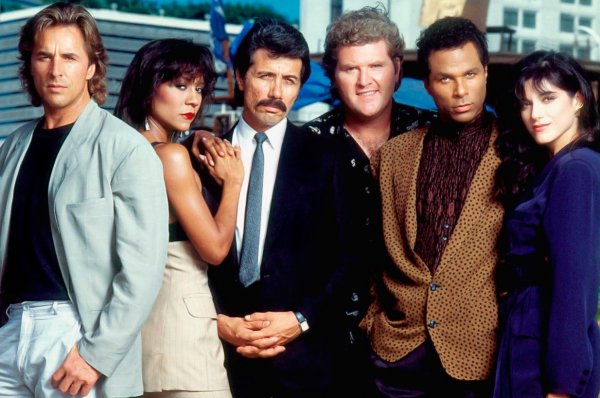 Clothing was also of paramount importance and the stars were dressed in the most expensive Armani suits and fashion designers such as Vittorio Ricci, Gianni Versace, and Hugo Boss were consulted to keep them looking trendy. On average each actor would wear up to five different outfits in each episode and each outfit would adhere to the serie's colour code of pink, blue, green, peach, fuchsia and other "approved" colours. Italian men's fashion was popularised in the USA and even Crockett's perpetually unshaven appearance sparked a trend around the world in "designer stubble". Cars also had a great significance in 'Miami Vice', most notably the Ferrari Daytona and Testarossa in the first two seasons. The choice of music and cinematography borrowed heavily from the emerging New Wave culture of the 1980s, with a pulsating theme tune written by Jan Hammer, and background tracks from some of the superstar popstars of the day such as Tina Turner, Lionel Ritchie, the Pointer Sisters, Meatloaf, Brian Adams, Depeche Mode, Frankie Goes to Hollywood and The Rolling Stones. There were also guest appearances from Little Richard, James Brown, Phil Collins and Ted Nugent, to name but a few. Celebrities were lining up for cameo appearances.
Miami Vice was a smash hit with viewers and earned the series an amazing 15 Emmy nominations in its first season (1985), winning Outstanding Lead Actor in a Drama Series (Don Johnson), Outstanding Supporting Actor in a Drama Series (Edward James Olmos), Outstanding Film Sound Editing for a Series, Outstanding Cinematography for a Series and Outstanding Art Direction for a Series. Jan Hammer also won two Grammy Awards in that same year and the series also won the People's Choice Award for New TV Dramatic Programme. The series is still regarded today as a popular culture icon that heavily reflected the 1980s and it is argued that it influenced future generations of cop shows such as Homicide: Life on the Street, NYPD Blue, and Law & Order. 
The show also had a lasting impact on Miami itself and sparked a revitalization of the South Beach district of Miami Beach. But the cost of the show eventually took its toll. Mann was reportedly spending $1.2 million per episode. And after season two the show began to rapidly slip down the ratings until by season 5 (1988-89), with audiences falling, NBC programmed it against Dallas. The ranchers and oil barons of South Fork proved to be too hot for the cops of Miami and 'Vice' was shot down to 53rd place before Johnson and Thomas were asked to hand in their badges. A 2006 big-budget movie, also directed by Michael Mann, starred Colin Farrell and Jamie Foxx. The movie was reportedly suggested to Mann by Foxx at the launch party for 'Ali'. And while the big screen version wasn't met with approval by all the critics it still took a box office of $163.8 million worldwide.
Published on January 4th, 2019. Written by Laurence Marcus (28 July 2008) for Television Heaven.