The Sheriff of Cochise
1956 | United States
Despite its title which suggested that this was yet another run-of-the-mill US TV Western, The Sheriff of Cochise was actually a contemporary police drama set in Cochise County, Arizona – a town that had all the modern methods of 1950s law enforcement, such as they were, including a car radio which would ensure rapid responses, helicopters for search & rescue, and roadblocks – the modern way to 'head 'em off at the pass.' Rather than ride around on a horse, no-nonsense lawman Sheriff Frank Morgan (John Bromfield) drove around in a '58 Chrysler station wagon. The series was less of a comparison to Gunsmoke and more to another contemporary crime drama, Highway Patrol.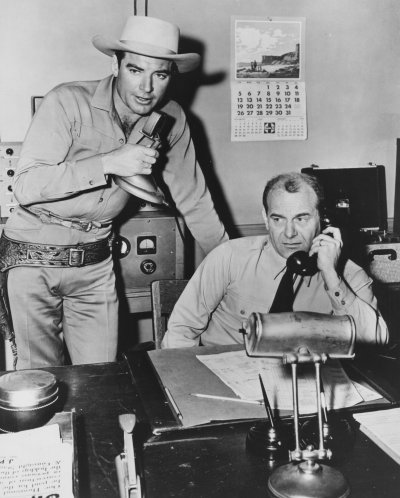 Like Matt Dillon, Frank Morgan had his very own deputy, and an important one at that. Composer, songwriter and actor Stan Jones as Deputy Harry Olson was the co-creator of the series (along with Mort Briskin) and wrote a number of the episodes. He was also the writer of the popular western-styled song Ghost Riders in the Sky. Jones got the idea to create the series as he lived in nearby Douglas and wanted to promote and bring filming to the area in order to boost the local economy. As it transpired, some filming was done in Pima and Cochise Counties, but in the main it was shot around the Iverson Ranch, Chatsworth, Los Angeles.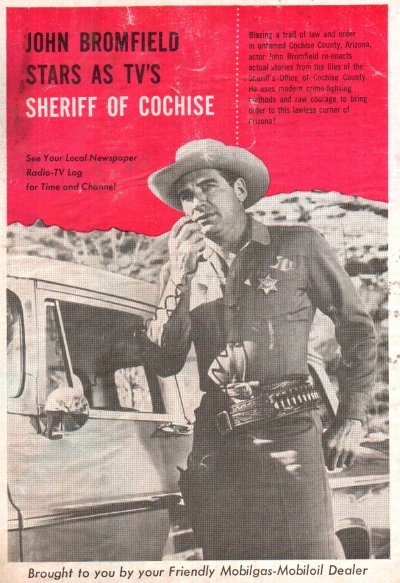 The action-packed half hour series, which was allegedly based on actual files from the Cochise County's Sheriff's Office, co-produced and syndicated by Desilu Productions and NTA (National Telefilm Associates) ran for two seasons and 78 episodes between September 1956 and December 1957 and looked destined for a third series when Desi Arnaz (the Desi part of Desilu), called Bromfield into his office and told him it was time for Frank Morgan to be promoted. In order to make a seamless transition into the new series, which was to be called U.S. Marshall, the 78th episode of 'Cochise' has Sheriff Morgan deliver two witnesses to a Marshall in Tucson who is then gunned down when his prisoners try to escape. At the end of the episode Morgan is convinced to take the murdered man's vacant position.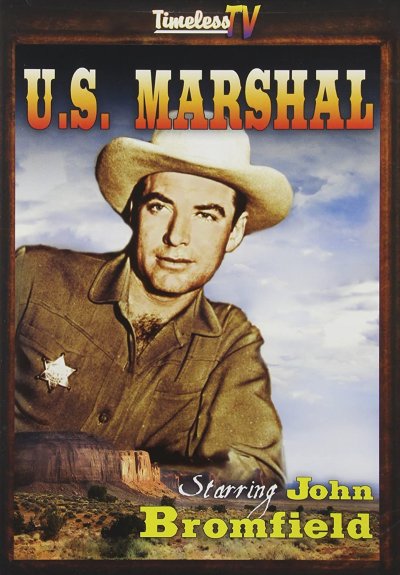 Bromfield was the only survivor from the original series as the spin-off was given a whole new cast. Deputies came and went in quick succession; Deputy Blake was played by Robert Brubaker and Deputy Buck Johnson was played by Buck Young – both left at the end of the first of the two-seasons run but survived longer than others – actor Dennis Moore, in what may have been something of an identity crisis, appeared in five episodes playing four different deputies and actor Richard Norris played different characters in four episodes – yup, all of them deputies. Modern methods these officers may have had, but this was clearly several decades before facial recognition. In the final season the producers settled on one deputy, the ever-ravenous Tom Ferguson, played by the prolific character actor James Griffith, whose career spanned from 1948 to 1984 and took in some 230 film and TV (mostly TV) productions.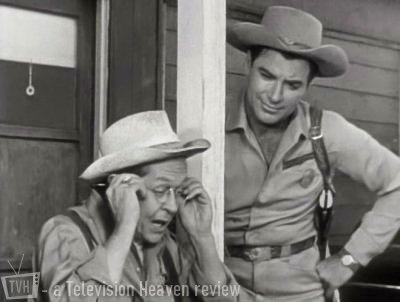 The spin-off boasted some famous or on-the-way to be famous names both behind the camera and in front of it. Robert Altman directed 16 episodes and Robert Horton, Lee Van Cleef, Dan Blocker, David Janssen, Michael Landon, Stacy Keach, Charles Bronson, Jack Lord, and Doug McClure all put in appearances.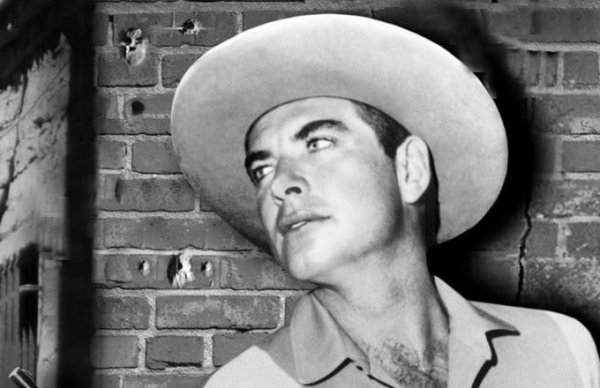 Following the second season of U.S. Marshall, Frank Morgan rode – or rather drove off into the sunset, as did John Bromfield. Finding the life of an actor an unfulfilling existence, Bromfield abruptly retired from the profession in 1960 to become a commercial fisherman, only resurfacing in the 1980s as an emcee at Chicago's annual Sportsman's Show. Born Farron McClain Bromfield in 1922 Bromfield was a tuna fisherman when he was 'discovered' by an agent and spent most of the 1940s and 1950s as a 'B' movie star before becoming a leading man in 1955. But it was his own choice not to pursue his career any further after U.S. Marshall finished. He passed away at the age of 83-years in September 2005.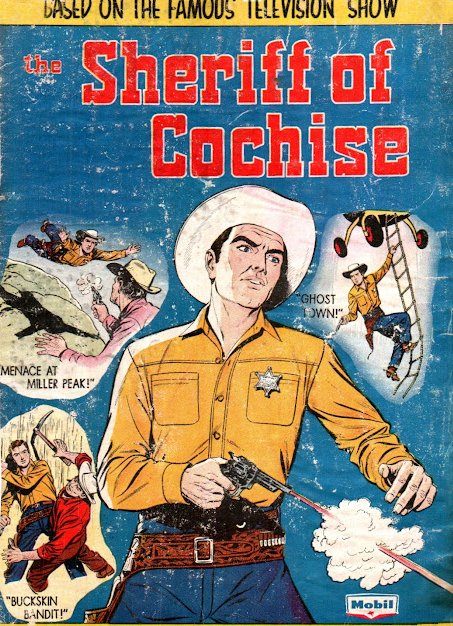 A low budget series which boasted (for its time) some violent action scenes, sharp edgy scripts, fine performances and a host of now familiar faces, both The Sheriff of Cochise and U.S. Marshal episodes were shown in reruns for a number of years in the US. During these reruns both series were combined and rebranded under the title Man from Cochise.
Published on September 30th, 2021. Written by Laurence Marcus for Television Heaven.