Outside Edge
1994 | United Kingdom
Comedienne and actress Josie Lawrence teamed up with Timothy Spall as Kevin and Maggie Costello in this award-winning series. She's larger than life, wears big red glasses, get-'em-off clothes and a bright gash of lipstick, he's short, chunky and a whiz at whipping up a gourmet meal. Their bohemian lovenest is in need of repair and so is their battered Renault 4, but it doesn't matter as they are crazy about each other and make love wherever the mood takes them! 
As different as chalk and cheese are Mim and Roger Dervish (Brenda Blethyn and Robert Daws). Once a leading light in the operatic society, Mim's got a good face and figure but dresses in an ordinary way. Husband Roger drives a Volvo, reads the Daily Telegraph and is captain of the local cricket club. He eats, drinks and sleeps the game...and even dreams about it too!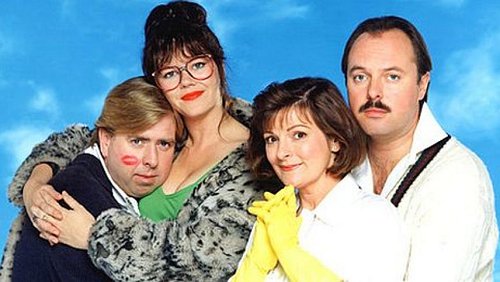 The village cricket team is the catalyst that brings these two odd couples together in a bitter-sweet comedy that's as sharp on the pitch as it is off. Against the backdrop of a never-ending summer, a close friendship blossoms between the two women. Under Maggie's outgoing influence, prim and proper Mim discovers an independent streak that's been stifled too long by Roger and the shock waves are set to reverberate around cosy suburbia as the two couples are thrust together in a chain of events guaranteed to set the net curtains twitching. For Mim and Roger things will never be the same again. 
The series won the British Comedy Award for best drama in 1995 and 1996 and won it's creator/writer Richard Harris a Writer's Guild of Great Britain award for best situaiton comedy in 1994. Brenda Blethyn won a British Comedy award for Best Actress in 1994 and both Josie Lawrence and Robert Daws were nominated for Best Actress and Actor (respectively) in 1995. 
Outside Edge started life as a play by Richard Harris which opened at the Hampstead Theatre in London on 24 July 1979. The original cast featured Julia McKenzie and Maureen Lipman and a 1982 one-off TV production starred Lipman and Prunella Scales with Paul Eddington and Jonathan Lynn playing the male characters.
Published on January 17th, 2019. Written by Laurence Marcus for Television Heaven.