Mess Mates
1960 | United Kingdom
When his ambition to skipper an ocean-going liner is scuppered, Captain Biskett (Archie Duncan) has to make do with a small and battered cargo ship, SS Guernsey, plying around Britain's coast. Thus was the setting for Carry On writer Talbot Rothwell's 1960 sitcom for Granada Television. 
To add further to Biskett's frustration he discovers that he is in charge of a crew of veritable misfits led by the Mate, 'Tug' Nelson (Victor Maddern), a work-shy Cockney schemer who has the gift-of-the-gab and an eye for a dodgy deal. Also aboard is 'Blarney' Finnigan (Dermott Kelly), an Irishman with a story for every occasion, 'Croaker' Jones (Sam Kydd), one of life's eternal worriers and happy-go-lucky Scotsman Wille McGinniss (Fulton Mackay).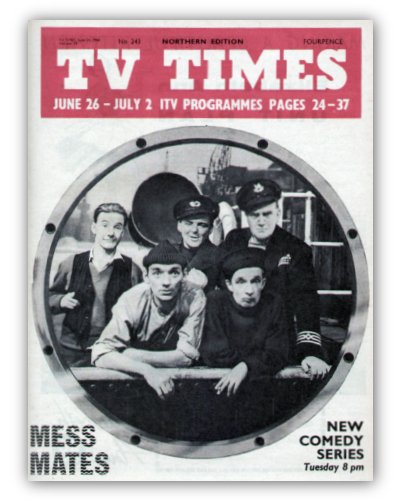 The seagoing adventures of 'The Old Cow' as the crew (un)affectionately referred to 'The Guernsey', sailed for one series before returning the following year under the steam of a new vessel, 'The Jersey Lilly'. Along with a new craft for the second cruise there were also a number of personnel changes with many of the original crew jumping ship. Only Biskett and Jones remained whilst new shipmates were 'Dapper' Drake (Ronald Hines), 'Twinkle' Martin (Michael Balfour) and 'Fry-Up' Dodds (Frank Atkinson). Oddly enough Mess Mates appeared at the same time as a co-US/UK series about a rusting old steamship, Glencannon. Viewers bewildered as to why ITV would run two series along the same vein at the same time (sometimes even on the same night), would have been even further confused as the latter series was made on location at Elstree Studios, and as a consequence featured many British artists among the cast.
Published on January 4th, 2019. Written by Laurence Marcus (9 June 2004) for Television Heaven.