Marjorie and Men
1985 | United Kingdom
Patricia Routledge in her first starring comedy role as Marjorie Belton who, despite a bitter and hurtful divorce, is still hoping to find the type of romance one would only come across in a Mills and Boon novel.
In the midst of all this Marjorie also has to contend with her overbearing mother, Alice Tripp (played by Patricia Hayes) who seems to have taken it upon herself to find the perfect match for her daughter.
Two of the constant characters in the series are her work colleagues at the bank where she is a clerk: Henry Bartlett, the under-manager who has a crush on Marjorie and fellow clerk Sid Parkin with whom she enjoys a flirty relationship. However, because Sid is married and Marjorie has a strict code of conduct nothing develops further than the flirting.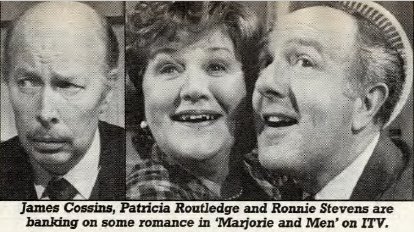 Outside working hours Marjorie encounters a diverse selection of eligible men. But Marjorie has an ideal man in mind and it's whether or not each possible match meets up to that vision. At a singles bar, a frequent haunt of Marjorie's, she encounters greengrocer George Banthorpe (Timothy West). She is immediately taken by his kindness but quickly discovers that his first love is - vegetables! In fact, he talks of nothing else. And so Marjorie moves on. Other possible Mr Rights include Norton Phillips (George Baker) who she meets at a dancing class that her mother has convinced her to go to, Frank Aston (John Quayle), a biker who is a plausible match but who turns out to be quite heartless, and other possible suitors who don't quite make the grade in one way or another.
What could have been a run-of-the-mill sitcom is raised several levels by excellent performances from an exceptionally talented and experienced cast of regular characters and weekly guests. Patricia Routledge was still a few years away from becoming one of British television's most famous sitcom characters of all time in Roy Clarke's Keeping Up Appearances, but had enjoyed a prolific theatre career which had already won her a Tony Award before coming to prominence on television in 1982 in Alan Bennett's A Woman of No Importance.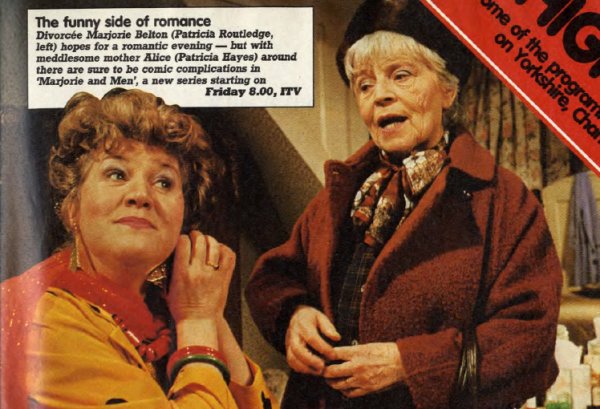 Patricia Hayes, a character actress who had a wealth of experience in comedy and drama managed to give Marjorie's overbearing mother, a character that could be scheming and manipulative, a sharp wit, an even sharper tongue and a sparkle in her eyes. Timothy West, playing a character who is a crashing bore, uses his wealth of experience to elevate that character by brilliantly avoiding the obvious.  
In the end we never found out if Marjorie was successful in landing the man of her dreams because only a single series was made by Anglia, who had only ventured into the world of sitcom once before with Backs to the Land. 
Published on June 28th, 2020. Written by Laurence Marcus for Television Heaven.