Benidorm
2007 | United Kingdom
Review: Brian Slade
If a pitch for a new comedy show offered an opening scene shot of Johnny Vegas piling an entire fried egg into his mouth, it wouldn't necessarily scream 'comedy awards.' However, from just such an early scene, Derren Litten's creation of Benidorm became an instant hit, and despite swipes from the critics, it continued to gain popularity as it went through ten series, still winning a TV Choice Award for best comedy when the sun went down on the ensemble poolside piece in 2018.
The premise for Benidorm was a simple one. It merely followed a selection of characters on their holiday at an all-inclusive hotel in Benidorm called the Solana. Of course, each selection of characters had their own troubles back home that they were escaping from. The central family, the Garvey's, were on a break paid for by the venomous matriarch Madge, much to the disdain of her son-in-law Mick, who was set to find himself in hot water having made false claims for disability benefit at home. The interplay between Sheila Reid's Madge and Steve Pemberton's Mick give rise to much of the fun, ably supported by Mick's wife Janice, played by Siobhan Finneran, and their two troubled children.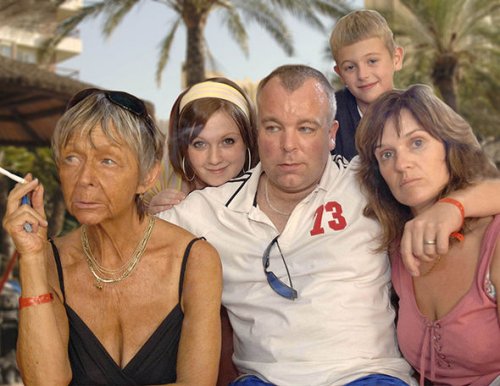 Regular supporting characters were ageing swingers Donald and Jacqueline Stewart, mother and son Noreen and Geoff Maltby, feuding married couple Martin and Kate Weedon, and gay couple Gavin and Troy. The show followed the ups and downs of the week's holiday, all held together by hotel manager Janey and sleazy barman Matteo.
The Stewarts carried much of the best comedy, and the performances of comic veterans Kenny Ireland and Janine Duvitski were a joy. Unsurprisingly, as characters came and went throughout the ten series, the Stewarts remained throughout until Ireland's sad passing, leaving Jacqueline Stewart to holiday solo for the remainder of the run. The Stewarts carried the least amount of conflict in the show, veterans as they were at the Solana, and it was a wise move from Litten to keep a healthy dose of positivity among the chaos of some of the other feuding characters.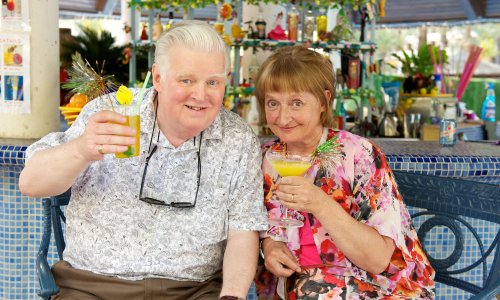 Johnny Vegas as Geoff, a socially awkward pub quiz champion, was a joy as he tried to keep up the façade of his mother actually being his PA. Meanwhile the arguing couples were primarily trying to save their failed relationships during their time on the show, both having one of the pair repulsed by such a place as the Solana.
Benidorm worked from the outset. Somehow, arguing couples, venomous put-downs and embarrassing situations managed to create a warmth around the central characters. Their unlikely return at the same time to the same hotel the following year during series two was rightly never justified, and the addition of a love interest for Madge in the form of Mel Harvey (Geoffrey Hutchings) only added to the programme's appeal. A one-hour special in which a number of the main characters were held at gun point at the top of the hotel however, allowed the premise of a free compensatory stay to generate a third series.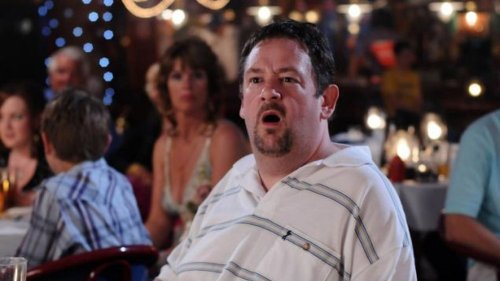 By series three the format for the show had expanded to a full hour timeslot and the closing episode of the series seemed to wrap things up nicely. Martin, now without Kate, meeting a kindred spirit at the airport, Madge and Mel remaining in Benidorm to take up the running of an entertainment venue, The Benidorm Palace, Gavin and Troy successfully welcoming Troy's teenage son to the family fold, and Geoff planning a future with the Garveys' daughter Chantelle.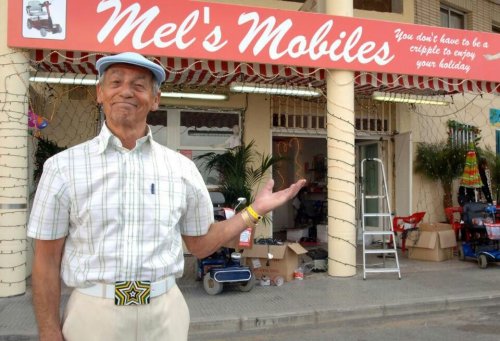 The Christmas special after series three was dealt a huge blow. Geoffrey Hutchings suddenly passed away. The future storylines had been built heavily around Mel's business empire, and so a hasty change of direction saw the special deal with Mel's death in a tasteful and heartfelt manner, an approach that held over into series four as Madge attempted to find a new path in life.
As the Benidorm juggernaut rolled on, guest stars would queue up to appear. Cilla Black, Robin Askwith, Su Pollard, Joan Collins, Shane Ritchie, Keith Baron, Hale and Pace…the list went on as viewers lapped up their helpings of fun in the sun. Characters became more outrageous – cross-dressing bar staff Lesley (Tim Healy) and the flamboyant Kenneth (Tony Maudsley) were added and formed a focal point for many of the subsequent storylines.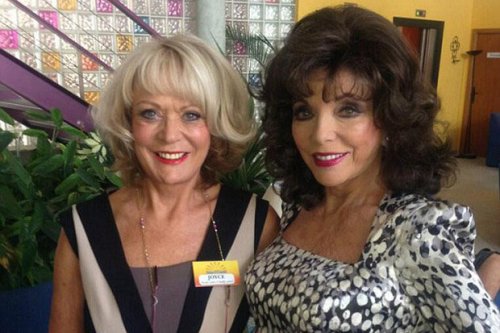 By the end of series ten, most of the original characters had left the show, at least temporarily. One of the most difficult aspects in later series was maintaining the warmth, and while some of the replacement families and dynamics worked on a comedic level, they weren't as easy to warm to. Only Duvitski and Jake Canuso's Matteo maintained a presence throughout the show's entire run.
With the programme still gaining awards and high viewing figures, ITV surprised the cast and crew by not renewing Benidorm in 2018. It was a strange decision given the show was losing nothing in viewership.
Benidorm did exactly what it set out to do. Usually aired in the heart of British winter, it demanded little from its audience other than to chuckle at the kind of family feuding that we have all seen somewhere on holiday, while warming us with its familiar settings and comforting characters. It's perhaps a programme that goes on the 'guilty pleasure' list, but there's no doubt that for 74 episodes, Benidorm brought a very welcome level of sunshine into living rooms across the country.
About Brian Slade
Born and raised in Dorset, Brian Slade turned his back on a twenty-five-year career in IT in order to satisfy his writing passions. After success with magazine articles and smaller biographical pieces, he published his first full-length work, `Simon Cadell: The Authorised Biography'.
Brian is a devoted fan of the comedy stars of yesteryear, citing Eric Morecambe, Ken Dodd, Harpo Marx and Dudley Moore amongst his personal favourites. He was drawn to the story of Simon Cadell through not only `Hi-de-hi!' but also `Life Without George', a programme he identified with having grown up in the Thatcher era.
Published on February 5th, 2020. Written by Laurence Marcus for Television Heaven.