The Best Of...Red Dwarf - Queeg
By Daniel Tessier
Red Dwarf is the most successful science fiction sitcom in the world, with seventy-four episodes broadcast over the course of the last thirty-two years. The very best episode of Red Dwarf is, of course, hotly debated by fans, but common favourites include the time-twisting " Backwards" in Series III, the hallucinatory " Back to Reality" in Series V and the western parody " Gunmen of the Apocalypse " in Series VI. Some of the very finest, though, were from its earliest days, particularly the second series, when creators Rob Grant and Doug Naylor perfected the balance of sci-fi and character-based comedy for the programme. Produced and directed by Ed Bye, Series II is when Red Dwarf became something great.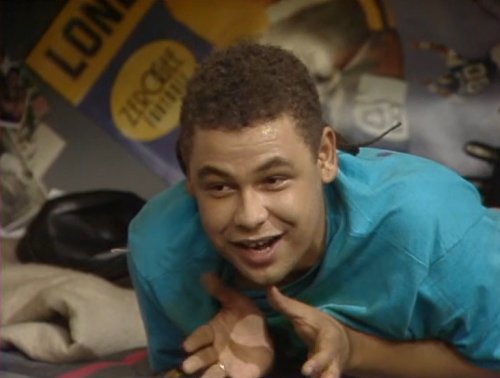 For me, the very best episode of Red Dwarf is "Queeg," the penultimate episode of 1988's Series II. So far, the episodes had revolved around Lister (Craig Charles) and Rimmer (Chris Barrie), and to a much lesser extent, the Cat (Danny John-Jules). " Queeg," on the other hand, is all about Holly, the ship's computer. Played with deadpan skill by Norman Lovett, Holly, was an essential part of the series in the early days, introducing each episode with a quick recap of the concept for new viewers and a quick joke to get things underway. Once with an alleged IQ of 6000, Holly had deteriorated over the millions of years he spent alone. Now, suffering from "computer senility," Holly was well past his use-by date. He'd come to the end of his contract and Red Dwarf needed to update its operating system.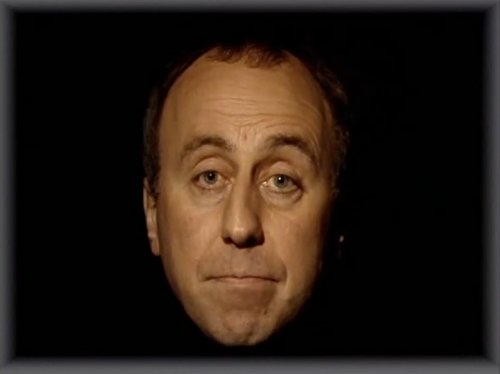 The episode starts with the Dwarfers relaxing in the sleeping quarters (with the entirety of a six-mile long spaceship to themselves, the three blokes do spend a lot of time on top of each other). Rimmer is losing a game of draughts against a skutter, one of the simple-minded service robots that clutter about the ship. He has only one possible move left and will immediately lose, so he's prevaricating until the skutter goes back on shift and will win by default. This is how man is better than machine, says Rimmer, setting up a bit of a theme for the episode (and forgetting that he's technically a machine as well, being a hologram).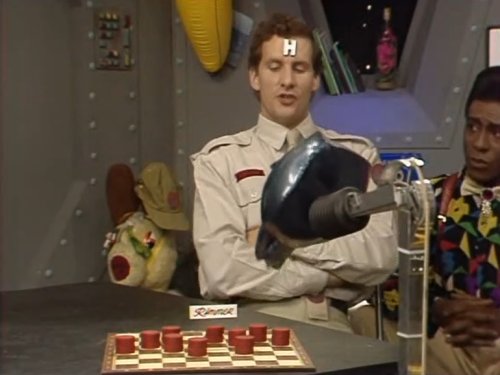 Then a meteoroid hits the ship, which Holly forgot to mention. Red Dwarf is in chaos, the damage report machine's been damaged, and Rimmer falls apart, quite literally, as the hologram simulation suite has been struck. There's nothing for it but to head to the suite to repair it, while Rimmer runs around echoing the other characters (an opportunity for Barrie to show off his brilliant skills as an impressionist – his Craig Charles is spot-on). Following Holly's instructions leads Lister blasted with electricity and thrown across the room. Charles liked to do his own stunts, so it's him flying over the console – he would often say that, as a Scouser, he could be dropped on his head without any problem.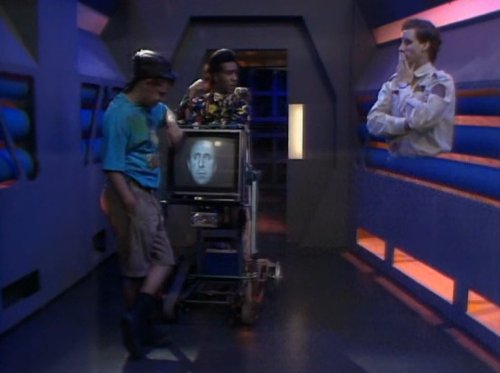 The Dwarfers have been complaining about how eccentric and unreliable Holly has been getting, but this reckless endangerment is something else. It automatically activates Red Dwarf's back-up computer: Queeg 500. A tough, no-nonsense machine, Queeg is played by Charles Augins, appearing as a floating head in the same way Holly normally appears. Augins was a dancer, first and foremost, and had acted as John-Jules's instructor and mentor. They had also worked together on the 1986 film Labyrinth (in choreography and voicing the disturbing Fiery puppets). Augins had been brought on to choreograph the "Tongue Tied" musical number for the final episode of the series at John-Jules's recommendation, but the producer and writers were so impressed that they cast him in the guest star role for the preceding episode. Augins must made an absolutely terrifying dance instructor – the man is easily the most intimidating individual ever to appear on the series.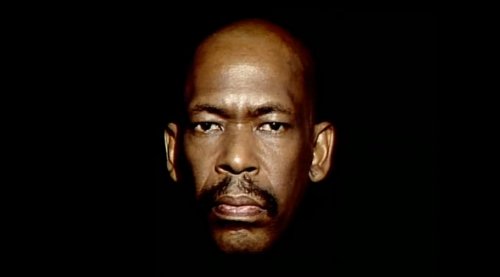 Queeg (named for Captain Queeg from The Caine Mutiny) quickly turns the Dwarfers against Holly, slandering him with claims that he's been flying the ship in circles for eighteen months, and that he gets his information from The Junior Colour Encyclopedia of Space. ("That's a load of Tottenham, that is!" cries Holly. "That's a steaming pile of Hotspur!") Holly is demoted to night watchman (on a mobile monitor), and Queeg takes over the ship. To begin with, life on Red Dwarf seems better under Queeg: the fire extinguishers work, the skutters are on form, and the ship actually seems to be working correctly. It's not long before he starts making life miserable, though. Lister and the Cat are forced to work to earn their meals, and when they do get fed, Queeg trolls them expertly (a pea on toast for Lister). It's worse for Rimmer, who's woken up at the crack of dawn and has his body commandeered to go on cross-ship runs.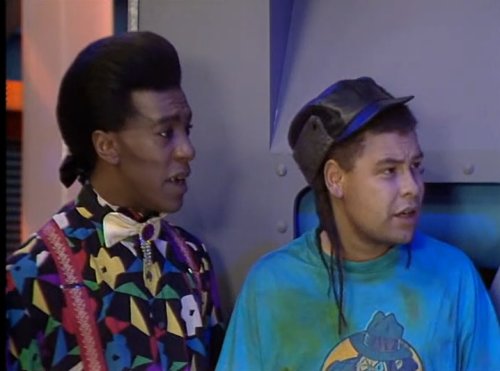 Queeg's reign of terror leaves the Dwarfers regretful, and Lister in particular feels guilty for betraying Holly. He tries to tell an unconvinced Rimmer that machines deserve respect with the most perfectly convoluted shaggy dog story ever. (I won't spoilt it here, but I will often lay this joke on people at the pub. It's truly awful.) Holly, for his part, is hurt by their backstabbing, but they manage to get him back on side with a bit of trivia to prove his IQ is closer to 6000 than six. Holly challenges Queeg to a contest for control of Red Dwarf, and the loser gets erased. Queeg chooses chess; Holly suggests snakes and ladders, Subbuteo, Monopoly... but even the promise of Cluedo isn't enough. Holly loses the critical game and is sentenced to erasure.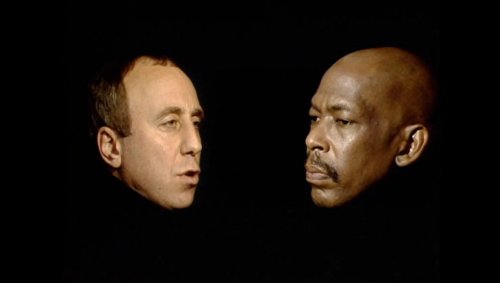 Holly had originated as a parody of Hal, the sinister ship's computer that ran amok in 2001: A Space Odyssey . Like Hal, Holly is destroyed, going out to a song as he winds down. Rather than "Daisy, Daisy," it's the Carpenters' "Goodbye to Love," and it's honestly rather sad. Lovett was replaced in Series III by Hattie Hayridge as a revamped version of Holly, and as brilliant as she is, Lovett was sorely missed. "Appreciate what you've got," as Holly would say, "because basically, I'm fantastic."
"Queeg" is a fine episode to send him off... well, it would be, but he was back next week for " Parallel Universe," following a brilliant and hilarious last minute twist. Lovett's finest moment as Holly without a doubt, " Queeg" is  Red Dwarf at its farcical, ingenious best. Wheeze of the Week, mate.
About Daniel Tessier 
Dan describes himself as a geek. Skinny white guy. Older than he looks. Younger than he feels. Reads, watches, plays and writes. Has been compared to the third, fourth, fifth, sixth, seventh, eighth, tenth, eleventh and twelfth Doctors, and the Dream Lord. Plus Dr. Smith from 'Lost in Space.' He has also had a short story published in Master Pieces: Misadventures in Space and Time a charity anthology about the renegade Time Lord. 
Dan's web page can be here: Immaterial
Published on October 19th, 2020. Written by Daniel Tessier for Television Heaven.