An unsung master of comic creations, Deryck Guyler became a radio star almost overnight in 1946, before finding a whole new audience on television over 20 years later. Always modest, Guyler once described himself as "being the best support since elastic."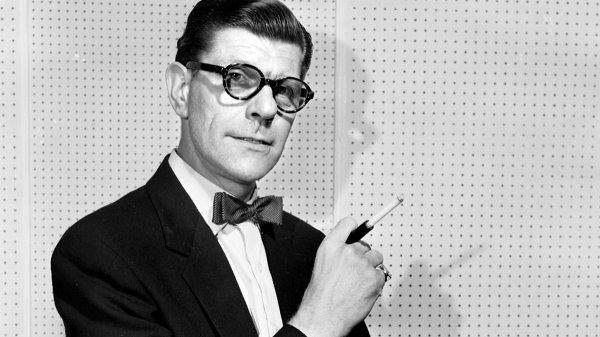 Deryck Bower Guyler was born in Wallasey, Cheshire, England on 29 April 1914. The only child of Samuel Phipps Guyler, a jeweller, and Elsie Evelyn, née Bower, he attended Liverpool College and planned a career in the Church of England, having studied theology for a year. In the 1930s, he Joined the Liverpool Repertory Theatre but enlisted for active service during the Second World War. After being invalided out of the RAF he joined ENSA (Entertainments National Service Association) and in 1942 joined the BBC Drama and Repertory company where he often appeared in classic productions. He made his first film appearance in an uncredited role in the 1945 musical I'll Be Your Sweetheart, which starred Margaret Lockwood and Michael Rennie.
In 1941, Guyler married Margaret Mary McConnell (a.k.a. "Paddy Lennox"), from the three-sister variety harmony act the Lennox Sisters, and they had two sons, Peter and Christopher.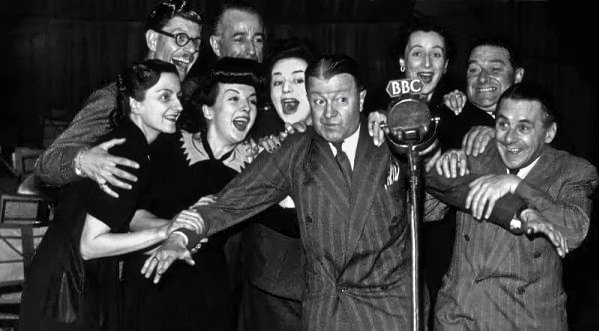 In 1946 he created the role of Frisby Dyke in the long-running, character driven radio comedy series ITMA (It's That Man Again), the first time that a Liverpudlian accent had been heard on the BBC. Guyler's character was named after a Liverpool department store bombed in the Blitz. He took part in a Royal Command Performance of 'ITMA' for King George VI and Queen Elizabeth in December 1947. Guyler remained with the show until 1949 when the series ended following the death of its star Tommy Handley.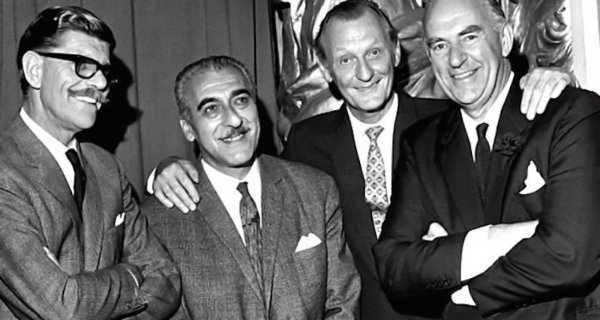 The programme's success established Guyler as one of radio's more versatile and gifted comic talents and from the fifties onwards he was a regular in Eric Barker's Just Fancy and later had an 11-year run in The Men from The Ministry with Richard Murdoch, a satirical series in which Guyler played the pompous, self-important Number One in the General Assistance Department, with Murdoch as his diffident but equally incompetent Number Two. Also in the 1950s, he played the time-traveller (also known as "the voice") in the British sci-fi radio series Journey into Space. And talking of 'The Voice' - his most enduring role was as of a newsreader in the form of a taped voiceover, which was used in the original production of Agatha Christie's The Mousetrap. The tape is still played at every performance. The play is now in almost its 70th year and has played at St. Martin's Theatre in London since 1974.
After ITMA, Guyler worked in roles from the BBC's Children's Hour to classical parts, including with John Gielgud in King Lear.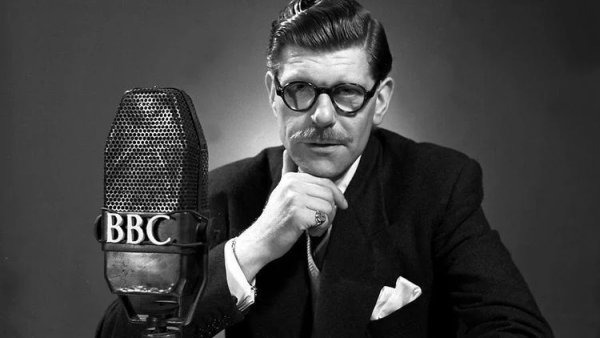 Guyler took on the role of the title character of a Scotland Yard detective in the radio series Inspector Scott Investigates that ran from 1957 to 1963. During the half-hour programme a crime was committed; Scott and his sidekick, Det. Sgt. Bingham (Brian Hayes, brother of Patricia Hayes) interviewed two or three suspects; then, while music played, there was a short intermission for listeners to guess 'whodunit' before the final revelation.
On television, in 1952 Guyler lent his voice to Eeyore in the BBC television puppet series Winnie-the-Pooh and appeared in The Eric Barker Half-Hour the following year. From 1954 to 1956 he appeared in Emney Enterprises a BBC comedy which starred Fred Emney who was also supported by guest stars Rita Webb and Kenneth Connor.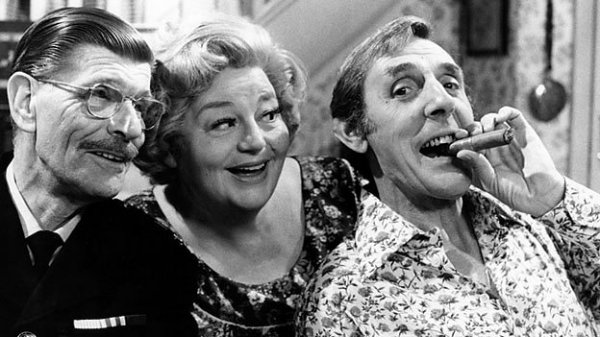 Guyler was as the manager of a TV repair shop in Three Live Wires in 1961, followed closely by his television success as one of Michael Bentine's sidekicks in the surreal BBC show It's a Square World, but he gained greater recognition on the small screen through his association with comedian and writer Eric Sykes. He played the part of Constable 'Corky' Turnbull in Sykes and a... (1960–65) which was later revived as 'Sykes' (1972–79).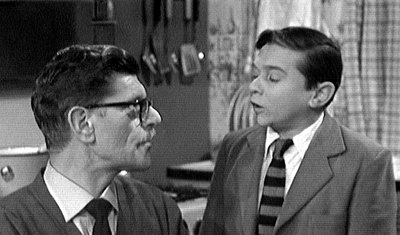 Another huge star (even though he was only four-foot-three-inches) from the radio was Jimmy Clitheroe, whose series The Clitheroe Kid had entertained a loving audience for many years. Clitheroe, who was actually 35-years-old when the series started, played the role of a cheeky schoolboy, who lived with his family at Lilac Avenue in an unnamed town in the North of England. Guyler spent two years as a regular on the show and when, in 1963, ABC television decided to create a half-hour sitcom for television, Guyler was cast as Jimmy's father, George - even though the character had never appeared in the radio series. However, it soon became clear that The Clitheroe Kid's appeal was far greater in audio than video and as a consequence only seven episodes of the TV series were made. In 1964 Guyler appeared, briefly, as a police sergeant in The Beatles' film A Hard Day's Night.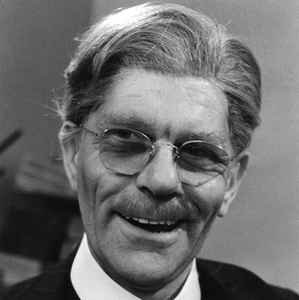 Between the two series with Eric Sykes, Guyler appeared in television's first attempt to poke fun at the world of politics from within the Houses of Parliament in the situation comedy The Best of Enemies in which rival Conservative and Labour MP's are forced to share an office. But the series was beset with problems and of the seven scripts written by Vince Powell and Harry Driver, only five made it to the screen. Following transmission of the first episode an ITV technicians dispute meant that the remaining four episodes were not transmitted until the following year. By that time, Deryck Guyler had firmly established himself in another series.
Please Sir! was to establish itself as ITV's top sitcom and Guyler appeared in all 57 episodes until the series finished in 1972 and also starred in the film spin-off.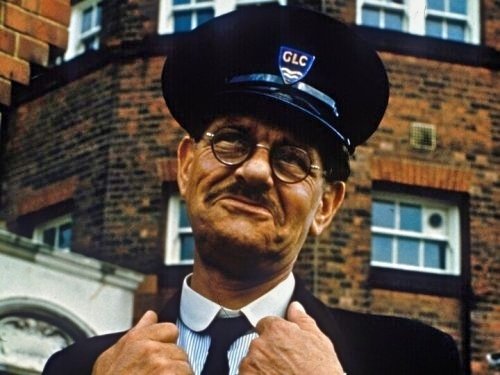 On his first day at school, novice schoolteacher Bernard Hedges (John Alderton) crossed swords with cantankerous school caretaker Norman Potter (Guyler), a former Desert Rat with delusions of grandeur, although with some credibility as he was the right-hand man of incompetent headmaster - Maurice Cromwell (Noel Howlett), who in turn was the subject of infatuation by formidable deputy head Doris Ewell (Joan Sanderson).
This trio virtually ran the school much to the resignation of the rest of the disillusioned staff and the last thing they wanted to disturb the balance was a young schoolmaster fresh out of teachers training college and full of bright ideals about modern teaching. Potter tried to thwart the new schoolmaster's attempts at winning over his unruly class 5C at every twist and turn, but always finished second best due to the fact that his true loyalties went no further than his own pompous self interest.  It was a role that Guyler knew well, having made a career out of playing the fall guy.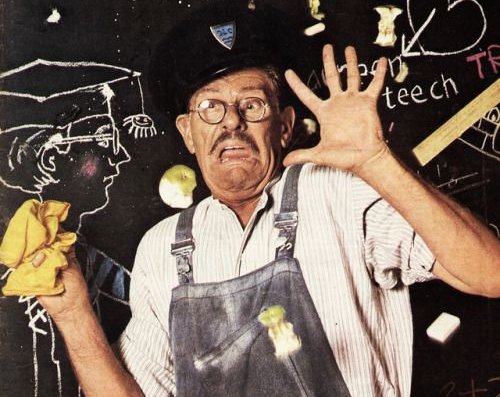 Guyler claimed that he'd been lucky getting work as an "odd old codger" and was touched by the warm welcome offered him by a real schoolkeeper. "He always invites me into his cubby-hole," he said. "'A nice cup of char, Mr Guyler', he says. People are really very nice, you know."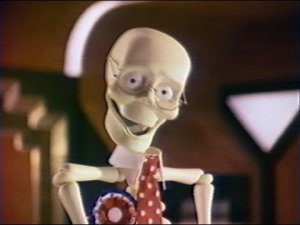 Due to the excellent quality of his voice, Guyler did many 'voice-overs' for commercials which he described as his 'bread and butter'. One of his best remembered was voicing an animated skeleton in UK adverts for Scotch Video Tapes and he was the narrator of the BBC documentary about Fred Dibnah - Fred Dibnah, Steeplejack.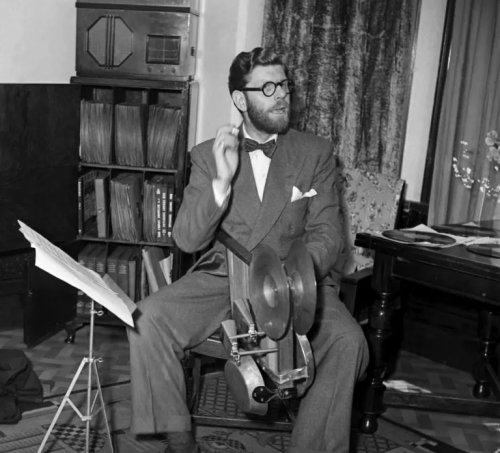 Offstage Guyler was a genial man who was widely respected by his colleagues. His hobbies included collecting model soldiers (with a collection of more than 10,000, Guyler had one of the largest collections in Britain) and playing the washboard, which he did regularly on television to the delight of his fans. One of his proudest achievements was being listed in The Guinness Book of Records as being among the world's top players of the instrument. In 1990, he played the washboard on three tracks of an album by long-time fan Shakin' Stevens. He also played washboard on an episode of The Morecambe and Wise Show. At rehearsals he was often seen studying the Bible. A regular reader for the BBC's Morning Story slot, he was still working well into his 70s.
Another of Guyler's passions was collecting jazz records and as of 1986, he had about 1600 78rpm discs, collecting records up to about the year 1947. In addition, he was a well known wargamer, and a founding member of the Society of Ancients, a group of wargamers specialising in the classical era. He was elected its first president in 1966, and later made an honorary life president of the society.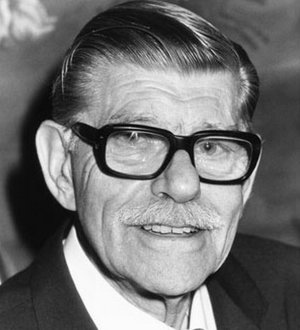 His last British television appearance was in a 1983 episode of the sitcom That's My Boy, and that same year he went to New Zealand to star in a series written by English scriptwriter Vince Powell called An Age Apart. 65-year-old Walter Atherton has accepted an offer from his twice-widowed sister, Alice, to emigrate to New Zealand and settle down with her and her 11-year-old son. But after 30 years apart the siblings discover that the road to domestic harmony will not be straight-forward. The series only went to out in New Zealand.
After a long successful career lasting over 50 years Guyler decided it was time to retire retire and he and his wife moved to Queensland, Australia, to be near their younger son Chris, daughter-in-law Judy and three grandchildren.
The Guylers arrived in Australia on 5 November 1993, and lived in the tree-lined suburb of Ashgrove until 1997. In October of that year, a few falls at home attributed to his frailty and ailing legs and he was admitted to a nursing home to be cared for. Due to this frailty, he required a wheelchair to get around. His wife moved to Forest Place Retirement Village, attached to the nursing home, and visited him daily. Deryck Guyler passed away peacefully on 7 October 1999, aged 85 years.
Gulyer came to personify light entertainment in the United Kingdom in an era when that form of entertainment was at its most popular and his agent of 40 years, Felix de Wolfe, summed him up perfectly when he said that he was "the total professional, meticulous in his work which brought distinction to everything he undertook. "
Deryck Guyler was happier playing supporting roles than leading roles saying, "It's the old thing, it's nicer to sit back and play first violin and let the conductor carry the can."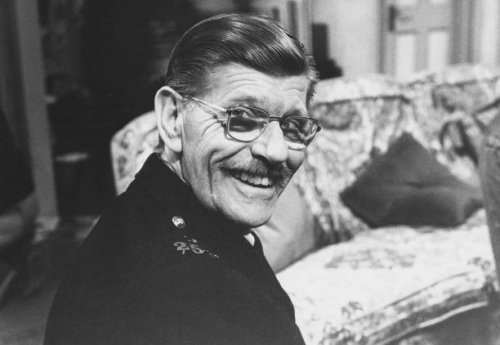 Published on July 8th, 2022. Written by Laurence Marcus for Television Heaven.