If you were a child of the 1950s & 60s one of the most familiar faces on television would have been weather forecaster Laurie West. A rather dapper looking jovial gentleman who invariably wore a fresh flower in his buttonhole, West not only reported the weather but changed the format that was used to report it.

The first visual weather chart to be shown on television was given in the experimental days of the BBC during test transmissions on 26 October 1936. A few weeks later (2 November) the weather report was launched to the (very limited) watching public, but this of course ceased in 1939 when the BBC closed down at the outbreak of war. Even if television had still been transmitted at this time the weather report would not go out, as indeed it didn't on the radio, as weather reports during wartime were classified as secret.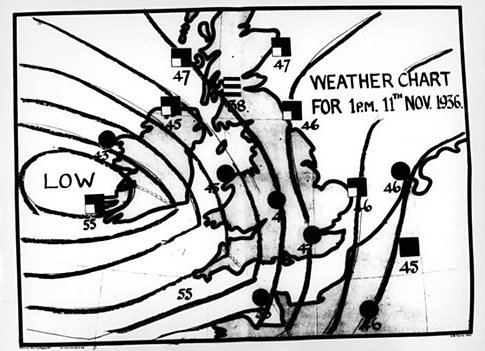 It wasn't until 29 June 1949 that a daily weather report went out, but this was simply limited to maps and captions. Perhaps the British were not as infatuated with the weather as they are today, because it was another nine years before the weather was reported by a 'front-man', and he was professional meteorologist George Cowling. By all accounts Cowling, who spoke of frontal systems and isobars, was a scholarly, academic figure, who used a pencil, rubber and divider to analyse charts plotted by an assistant.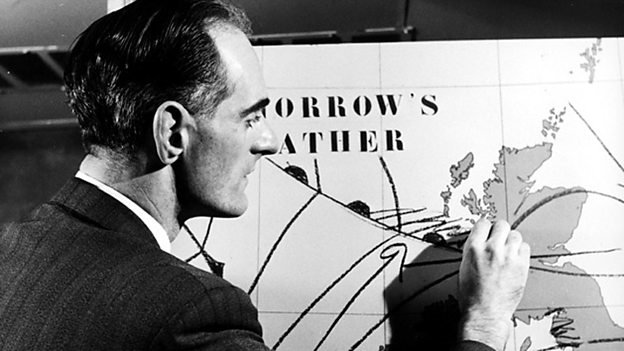 Laurie West, or Laurence John Thomas West as he was born on 7 April 1908, grew up in Portsmouth and had a burning ambition as a young lad to join the Navy. But when they turned him down he turned to the RAF and joined as an aircraft apprentice in 1924. He was posted to RAF Cranwell as a coppersmith and in 1933 applied for pilot training. He did so well that he became an instructor, teaching many of the young pilots who flew in the Battle of Britain.

Ever since he was a boy, his eyes had been drawn to the sky, and meteorology became his full-time hobby. His knowledge was quickly put to use in the RAF and he instructed many of the pilots in weather conditions. In 1940, he became a pilot officer and in 1941 was promoted to flying officer at the Central Flying School. At the end of the war he was sent to the Far East and was involved in bringing troops home from Berlin. In 1947 another promotion saw him elevated to squadron leader.

With the RAF, West completed a degree in meteorology and shortly after he retired from military service, he was approached by Associated Rediffusion who had been granted the franchise to broadcast ITV programmes for the London area and were looking for a qualified meteorologist. Typically, he was quick to seize the opportunity of becoming the only professional weather forecaster in the country, and with the proviso that he should never give a conflicting forecast, he was given a free hand to present the weather news to the public in whatever way he chose.

Interviewed in 1957 he explained "I believe the public want their forecasts in the most direct terms. And so, I keep technicalities down to a minimum. Though, mind you, they like a few technical phrases - I don't think they know the meaning of them, but they lend an air of authority to the forecast."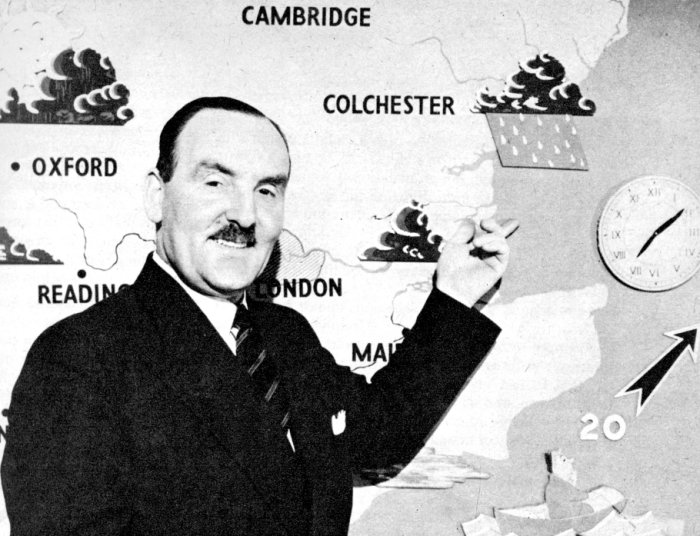 In order to present the weather in those direct terms, Laurie West invented a device that allowed him to show the changes in weather over a period of time. This consisted of maps drawn onto a series of horizontal three-side metal bars which he could then turn to show the progression of the weather. He also developed the idea of using small magnetic symbols of sun, clouds, rain and snow, which would be attached to the maps.

His only complaint appeared to be that he only covered the London area at first and admitted that if you wanted to hear the national forecast you had to switch to the BBC. But the BBC did not have anyone like Laurie West. Unlike Laurie West, the BBC forecaster did not immediately become personalities in their own right. The BBC used employees of the Met Office itself. Four broadcasters, Downie Armour, T.H. Clifton, Phillip Allen and Jack Armstrong shared the weather presenting on BBC, but when not appearing on television they continued to work full-time at the M.O. Each was only chosen after an exhaustive series of interviews, auditions and microphone and screen tests and each had the right to refuse the job should they have chosen to do so.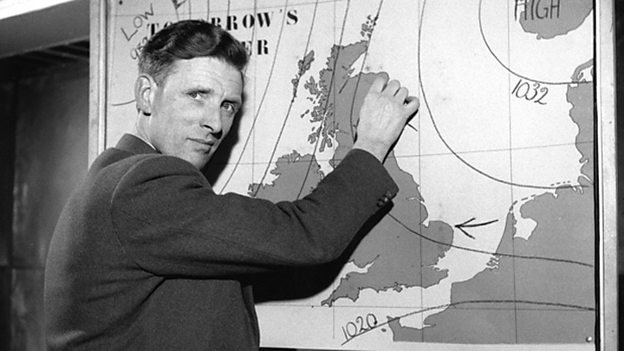 Laurie West presented the weather in a far jauntier, less cerebral way, and come rain or come shine, always with a smile. By 1958, West was using two glamorous weather girls to help with presentations. By the mid-sixties he had presented the weather over 3,000 times. He retired in 1968 but, a keen all-round sportsman himself, he became an international umpire for both hockey and bowls. Laurie West passed away on 16 March 2005, aged 96 years of age, having dragged weather reporting into the 20th century. With Laurie, whatever the weather, there was never a dull moment.
Published on June 24th, 2019. Written by Noel Onely for Television Heaven.