It's not often that a sitcom character achieves cult status, and with British comedy it's highly unusual that a beloved comedy character transfers well to America. And yet in Mrs Slocombe, the blue-haired morally upright head of the Grace Brothers ladies' wear counter, Are You Being Served? provided a character that has held on to its popularity even through the changing focus of retrospective political correctness. And providing that performance was one of the most beloved actresses on stage and screen…Mollie Sugden.
Born in Keighley in 1922, Mollie Sugden learned her craft at the famed Guildhall School of Music and Drama. It was here she claimed that she initially shed her Northern accent, something that she quickly regained after portraying a character in a North Country comedy. With or without accent though, Mollie would retain a dislike for her own voice, once commenting that to hear herself on a panel or chat show would be purgatory.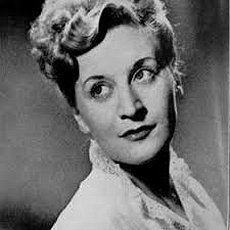 As with many actors finding their way in the 50s and 60s, Mollie took many minor parts as television found its feet. Meanwhile, she earned her spurs and her income working rep on stage. Her first significant screen success came in the form of Hugh and I, a hugely popular vehicle for Terry Scott.
Running for five series, her comedic talents were well received, while her ability to play the battle-axe was given vent on Coronation Street as she went head to head with Rovers Return landlady Annie Walker in the recurring role of Nellie Harvey, landlady of the rival pub The Laughing Donkey. Despite having become popular in a number of sitcoms, Sugden would revisit the role for 23 episodes across ten years as she battled Walker for moral and social supremacy.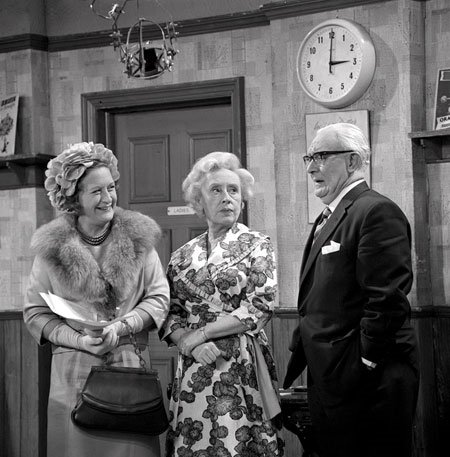 Comedy was, however, Mollie's destiny. Writer John Chapman was so enamoured by her performance in Hugh and I that he recommended Mollie for The Liver Birds, a sitcom about two young flatmates in Liverpool. It would be a recurring theme for Mollie to be cast as she was as the overbearing mother figure to Nerys Hughes's Sandra Hutchinson.
Despite the success of The Liver Birds, which would keep Sugden involved from 1971 to 1979, it was in 1972 that Mollie got the part that would gain her the role of a lifetime in the form of Betty Slocombe.
Working on Hugh and I was David Croft, a producer at the BBC who had cast Mollie as one of the neighbours. He had first reluctantly allowed the BBC to cast Mollie in the little known comedy Under New Management, and he admitted to not being best pleased because he liked to cast characters himself and knew little of Mollie's work at that time. In Hugh and I, however, he had come to appreciate all she could bring to a role and so when he and Jeremy Lloyd began writing Are You Being Served? it was Mollie he thought of first for the indignant Mrs Slocombe.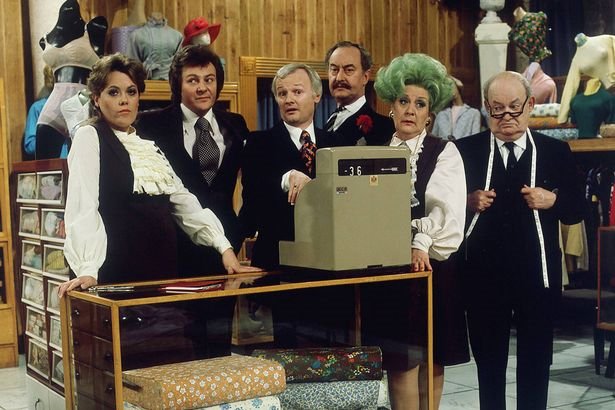 The relationships in the show set in a small and out of touch department store called Grace Brothers were heavily reliant on Mollie's talents. She was cast in the ladies' wear section with Wendy Richard, who had played her daughter in Hugh and I, and over on the men's counter was John Inman as Mr Humphries and Trevor Bannister as Mr Lucas, from whom came many of the put-downs aimed at Mollie's Mrs Slocombe.
Croft was ecstatic at the success of Mollie's casting. She threw herself into every aspect of the role over the course of its 12-year run. She allowed Lucas to fire arrows of derision her way in any manner of insults, while absorbing a remarkable amount of physical comedy…and of course, the years of jokes regarding a certain unseen feline remain oft-quoted to this day.
Perhaps her crowning glory was an episode in which Mrs Slocombe's job has been cut, resulting in her carrying out a succession of perceived menial tasks around the store, ranging from window cleaning to canteen table clearing, showcasing her comedic range to the full. Her timing and energy worked to perfection throughout and Croft would acknowledge that, 'Mollie was a completely co-operative character with an incomparable sense of comedy.'
Inevitably as times moved on, the humour of Are You Being Served? became less palatable and it went the same way as many of the BBC's former flagship programmes in leaving our screens in the mid-1980s to make way for edgier programmes.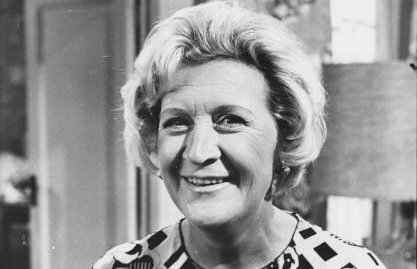 Just because Are You Being Served? had reached its end did not mean the end of Sugden's career, however. She had already dabbled in a sitcom written specifically for her by David Croft, Come Back Mrs Noah, which told the story of a woman who is mistakenly shot into space after winning a magazine competition for a tour of a spacecraft. Croft felt the show was one of his best, but the BBC and the viewing figures disagreed and it was axed after only one series.
A much greater success however commenced in 1981. That's My Boy cast Mollie once again in a motherly role, this time taking a job in a Doctor's surgery where to her surprise she finds herself working for the son she had given up at birth. The show ran for five hugely popular series on ITV and upon its end in 1986, its writers Pam Valentine and Michael Ashton proceeded to pen a further sitcom for Mollie, My Husband and I, in which she would star with her actor husband William Moore, most famous for playing the downtrodden father, Sydney Lumsden, in the Ronnie Corbett vehicle, Sorry!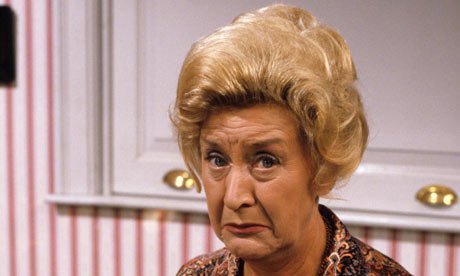 Mollie's final foray into genuine sitcom territory in the mid-1990s saw her return to the warmth of the David Croft stable, where she would reunite with her Are You Being Served? castmates Wendy Richard, Frank Thornton, John Inman and Nicholas Smith. The former staff of Grace Brothers had seen their pensions invested in a number of things, and upon the death of Young Mr Grace they were to share a country house on the condition that they did not simply sell it and split the profits. Titled Grace and Favour, it was certainly a novel idea and a clever way to return to the much-loved characters away from the confines of the set we had seen 24 years earlier.
Throughout her extensive television career, Mollie Sugden had maintained a regular presence on stage, regularly appearing in summer seasons and pantomimes and sometimes turning her hand to more serious roles. And through it all, she maintained a happy family life with Moore and her twin sons, not born until Mollie was 41 years old.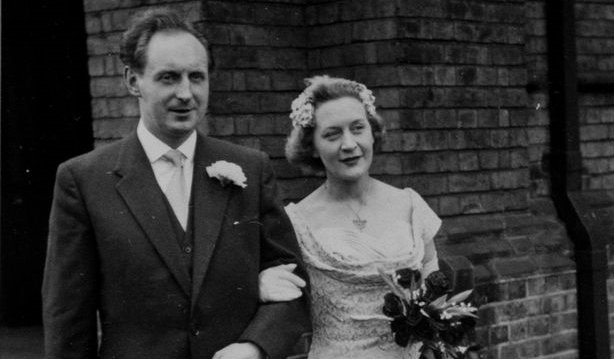 After her husband's death in 2000, Mollie became a less frequently seen face on new television work, but such was the strength of her portrayal of Mrs Slocombe and the mischievousness of some of the character's lines that she acquired something of a cult following. In the US, Are You Being Served? had been a huge hit and Sugden and co-star John Inman were idolised. What's more, in 2003 she managed to gain further notoriety via the unlikely path of the irreverent sketch show Little Britain.
One of many characterisations during the show's three series was David Walliams portraying a middle-aged housewife who consistently bragged of being bridesmaid at Mollie Sugden's wedding, regardless of the topic of conversation. Mollie would eventually appear in the programme in 2003, where after denying ever having met Walliams's character she promptly collapses face down into her dinner plate as she is abruptly disposed of by a dagger to the back from the false story's protagonist.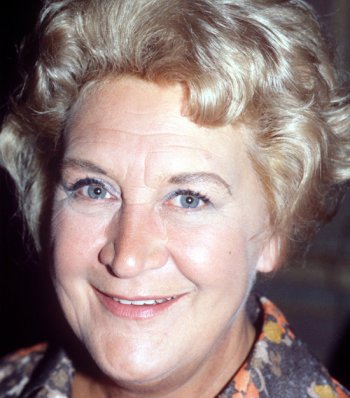 Sugden passed away in 2009 at the age of 86. She had first gained laughs on a village hall stage at the age of five. Hers was not a career of theatrical notoriety or Shakespearean success. The comedy she excelled at was knockabout, at times bawdy, but most of all relentlessly successful. When so many comedies of the 1970s and 1980s are confined to the politically incorrect memory banks, it's safe to say that Mollie Sugden will outlive nearly all of them…she was a one of a kind sitcom royalty and was unanimous in that!
About the reviewer: Brian Slade
Born and raised in Dorset, Brian Slade turned his back on a twenty-five-year career in IT in order to satisfy his writing passions. After success with magazine articles and smaller biographical pieces, he published his first full-length work, `Simon Cadell: The Authorised Biography'. 
Brian is a devoted fan of the comedy stars of yesteryear, citing Eric Morecambe, Ken Dodd, Harpo Marx and Dudley Moore amongst his personal favourites. He was drawn to the story of Simon Cadell through not only `Hi-de-hi!' but also `Life Without George', a programme he identified with having grown up in the Thatcher era.

Published on December 8th, 2019. Written by Brian Slade for Television Heaven.