A Builder By Trade
1963 | United Kingdom
Pamela Gems' first play for ITV is about two sisters, May Vine (Vanda Godsell), Louie Robbins (Pauline Letts) and the man who becomes their lodger, Reg Beech (Harry Locke - also pictured). May, attractive, plump and cheerful, is a widow; Louie is thin, severe and unmarried. Reg is a builder by trade. When the play opens Reg is not yet living at May's house. Her son, Charlie (Michael Williams), has just married, much to Louie's disgust, an uneducated girl, Brenda. May is anxious to take on a lodger to have a man about the house. 
When Reg arrives we learn he has suffered much, but he makes himself useful around the house as a handyman and one day shows an interest in gardening. At last the vinegary Louie shows signs of warmth. Interviewed for TV Times magazine in 1963, Pamela Gems revealed that she always wanted to write a play about somebody who prided himself in doing something well, however humble. "Louie is apparently a person working on a much higher level, but her success is not built on inward happiness" she was quoted as saying. "Reg is a failure in life because of circumstances being against him. He has tried hard but he has been unlucky." The author of numerous original plays, Pamela Gems, who was in her forties when she started to write professionally, also wrote adaptations of works by major European playwrights of the past ranging from Henrik Ibsen and Anton Chekhov to Marguerite Duras. She is best known for the 1978 musical play Piaf, about French singer Édith Piaf. She was nominated for two Tony Awards: for Stanley (Best Play) in 1997, and for Marlene (Best Book of a Musical), starring Siân Phillips as Marlene Dietrich, in 1999.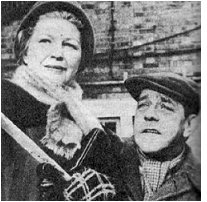 Harry Locke was often seen on British TV and cinema screens in minor supporting roles often playing working men, clerks, porters and cab drivers. Vanda Godsell (pictured left with Harry Locke) was a well-known character actress who specialized in playing disheveled housewives, busybody landladies, and blowsy domestics. She also appeared in A Shot in the Dark, The Earth Dies Screaming, The Wrong Box, Bitter Harvest and The Pink Panther Strikes Again. 
Many of these films were directed or produced by Blake Edwards. Vanda portrayed Mrs. Anne Weaver in This Sporting Life. On television, she appeared in numerous shows including The Saint, Coronation Street, Minder, Dixon of Dock Green, Bless This House, In Loving Memory and Taxi!. Pauline Letts, who was the sister of former Doctor Who producer Barry Letts, had over 60 film and TV credits including Emergency-Ward 10, Z Cars, The Outsider and On the Up in which she played Dennis Waterman's mother. A Builder by Trade was broadcast on the ITV Network on Friday 15 February 1963 under the Television Playhouse strand. It was an Associated-Rediffusion Network Production. 
Published on November 26th, 2018. Written by Laurence Marcus for Television Heaven.