Blott on the Landscape
1985 | United Kingdom
Review: Brian Slade
With television still running on only four channels in 1984, the ability to get typecast was a very real one. When casting began for Blott on the Landscape, two of its leading targets jumped at the chance to stretch their skills to something a little different to the characters they had become famous for.
George Cole traded in his dodgy dealings on Minder for what he described as, 'the most outrageous role I've ever had to play,' while Simon Cadell, who had by now left Hi-de-hi!to play Hamlet on stage, jumped at the chance to play Dundridge, a bumbling government official who he referred to as, 'a manic character, funny to the outsider but not to himself.' Even leading lady Geraldine James admitted that she had been turning down work after Jewel in the Crown because the roles she was offered were too similar to her successful one of the meek and mild Sarah Layton in the huge ITV success.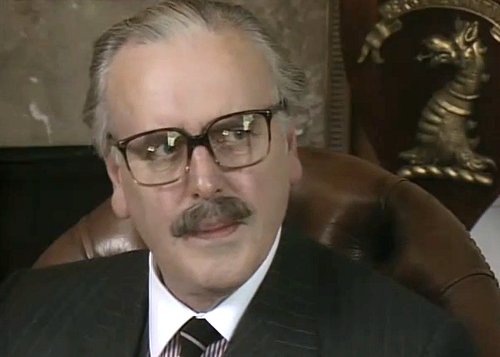 Blott on the Landscape was an adaptation of a Tom Sharpe novel, with Malcolm Bradbury making the adaptation. The story focusses on Sir Giles Lynchwood and his unhappy wife, Lady Maud, played by Cole and James respectively. Lady Maud wants an heir, but Sir Giles will not oblige. He has plans of his own. He plans to make a fortune for himself by conspiring with a planning office official to have a motorway built that would run straight through his wife's ancestral stately home, Handyman Estate. He would then make a swift disappearance with the compensation money.
Having conspired with estate handyman Blott, played by David Suchet, Lady Maud has uncovered her husband's scheme and sets about a plan to scupper it. When an enquiry into the motorway plans is opened, Sir Giles is expected to support an objection to the plans by offering a completely unsuitable alternative, but the appearance of a civil servant, Dundridge, threatens his masterplan.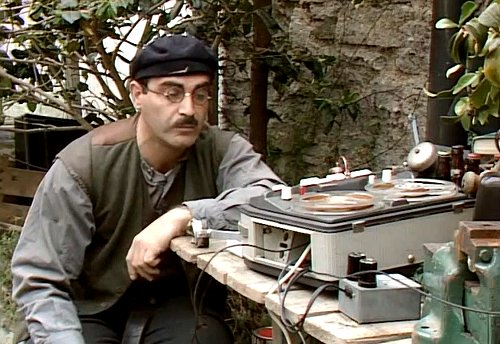 Dundridge is hapless. His initial suggestion that the motorway go underground appals Sir Giles, who subsequently embarks on blackmail in an effort to discredit Dundridge. Dundridge himself is then seduced by Lady Maud as she too attempts to influence his plans. All the while, Blott has plans of his own, obsessed as he is by getting his hands on Lady Maud and the entire estate.
The twists and turns abound in this fine series. Eventually, Blott and Lady Maud are the ones who get everything they desire, while Sir Giles meets with a grizzly end and Dundridge ends the story in jail.
The stars of the programme are in top form. James is formidable, Suchet becomes more and more sinister as Blott's own motives are revealed, Cole is gloriously over the top as Sir Giles and Cadell produces one of the highlights of his tragically short career.
Writer Sharpe was delighted with the adaptation, hailing that it was, 'the best thing I've ever seen…people have tried to adapt my work before and they've produced scripts which I've thought unsatisfactory.'
The stars of the show were all thrilled with their involvement. For Cadell, it was a trip down memory lane having made his senior stage debut in the 1970s in Lloyd George Knew My Father, a similar premise of a proposed road development through a stately home. When he received the new script during a run of Hamlet in Birmingham, he cancelled his upcoming holiday and told his agent, 'don't lose this one.'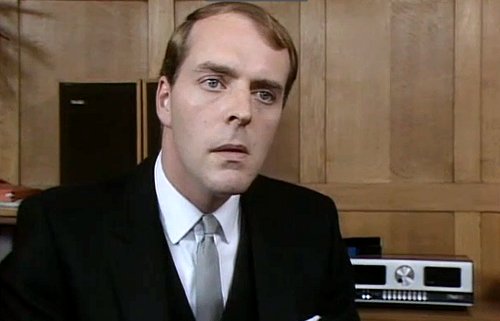 Similarly, Cole had decided not to work between Minder series, but he was eager to take the part, saying, 'when they sent me the Blott book by Tom Sharpe, I couldn't put it down. The man was so deliciously evil.
Suchet described his own Blott character as, 'very shrewd and a survivor. What makes him funny, even when he develops a sinister and somewhat nasty side to his character, is the seriousness and intensity with which he says things.'
Filmed in Ludlow, Shropshire, the show had its own quirks. Sound engineer Viv Fischer imitated a brass band for the theme to the show, without the use of any instruments. Meanwhile, the kinky nature of Sir Giles and the site of Dundridge being chased naked through the estate created lasting memories – the Queen Mother was even said to have commented that 'it's nice to see you with your clothes on,' when meeting Cadell at a Royal performance.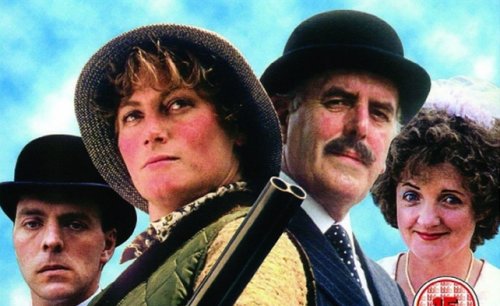 Blott on the Landscape was a huge success, and the cast did ponder as to whether a second series could be made. Cole's Sir Giles was actually eaten by a lion, but he told one reporter that he hoped he could return as a ghost to haunt Lady Maud and Blott, who ended up with the estate and one another. Cole also suggested that Blott, who finished the series as an MP would become Prime Minister, while Cadell pondered that Dundridge would leave jail to work in intelligence – 'a logical next step for his precise and orderly mind.'
Sadly, no second series was ever conjured up but for a one series programme, Blott on the Landscape is remembered with clarity and fondness by all who saw it. It represents a fine entry into the acting CV of all its principal cast members and was without doubt black comic farce at its finest.
Blott on the Landscape [DVD] [1985]
About Brian Slade
Born and raised in Dorset, Brian Slade turned his back on a twenty-five-year career in IT in order to satisfy his writing passions. After success with magazine articles and smaller biographical pieces, he published his first full-length work, `Simon Cadell: The Authorised Biography'.
Brian is a devoted fan of the comedy stars of yesteryear, citing Eric Morecambe, Ken Dodd, Harpo Marx and Dudley Moore amongst his personal favourites. He was drawn to the story of Simon Cadell through not only `Hi-de-hi!' but also `Life Without George', a programme he identified with having grown up in the Thatcher era.
Simon Cadell: The Authorised Biography
Published on February 17th, 2020. Written by Brian Slade for Television Heaven.