Out of the Unknown
1965 | United Kingdom
Adapting stories from some of the finest writers in the literary science fiction field, including such greats as Isaac Asimov, John Wyndham, Ray Bradbury and Frederick Pohl, Out of the Unknown premiered on BBC 2 in December 1965 and ran for four seasons, the first two being broadcast in black and white with the latter two in colour. The series became a focus for some of the most creative talent working in the industry at the time, due in no small part to the inspirational driving force of gifted original producer Irene Shubik, who had joined ABC television in 1960 working on the anthology series Armchair Theatre' under prolific TV producer Sydney Newman. 
In 1961 Shubik approached Newman with an idea to do a science fiction version of Armchair Theatre. Newman, a big science fiction fan himself, agreed and the result was Out of this World (see review below), a sixty minute anthology series hosted by Boris Karloff. When Newman joined the BBC in 1962 he took a number of individuals with him. Shubik was among the first of these talents, and was quickly put to work as story editor of another anthology series Story Parade. One particular episode, broadcast in 1964, was an adaptation of Isaac Asimov's novel 'The Caves of Steel,' starring Peter Cushing. Shubik then turned to Newman once more with an idea to do yet another science fiction anthology series. Once again he agreed and Shubik set about developing the series that would become Out of the Unknown.
"I had to read hundreds of stories to pick a dozen." She later recalled. "You have no idea how difficult some of these authors are to deal with, and it seems a special thing among SF writers to hedge themselves behind almost impossible copyright barriers, even when they have got a story that is possible to do on television. So many you can't. Either the conception is so way out you would need a fantastic budget to produce it, or the story is too short, too tight to be padded out to make an hour's television." 
Nontheless, she overcame these barriers and a number of top flight dramatists contributed to the first season including the likes of Dalek co- creator, Terry Nation, Leon Griffiths and Bruce Stewart (later to go on to script the first Timeslip stories for ATV), all of whom had worked with Shubik on Out of This World. Directors included Philip Saville (Boys from the Blackstuff), and Peter Sasdy, and as one of the production series designers, future major motion picture director/producer, Ridley Scott. The acting talent attracted to the series was equally as impressive, attracting such high-calibre performers as David Hemmings, Milo O'Shea, Warren Mitchell, Donald Houston, Rachel Roberts, George Cole, Ed Begley and Marius Goring to name but a few.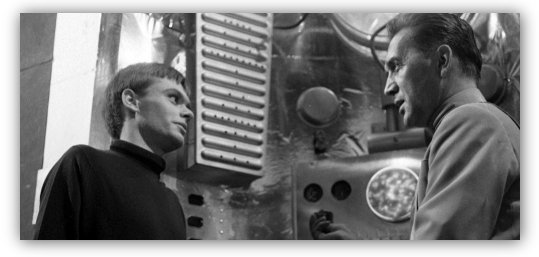 As an anthology series, one of Out of the Unknown's greatest strengths was the sheer diversity of styles it could offer up to the audience. Wisely opting to bypass the 'bug-eyed monster' aspect of genre, it instead opted to highlight the more sophisticated, adult areas of the source literature. During the course of the first two seasons, the eclectic range and consistent quality of the single plays presented up to the viewing audience offered an enviably high standard of intellectually thought provoking drama. 
However, the final two seasons under the stewardship of newly appointed replacement producer, Alan Bromly, saw an unexpected shift in style away from the more overtly science fictional and more towards what Bromly termed at the time, 'plays of psychological suspense'. Gradually at first, season three began the inexorable shift towards all out supernatural thrills, a transition which became total in the fourth and final season. 
In an interview for the Radio Times Bromly explained his decision to ease the series away from pure science fiction thus: 'To do these things really successfully must involve you in spending an enormous amount of money on special effects . . . which is beyond the reach of television.' He continued: 'When everybody has seen men walking on the moon and sat through a cliff-hanger about getting them back alive, then just setting a story somewhere in space is not, you can see, the automatic thrill it was.' Although Bromly's tenure did see some notable contributions by the likes of Michael J. Bird and the prolifically talented creator of the legendary Quatermass, Nigel Kneale, Out of the Unknown had effectively ceased to be the series that had once drawn such popular acclaim. It's passing at the end of the fourth season, sadly, effectively heralded the end of the classic, home-produced, science fiction anthology series. 
At its peak, Out of the Unknown was a quality high water mark series, artfully produced, skillfully scripted and acted, it consistently treated both viewer and source material with an implicit intelligence and respect that few drama strands in any genre could equal, much less hope to match.
Related Articles:
Out of the Unknown: Stranger in the Family
Out of the Unknown: Some Lapse of Time 
Out of the Unknown: The Dead Past
Published on January 17th, 2019. Written by A Humar (2008) for Television Heaven.