Fireball XL5
1962 | United Kingdom
Following the exploits of Colonel Steve Zodiac as he piloted the 300ft rocket propelled spaceship Fireball XL5, this puppet series captured the imagination of the public at a time when the space race between the USA and Russia was at its height. Although they'd had a previous hit with Supercar, this was the series that established creators Gerry and Sylvia Anderson as major players in the world of television.
Set one hundred years into the future (2063) XL5 patrolled and protected sector 25 of the solar system on behalf of World Space Patrol, run by Commander (Wilbur) Zero, who was based at WSP headquarters on Earth's Space City. Situated on a Pacific island, Space City was purely a scientific establishment with revolving skyscraper, control tower, laboratories, communications centre and rocket controlled launch site. 
Completely self-contained, the XL5 ship, one of many patrolling the different space sectors, had living quarters for the crew with an ultra-modernistic lounge, observation window, a laboratory for research and an "astroscope", which enabled its crew to see in any conditions. It had a nose cone (Fireball Junior), which detached itself from the main part of the rocket and was able to make planetary landings whilst Fireball itself remained in orbit. Part of the equipment used in the show included a set of air cushioned "Jetmobiles" which were able to travel across any type of terrain, either on land or sea.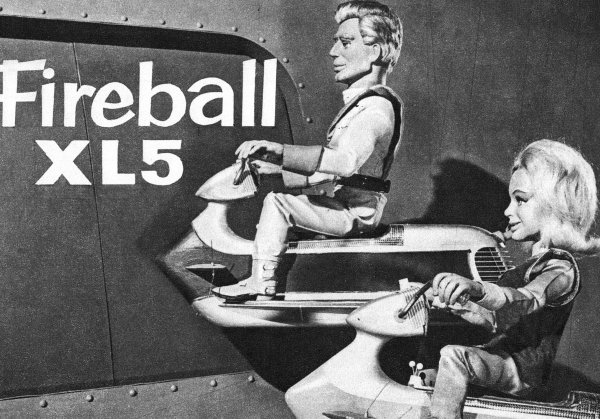 Like their predecessors in Supercar, the puppets for Fireball XL5 had fibre glass heads which contained solenoid cells to automatically control their lip movements as they reacted to the vocal pitches of the human voices speaking their words, which were pre-recorded and played back from the control room of the studio where filming took place. Accompanying Steve Zodiac (voiced by Paul Maxwell) were Professor Matthew (Matt) Matic, a navigation mathematics genius, who had his own navigation bay on the ship. Also on board was attractive blonde, Venus, a continental accented doctor of space medicine, with her own laboratory on the craft (voiced by Sylvia Anderson). 
Another of the regulars was Robert the Robot, a transparent mechanization and automatic pilot of the ship, who could walk when controlled by sound waves. He did however have one eccentricity: If his orders were changed or anything went wrong, steam would come out of his electronic head! This was the first and last Anderson creation to feature a character voiced by Gerry Anderson himself, the robot's electronic voice being achieved via the use of a device which was based on an artificial larynx. However, Anderson had to press his mouth very close to the device making it impossible for him to pronounce the letter 'h'. This gave Robert a very distinctive catchphrase "On our way 'ome". Among the many other characters who came into the stories from episode to episode was a lovable monkey-like creature called Zoonie of the Lazoon race.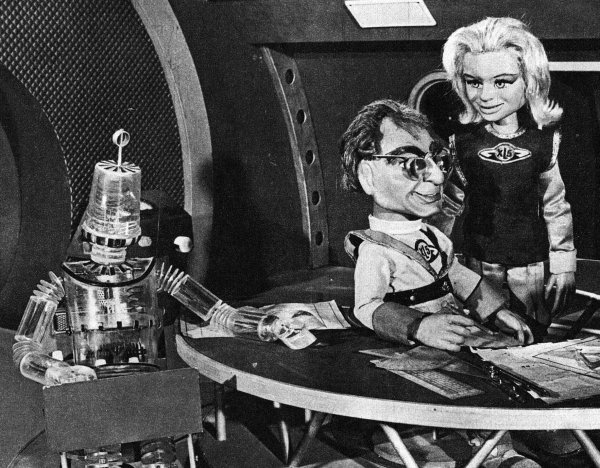 This being the most elaborate Anderson series to date, the talented backroom crew created a Special Effects studio which was added to the existing one, and it was here that Space City was built, enabling close-ups to be shot of the spaceships being fired from their rocket bases and returning safely to land. Gerry and Sylvia Anderson wrote the opening episode with the remaining thirty-eight being penned by Alan Fennell, Anthony Marriott and Dennis Spooner. (Fennell went on to edit the superior Anderson based comic TV21, which featured XL5 and was accompanied by stunning artwork). The theme to Fireball, sung by Don Spencer was released as a single in 1963 and spent a total of twelve weeks in the charts, reaching its highest position (32) on 23rd March. The series was screened in the USA on the NBC Network.
As was to prove to be the case with all of Anderson's Supermarionation output, Fireball XL5 refined and built upon the techniques of its predecessors to give it a gloss and sophistication, which was essential to its audience success. Much more importantly, the series was also yet another inexorable step closer to the imagination gripping success which would prove to be Gerry Anderson's greatest triumph: a series named...Thunderbirds.
TRIVIA
The series was originally presented to Lew Grade in a document entitled 'Century 21'.
Fireball XL5 briefly had the title of 'Nova X 100' before Gerry Anderson renamed it. His inspiration for the eventual title, he says, came from the motor oil Castrol XL.
For filming purposes the spacecraft Fireball XL5 came in a variety of sizes. A five-inch model was used for space shots, a twenty-four inch version was used for launching and landing sequences and a seven-foot model was built for close-ups of the various sections of the craft including scenes involving Fireball Junior.

Christine Glanville made the puppet head for Venus but after several prototypes were sculpted she still couldn't get approval from Sylvia Anderson. In desperation she asked her father for advice. He suggested she make one that looked like Sylvia. This one was given approval.
Gerry Anderson was never happy that he could not perfect the puppets walk. In order to compensate for this Reg Hill designed jet scooters for the main characters to transport them around.
In spite of the ingenuity that went into creating the models, the designers also owed a debt to their local Woolworth's. Derek Meddings and his team of designers were regular customers of the 'Woolies' store in Slough, where they bought up packets and packets of Airfix kits which were then dissected into bits and pieces and used to make their own designs more interesting.
Fireball XL5 debuted on British TV on October 28th 1962. Only 35 of the 39 episodes made were shown during this run with four episodes being held back until the start of the repeat run the following October.
Lew Grade sold Fireball XL5 to the NBC network in America where it performed better than anyone had hoped for, prompting Grade to buy Gerry's company for today's equivalent of £3 million.

Published on December 11th, 2018. Written by Laurence Marcus & SRH (1 February 2001) for Television Heaven.