Stingray
1964 | United Kingdom
Gerry Anderson's third venture into Supermarionation, and his first to be filmed in colour (even though it could only be shown in black and white on it's first run in the UK), Stingray was possibly the first puppet series to win the appreciation of an adult audience, and laid down a winning formula that would be fully realised in Anderson's next series...Thunderbirds. 
Stingray was a high-tech, atomic powered, super-sub armed with sting missiles and captained by Troy Tempest. As was the norm with Anderson heroes, Tempest's physical appearence was modelled on a favourite movie actor of Gerry Anderson's wife -in this case James Garner. 
Based in Marineville at the headquarters of WASP (World Aquanaut Security Patrol), the crew of Stingray came under constant threat from Titan, lord of the underwater city of Titanica, who was the leader of evil Aquaphibians, (the humans were dubbed 'Terrainians') a submerged race of people who roamed the deep sea in their mechanical Terror Fish crafts, that were able to fire missiles from their gaping fish mouths. 
On land, Titan's agent was Artura, code named X20. Accompanying Tempest in Stingray were co-pilot George 'Phones' Sheridan (nicknamed so because he was in charge of the ship's hydrophone sonar system) -and Marina, the green haired daughter of Emperor Aphony of Pacifica. Marina was captured by Titan during a raid on Pacifica and enslaved for a year. She was rescued by Troy Tempest and Phones after helping them escape from captivity and impending execution. Like all her people, Marina was unable to speak, communicating with her own kind by means of mental telepathy, and with others by sign language.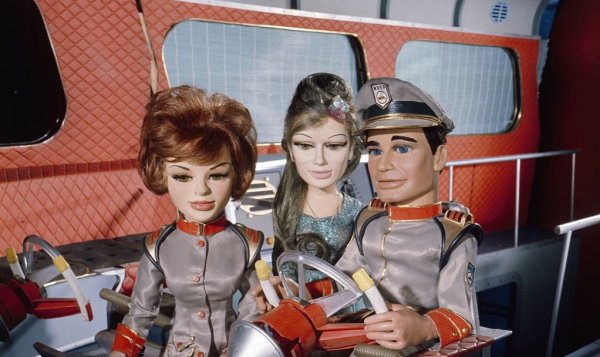 The crew received their orders from Commander Shaw, who was crippled in a sea battle and confined to a hoverchair. Shaw was based at Marineville headquarters where he was ably assisted by Sub Lt Fisher and his own daughter, Atlanta, who was voiced by Lois Maxwell, the actress who starred in the original James Bond series of movies as Miss Moneypenny.
The series drew its crossover audience thanks to superior model work by the ever-improving AP Films Company, and it's fast paced action packed storylines. There was also an unrequited love triangle with both Marina and Atlanta vying for the attentions of Tempest. This greatly enhanced the appeal of the show to the adult section of the audience by introducing an undercurrent of emotional sophistication to the series beyond anything previously seen in what was still widely considered, at the time, to be strictly a children's genre. 
It's an often quoted and popular misconception that Stingray was the first UK series to be filmed in Colour. In fact, The Adventures of Sir Lancelot had, at least some episodes shot in colour, and that series was made in 1956. Stingray was, however, the first of Anderson's series to be shot at his new Stirling Road studio complex on the Slough Trading Estate. This housed three shooting stages, production offices, a preview theatre and 12 cutting rooms. 

Although most of the scenes took place under water, hardly any of the models were ever immersed in one of the two large tanks housed within the studio. Reg Hill and Derek Meddings came up with an idea where one of the tanks was filled with fish of differing sizes from three inches to half an inch in length. The tank stood on a piece of curved backing paper on which a seabed was painted, known as a cyclorama. A shadowing effect was acheived by cutting shapes out of a disc placed in front of the light that when turned created a moving pattern. The surface of the tank was then disturbed to get a rippling effect. Models were then filmed between the tank and the cyclorama to give the effect of 'swimming.' 
Stingray was not only a huge success in the USA, which accounted for 60% of the series revenue, but world-wide. However, in spite of its success and the many merchandising products it generated, it was unable to recoup its huge production costs. 

With Stingray, Anderson's Supermarionation and near filmic storytelling techniques took another step nearer to the culmination of sophistication which would ultimately be displayed in Thunderbirds. Exciting, expertly produced and vitally important for paving the way to an adult acceptance of this type of entertainment, Stingray can now be seen as an important evolutionary step for Gerry Anderson's unique brand of genius.
Published on February 4th, 2019. Written by Laurence Marcus & Steve Hulse (1999) for Television Heaven.