First of the Summer Wine
1988 | United Kingdom
One of the challenges for First of the Summer Wine is maintaining the relationships between the principal characters
First of the Summer Wine review by Brian Slade
While some writers look to repeat former glories writing spin-offs of successful sitcoms, it's a brave move to try and emulate success not only with a spin-off while the original is still going strong but pitching it as a retrospective show set years earlier. Only the finest writers dare try such a thing, which is why it was something best left to the expert hand of Roy Clarke as he attempted to view the childhoods of some of Yorkshire's finest rascals in First of the Summer Wine.
By 1987, Last of the Summer Wine had worked its way into the hearts of the British viewing public. Telling the stories of three friends in Yorkshire whose mischievous hearts seemed to grow younger as their bodies grew older, Compo's pursuit of Nora Batty had become the stuff of sitcom legend. So it was that the BBC commissioned a pilot to see if Roy Clarke could capture the same level of success with a nostalgic show going back to pre-war days, revisiting the same characters' childhoods and seeing the seeds of the men and women they became.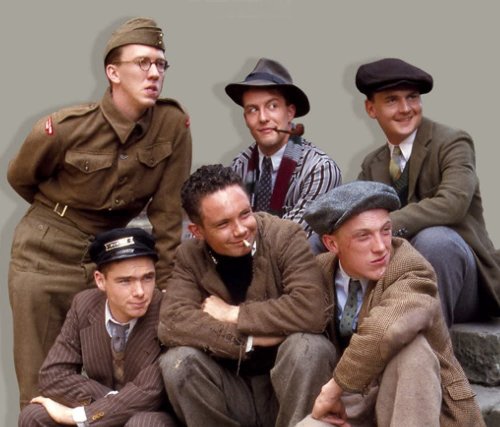 First of the Summer Wine takes us back to May 1939, where we meet teenager Norman Clegg (David Fenwick). Clegg is also the narrator of the story, reciting from his diaries as he embarks on his life just as the onset of World War II threatens to turn the world upside down. Just a few months before Britain become officially involved in the conflict, Norman's Yorkshire world revolves around his friends, the girls in the village and his attempts to be noticed by his cold and brusque father, played by Peter Sallis. 'I'm interested in life with a capital L. Well, I'm even prepared to start with a small L but nobody wants to talk to me about it,' he bemoans.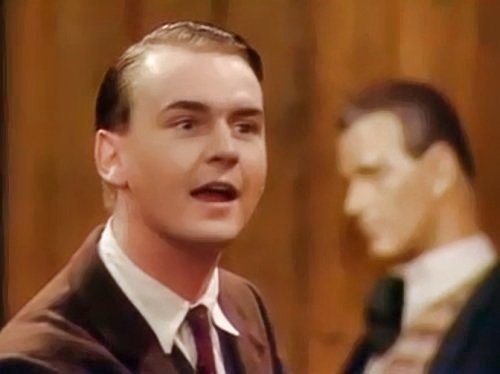 Clegg has a number of pals embarking on life in the real world at the same time, most notably of course Compo Simmonite (Paul Wyett). Consistent with his later self, Compo is scruffy and mischievous and keen to have fun whatever the cost. More serious among the pals are Foggy Dewhurst and Seymour Utterthwaite. Foggy (Richard Lumsden) is the first of the local lads to prepare for warfare, and his over-protective mother is keen to look out for her boy. Meanwhile, Seymour (Paul McLean) is more of a social climber. He drives a 3-wheel classic car already and looks to improve his status at the earliest possible opportunity.
Along with the main characters we had become familiar with to that point in Last of the Summer Wine were the Batty pair, Nora and Wally. Of course, at this point the two are not united. Nora (Helen Patrick) is still Nora Renshaw and Wally Batty (Gary Whitaker) is desperately keen to impress her at every opportunity, mirroring Compo in later years as he tries all schemes to make himself more appealing to Nora.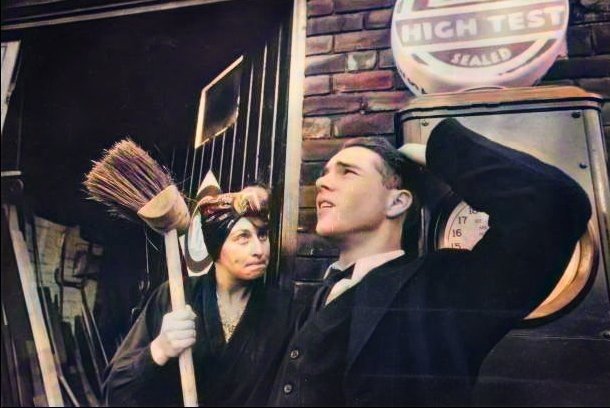 Clegg works at the Oakroyd and District Co-op for the tyrannical Mr Scrimshaw alongside pal Sherbet (Paul Oldham), one of the few characters seemingly created solely for the prequel series. He and Clegg try to hide out in the basement under the Co-op away from Scrimshaw's prying eyes, where they along with others who may drop in through the window hatch their plans to impress the local ladies and grab life with both hands.
One of the challenges for First of the Summer Wine is maintaining the relationships between the principal characters. The only real attempt to establish any relationship beyond those we already know is Compo saying of the eccentric Foggy, 'His heart's in the right place – it's his brain that's missing.' That aside, Roy Clarke largely makes the assumption that we know how the characters will interact and so steers fairly well clear of spoon feeding his audience with justifications.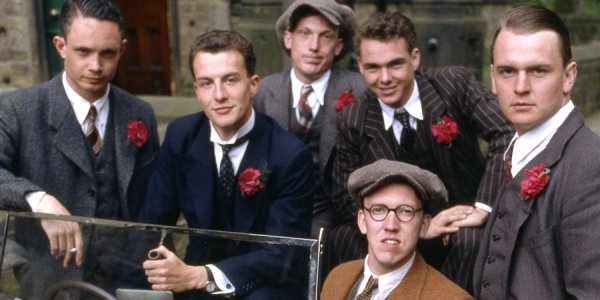 The cast of largely unknowns have a difficult task. Replicating the mannerisms and speech patterns of characters that had already been with us for 15 years as pensioners when the show was aired would be no mean feet for established actors, let alone largely debutants, but they all perform admirably. For David Fenwick, his is perhaps an easier task, Clegg having more vocal manners than physical ones. His main pals, Wyett as Compo and Lumsden as Foggy, have the more challenging roles. Lumsden is suitably pompous and superior, while maintaining an element of youthful awkwardness, but Wyett is the more exaggerated of the trio, slouching and scuffing in as best a manner of Bill Owen as he can. It's a little obvious at first, but soon settles to a likeable mimic.
Perhaps stealing the show for such scripted impersonations is Gary Whitaker as the lovelorn Wally Batty. The pursuit of Nora is of course a nod to Compo's escapades in later life, but Whitaker here gives a more subtle performance that makes you root for him in his endeavours.
First of the Summer Wine was always destined to be a short-lived programme, set so immediately before the war, so the two series are pretty much all that was ever going to be achievable or believable. But with the Yorkshire scenery still a character in itself, along with the nostalgic music and gentle tone, Clarke made sure that the programme was a kind and pleasant look at the formative years of characters that would make television history with their longevity.
Published on July 18th, 2022. Written by Brian Slade for Television Heaven.