For the Children
1937-1946 | United Kingdom
Long before television began, the BBC catered for children by broadcasting Children's Hour, a radio programme first heard in 1922 and soon to become a firm favourite with listeners. Presenters such as Uncle Caractacus (Cecil Lewis) in the 1920s and Uncle Mac (Derek McCulloch) from the 1930s onwards, and Aunties Kathleen (Kathleen Garscadden) and Elizabeth (May Jenkin) became household names for children and their parents throughout the country. 
Just a year after experimental BBC television began broadcasting to a few hundred homes in London, a ten-minute show called For The Children made its debut. First broadcast on Saturday 24 April 1937 with a performance by Zenora the Clown. The series continued until the BBC closed down for the duration of World War II. When broadcasting began again six years later, For the Children was one of the formats the BBC revived. Now expanded to twenty minutes and shown on a Sunday (from 7 June 1946) one of the earliest programmes featured Paul Leyssac, author, lecturer and actor, who read stories by Hans Anderson; his Danish mother had apparently heard the stories told by Anderson himself. 
Among other items featured were Commander A. B. Campbell and his 'sea chest of treasures' and other features that would appeal to children including the Hogarth Puppet Circus, presented by Jan Bussell and Ann Hogarth, with Fred Woodward as Hank the Mule and Eric Cardi as a conjuror. An edition in August 1946 featured a musical story by Annette Mills (sister of actor John Mills) making her TV debut. She shared her five-minute slot with Muffin the Mule and thus was born one of children's television's first and most enduring double-acts. The stories were plotted by Hogarth, and fleshed out with songs and dialogue by Mills. Each fifteen-minute episode opened with Mills seated at the piano, singing the theme song - "Here comes Muffin, Muffin the Mule" - while Muffin clattered loudly on the top of the piano (operated from behind a set wall by Hogarth).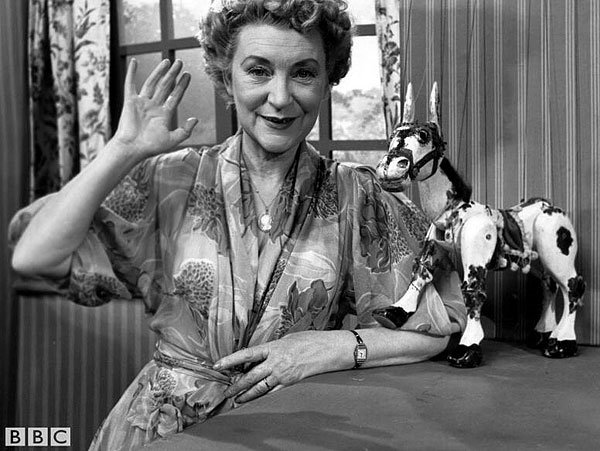 In January 1947, a thirteen-year old Petula Clark appeared in her own show during the For the Children slot. As well as content, the time slots themselves varied not only in broadcast times but duration in those early years. Many of those transmitted on a Sunday afternoon were causing anxiety in ecclesiastical circles as there was a fear that television would lure children away from Sunday School. The debate became quite heated and prompted Cecil McGivern, then Television Programme Director, to write in July of that year: 'Children are fascinated by television. The correspondence protesting against children being lured away from Sunday School testifies to this. The question of a special programme for children must be tackled one day. I think we should start it now. The present Sunday afternoon attempt at children's items is rather vague and sloppy and is just nibbling away at the problem. In any case, I think we shall be very soon (because of the Sunday School controversy) be forced to make a definitve statement and I think we should anticipate the matter.' 
Mary Adams, producer of BBC children's programmes in the late 1940s, gave considerable thought to the way children's television could be expanded to offer "plays, how-to-series, storytelling, a collectors' corner, pets, travel, outside broadcasts from museums and factories, informational films, quizzes and encyclopaedia programmes". (This suggestion was made over 10 years before Blue Peter arrived on our screens). The aim was to make children's television a 'service in miniature', replicating all of adult television's genres and formats for younger audiences. She also suggested "A children's newspaper" with personalities of the week as well as illustrated guides to topical events, e.g. the Budget, India, Unesco's Amazon expedition, etc. (This attempt to provide current affairs programmes would be realised in 1950 with Children's Newsreel and over 20 years later with John Craven's Newsround).
For the Children was often referred to as Children's Hour, but a BBC memo from Richard Postgate, Acting Head of Children's Proframmes, dated July 1950 clearly outlined the BBC's official title: "May we please expunge the phrase 'Children's Hour'. The phrase in the Radio Times is 'For the Children' and the programmes themselves might well be referred to as 'programmes for the children' or 'the children's programmes.' For the Children finally made way for Watch With Mother which debuted on 11 July 1950.
Published on December 13th, 2018. Written by Laurence Marcus for Television Heaven.