The Flowerpot Men
1952 | United Kingdom
"Once upon a time there was a little house. And all around the house was a beautiful garden. And down at the bottom of the garden was a place where the man who worked in the garden left his things while he went in to the house to have his dinner..."
The Flowerpot Men were Bill and Ben who lived behind a potting shed at the bottom of a garden and in between their large flowerpot homes lived Little Weed ('W-e-e-e-d'), who informed them when it was safe to come out and play and when the gardener was returning. Peter Hawkins, who later supplied the voices for Doctor Who's Daleks, invented Bill and Ben's language, which he called  'Oddle-poddle'. It was much criticised at the time for promoting immaturity and hindering children's development in speech, much in the same way as the 'Tellytubbies' were in the 1990's. There is no evidence to back this up. There is plenty of evidence that children loved these characters.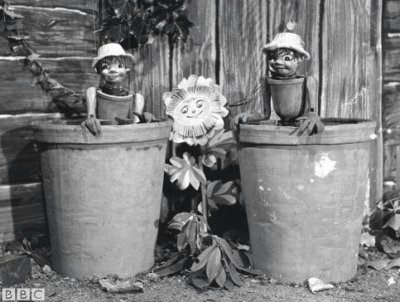 It has long been claimed that the characters were devised by Hilda Brabban (at their West Riding home in Castleford) who sold three stories to BBC Radio's 'Listen With Mother' in 1951 for a guinea each. According to Brabban's family, Bill and Ben were based on her brothers William and Benjamin Wright whilst the character of Little Weed was based on her younger sister Phyllis, who was so slim she was labelled this by her friends. For over 50 years the creation of the characters remained in dispute.
When 'The Flowerpot Men' was made for television's Watch With Mother the credit for its creation was attributed to Freda Lingstrom, the BBC producer who was responsible for pioneering children's programmes in the 1950s, and her friend Maria Bird. Years later Hilda Brabban had been invited to appear on ITV's talk show 'Barrymore' to talk about the show but was prevented by an injunction obtained by solicitors acting for Lingstrom, who held the intellectual property rights. Even after both women passed away the dispute did not end there.
Lawyers for Lingstrom's estate, Harbottle and Lewis, maintained that "The only similarity with Freda Lingstrom's creations were the names Bill and Ben. The stories do not involve flowerpot men, a garden, a gardener, weed, made-up language or anything else that anyone would associate with the flowerpot men.... The word flobbodob does not appear." Apart from the two names, claimed Lingstrom's estate, the connections with the Flowerpot Men end. The fact that these characters had the same names as those who surfaced a year later on Watch with Mother is, it insists, coincidence. Diana Chamberlain, one of Brabban's two daughters, believes her mother was "cheated" but Mrs Chamberlain's sister, Ros Ramsden, added: "It's all so long ago that we'll never know the truth."
Hilda Brabban never received a penny in royalties from the estimated £2 million made by BBC videos of the series. "Freda Lingstrom always denied having heard about my stories," she recalled. But she said she did not really mind and instead took great pleasure in the television series: "My enjoyment was in the writing."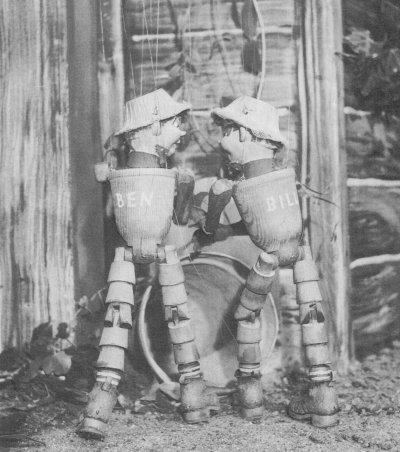 But children, if you're sitting comfortably, I'll continue: On 12 December 1952 'The Flowerpot Men' were added to Watch With Mother and shown every Wednesday. Bill and Ben were identical. Their bodies and legs made out of flowerpots and they wore hobnailed boots and had gardening-gloves for hands. Being identical there was only three ways to tell them apart: They had their names written on their backs and Bill spoke in a high-pitched voice whilst Ben spoke in lower tones. Bill lived in the flowerpot on the right whilst Ben was the one on the left. A bit like Ant and Dec, except for the terracotta pots. Little Weed has been described as "a big talking sunflower-come-dandelion with a smiley face", however it is more likely that she was as she was called. The three were also sometimes visited by a tortoise called Slowcoach.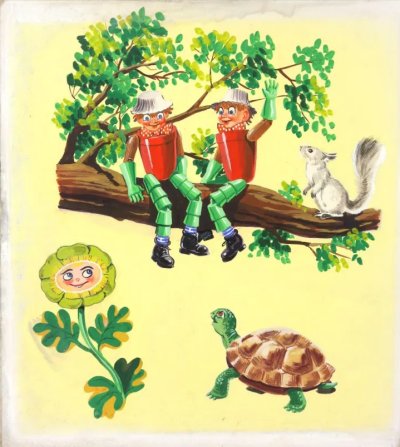 During the short time they were on (approximately 12 minutes), Bill and Ben got up to all sorts of shenanigans, had a little dance, sang a little song and then returned to their pots whilst Little Weed asked a question in the form of a song to the adolescent audience along the lines of, "was it Bill or was it Ben, bumped into the stick man then, which of those two Flowerpot Men, was it Bill or was it Ben?" Maria Bird was the narrator of the stories (Julia Williams succeeded her) and at the end of each episode told the audience that they had all witnessed Bill and Ben's capers...
"....but the man who worked in the garden didn't know anything had happened at all. Nobody knew about the Flowerpot Men. Only you saw them playing...and the Little Weed...and I think the little house knew something about it...Don't You?"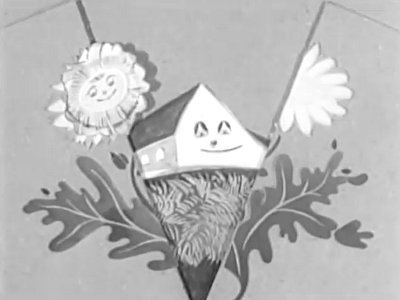 Bobop!
Published on October 21st, 2020. Written by Marc Saul for Television Heaven.