Crackerjack
1955 | United Kingdom
Say the word "Crackerjack" to anyone of a certain age and they will almost certainly yell straight back at you "CRACK-ER-JACK!"
Crackerjack was a children's entertainment show that had its roots firmly set in the old music hall/variety tradition. Introduced each week with the by-line "It's Friday, it's five o'clock, yes it's Crackerjack!" to which the show's young audience would echo the show's title at the top of their voice - and indeed throughout the show whenever it was mentioned, Crackerjack became an instant teatime television hit.

Originally introduced by ex-boxing commentator Eamonn Andrews who had previously hosted What's My Line, and who had a few months before began surprising unsuspecting personalities with a big red book for This Is Your Life, Crackerjack is perhaps best remembered for its so-called 'golden era' when co-hosts Leslie Crowther and Peter Glaze would perform comedy routines, introduce guest pop acts, and run the weekly quiz 'Double or Drop' (devised by Andrews in the show's early days), in which contestants were given a prize for a correct answer or a cabbage for a wrong one, and then had to hold as many as they could without dropping them. Win or lose everyone went home with a 'Crackerjack Pencil.'
The series was green-lit in 1955 by Freda Lingstrom (may her name be mentioned in hallowed tones) from an idea by producer Johnny Downes. Downes had quite a colourful history; he had received a DFC for his exploits as a wartime RAF pilot, had been a circus ring master, stage manager and floor manager at the BBC before doing a producers' course at the Corporation. The show was intended to have a short run - in the end it ran for 29 series, 451 episodes (of which a criminal 303 are missing from the archives) and nearly forty years.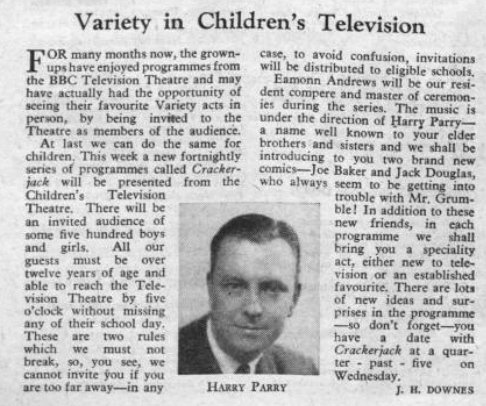 In order to facilitate a programme that had a 500 strong adolescent audience, the show was broadcast from the Television Theatre at Shepherd's Bush, an old variety theatre that the BBC had acquired in 1953, but renamed the Children's Television Theatre in the credits for Crackerjack. This was all new ground for the BBC as they had never broadcast a live children's television series before with an audience, but with the launch of ITV just over a week away, they were more than willing to pull out all the stops in order to compete with, or possibly disrupt the upstart competitor.
Rehearsals for Crackerjack took place on the day of broadcast and didn't finish until thirty minutes before transmission. Crackerjack launched, no - not on a Friday, which eventually became its regular spot, but on Wednesday 14 September 1955 and remained a midweek show, being shown fortnightly for some considerable time. The first comedians to appear were Joe Baker and Jack Douglas who caused mirth and mayhem as two schoolboys who blew up Eamonn Andrews at the end of the first show with a booby-trapped parcel! No hosts were harmed in the execution of this gag.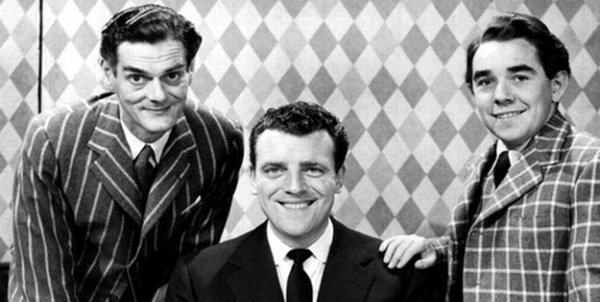 When Baker and Douglas moved on to pastures new, the production team hired a little (in more than one sense of the word) known comedian by the name of Ronnie Corbett - and teamed him up with Michael Darbyshire, an actor best remembered later on for his portrayal of Hubert Davenport, the Victorian ghost in the BBC TV children's comedy series Rentaghost. Following Corbett and Davenport's stint on the show, in September 1960, Leslie Crowther and Peter Glaze joined the line-up, and this is the 'golden age' that those 'people of a certain age' that I alluded to earlier, remember the best (I might just be referring to myself).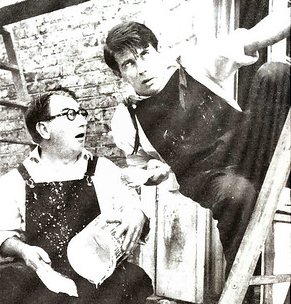 The double-act of Crowther and Glaze was the television equivalent of Laurel and Hardy, with pratfalls, double takes and comedy of the highest quality. When the 1964 series of Crackerjack began Eamonn Andrews had departed and Leslie Crowther was now the host. The show had eventually moved to Friday (via Thursday) and the Crowther-Glaze routines were now firmly established. So too was Crowther's introduction of 'it's five o'clock - yes, it's crackerjack' - at least it would have been if auntie Beeb hadn't started messing around with the schedules. After a few weeks the BBC decided to move the news from 5.55 to 5.50 meaning that Crackerjack had to move to 4.55. It's enough to make you drop your cabbage!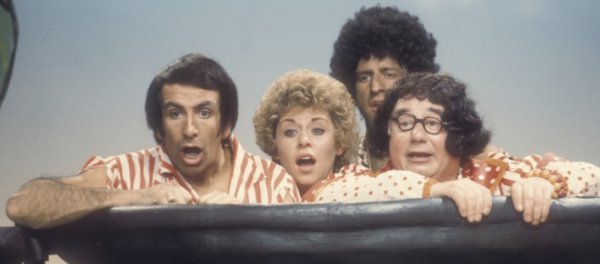 Leslie Crowther left the show after the 1967 season and was replaced as host by Michael Aspel. Aspel had previously been a BBC newsreader but in 1968 he began to diversify. He would eventually go on to become a genial chat-show host and presenter who introduced Ask Aspel, a show in which, in those pre-video recorder days, presented viewers' favourite television clips of the week. The only way you could watch them after they'd departed into the nethersphere.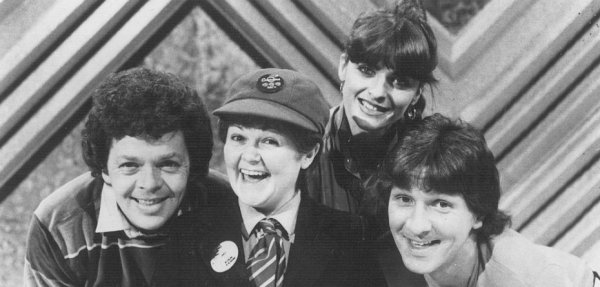 In the early 1970s the BBC decided to 'rest' Crackerjack, mainly because many of the series' cast, apart from Peter Glaze, were no longer available. The only way to keep it going would be a complete re-launch, but it took almost two years for that to happen. A number of different presenters and comedians came and went in the ensuing years, including Don MacClean, Ed Stewart, Bernie Clifton, Stu Francis, Sarah Hollamby and the Krankies (Stu and Janette Tough). When the final curtain came down on the series in December 1984 its best years were firmly behind it.
But for many, Crackerjack is remembered with great nostalgia and even greater affection and is very firmly placed in the annals of television history and therefore deserving of its place in Television Heaven. CRACK-ER-JACK!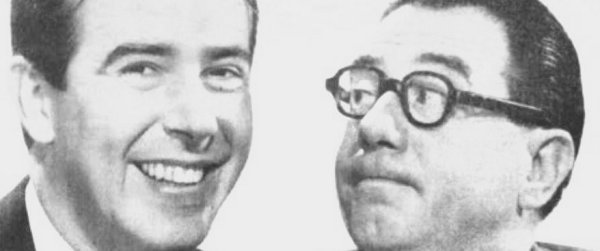 For the full story of Crackerjack I'd highly recommend Alan Stafford's excellent book 'It's Friday, It's Crackerjack' from Fantom Publishing. It's available from Amazon - see above - TVH receives a small commission if you purchase through this link but it does not affect the price you pay. 

Published on December 24th, 2019. Written by Laurence Marcus for Television Heaven.