What's My Line
1951 | United Kingdom
The quiz-show genre has its roots in radio and was quickly adopted for television with the first TV game show being broadcast in the UK in 1938. 'Spelling Bee' was a 15-minute transmission from Alexandra Palace where it was hosted live by Freddie Grisewood, commencing 31 May. The show proved so popular that a number of versions were created including 'Television Spelling Bee', where viewers took on artists and television musicians.
BBC Television closed in September 1939 for the duration of the War and commenced in 1945, however it wasn't until the 1950s that gameshows became a popular fixture on television as the medium began to spread into popular culture. 
What's My Line? - which made its first appearance on British television in 1951 had come to American TV screens the year before. The brainchild of prolific gameshow creators Mark Goodson and Bill Todman, who would go on to create some of the most popular quiz shows on television including 'Beat the Clock', 'Password', 'To Tell the Truth', 'The Price is Right', 'Blockbusters' and 'Family Feud' (made for the UK as 'Family Fortunes'), the idea was based on a boast that had been made to them by one of their staff members, Bob Bach, who claimed that he could deduce the occupation of total strangers. This inspired a proposal for a quiz show they initially called 'Occupation Unknown' before selling the idea to CBS and renaming it 'What's My Line.'

The show, in which a panel of guest celebrities attempt to guess the occupation of people unknown to them, was bought by the BBC and given a trial series starting in July 1951. Hosted by Gilbert Harding, the 'panel' for the first programme consisted of Barbara Kelly, Ted Kavanagh, and Jerry Desmonde. Although it was well received, the general consensus of opinion was that the irascible Harding didn't quite fit in the role of 'chairman'. Uncomfortable with the role himself, Harding refused to chair any further shows. There was a reshuffle and Harding was moved to the panel alongside Desmonde, actress Elizabeth Allan and novelist Marghanita Lasky. The affable Eamonn Andrews was brought in as host.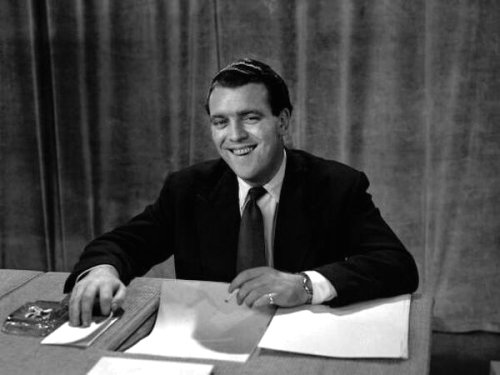 Andrews later recalled Harding's debut as chairman: "Gilbert had this challenger who was a male nurse but unfortunately Gilbert had the cards out of order and had 'motor mechanic' written down. When the challenger was asked if he used instruments in his job and he answered in the affirmative Harding insisted "no, no you don't!"
Gilbert Harding, once described by the tabloid press as 'the rudest man in Britain', was something of an enigma. Behind his gruff exterior was a lonely and complex man. Gay, in an era when it was not only unspoken but a criminal offence in the UK, Harding once admitted during a television interview that his bad manners and temper were "indefensible" and also admitted the he was "profoundly lonely," later adding, "I would very much like to be dead." Harding's father and mother were master and mistress of a workhouse, and it was in those surroundings that he was brought up. His father died when Gilbert was three years old, at just twenty-eight years of age.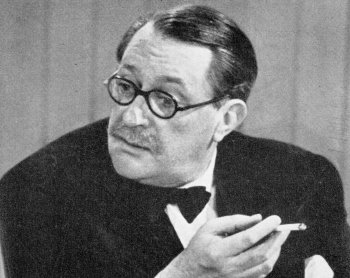 Tutored and disciplined by his mother, the young Harding showed intellectual prowess at the Royal Orphanage School in Wolverhampton, which won him a scholarship at Cambridge. When he left university, Lord Trenchard had formed the Police College at Hendon, and undergraduates considered a career in policing to be a promising one. Harding joined. At the same time he studied law and was about to be called to the Bar when, in 1939, war deflected him into the BBC as an assistant to monitoring staff, responsible for listening to and collating enemy broadcasts.
After the war he turned freelance and was soon chairing 'The Brains Trust', 'We Beg to Differ', 'Twenty Questions' and other radio quizzes. He entered TV as himself in Michael Howard's comedy series 'Here's Howard' in 1951. But it was on 'What's My Line' that he became something of a national institution.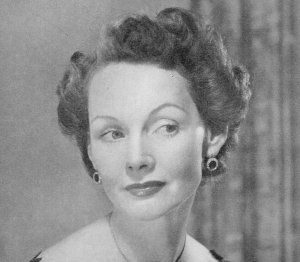 Elizabeth Allan, who was born in Skegness, Lincolnshire, had previously enjoyed a brief period of fame after travelling to Hollywood and starring in movies with Clark Gable, Ronald Colman and Robert Montgomery. But just as her star was rising, a law case over a film contract made producers wary of employing her. Blacklisted by Hollywood, Allan returned to the UK, married, and settled down to family life. Her career seemed all but over. When Leslie Jackson of the BBC was given 'What's My Line' to produce, he was looking for 'a suitable woman' for the programme's panel. It was his wife, a one-time stage manager who had toured with Elizabeth Allan, who suggested her. However, the stuffy programme chiefs at the BBC thought the panel should consist of 'higher-domed intellectuals'* and Jackson had to fight to get Allan on the show.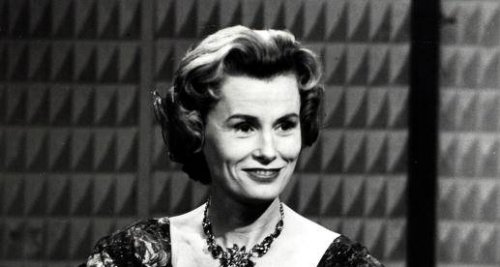 Other memorable names on the weekly panel included Lady Isobel Barnett, who replaced Marghanita Laski. Regarded by audiences as elegant, witty, and the epitome of the British aristocracy, Lady Isobel had a shaky start to her stint as a panellist. Initially she was regarded as being too aloof and cold, but the producers persevered, and audiences soon became enraptured with her.  She had a mischievous smile which many male viewers regarded as 'subtly sexy' and sported a remarkably chic wardrobe, and in 1956 she was voted top woman television personality. Other notable guest panellists on the show, which ran until 1963, included comedians Bob Monkhouse, Benny Hill, Arthur Askey and Frankie Howerd, magician David Nixon, and actors Jimmy Edwards and Sid James. Among those challenging a blindfolded panel to discover their identity (blindfolds were only worn when the challenger was well-known or famous) included Norman Wisdom, Terry-Thomas and Walt Disney. 
The challengers would often have an unusual occupation and the panel would have to guess it by asking a number of questions. As long as those questions were answered in the affirmative the panel could continue, but ten negative answers meant that the challenger won. Each week the BBC received around 200 letters from members of the public who were convinced they could beat the panel. Hardly surprising, as it was estimated that in 1952 around 90 per cent of the television owning public tuned in to 'Watch My Line' which, although broadcast in the days before television ratings were accurately recorded, very probably made it the most watched show on television.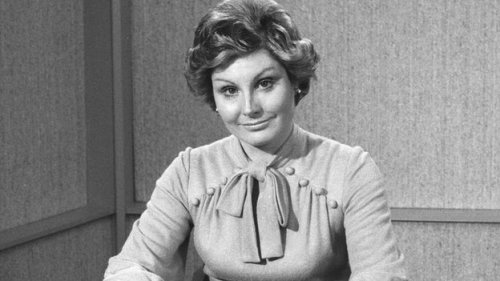 Ten years after the series finished it was briefly revived by the BBC. Hosted by David Jacobs, the series failed to make an impact on the viewing public. But in 1984 it was revived one more time (to date the last time it appeared on our screens). Eamonn Andrews and Barbara Kelly, the sole survivors of the original series returned, and the quizzing continued for a further six years. After Eamonn Andrews passed away in 1987, Penelope Keith took over as chairperson for one series followed by Angela Rippon for the remainder. Panellists included Jilly Cooper, George Gale and Ernie Wise.
Not everyone was happy to have appeared on the show. One luckless challenger, who gave his job as frogman, was recognised by a bank manager who promptly phoned the police. The man was jailed for 15 months for passing dud cheques.
*The Television Annual for 1953
Published on November 19th, 2020. Written by Laurence Marcus for Television Heaven.