Hobson's Choice
1950 | United Kingdom
Broadcast live on 4 April 1950 as part of the BBC Sunday-Night Theatre strand, this was the first TV adaptation of Harold Brighouse's black comedy and starred Wilfred Pickles in his television acting debut as Will Mossop, a gifted but unappreciated boot-maker employed by the tyrannical Henry Horatio Hobson (Edgar K. Bruce) in nineteenth-century Salford. 
Hard-drinking Hobson, a widower, tries forcefully to run the lives of his three unruly daughters, who have worked in their father's establishment without wages for many years and are eager to be married and free of the shop.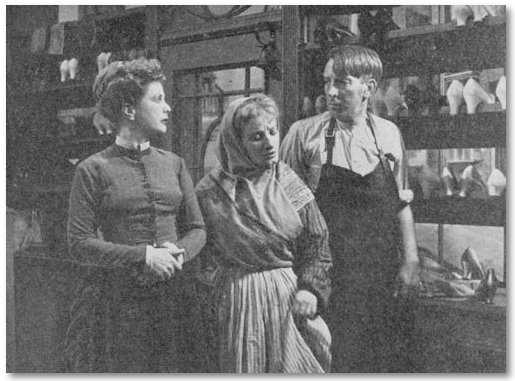 Alice has been seeing Albert Prosser (prolific producer Alan Bromly in a rare acting role), a young up-and-coming solicitor, while Vicky is keen on Fred Beenstock (Dennis Fraser), the son of a respectable corn merchant. But Maggie (Belle Chrsytall - pictured left) is far too useful to Hobson and when her father decrees 'no marriage' she turns to unambitious, browbeaten Willie and bullies him into an engagement in spite of the fact that Willie is seeing Ada Figgins (Sibell Gill - pictured centre). 
Pickles went on to play the same role on stage. Brighouse's play has been adapted for television numerous times, not only in the UK but also in Austria, Belgium and the USA. It was also serialised in September 1967 for BBC Schools Television.  
The Radio Times, dated 31 March 1950 carried a small article under the heading Wilfred Pickles' Choice. In the article Pickles explains how the production came about. "I put the idea to the television people because Hobson's Choice is the classic comedy about Lancashire and the television audience consists mainly of Southerners, I think one of the things Have a Go! (Pickles' radio series) has done is to help break down regional prejudices and show one part of the country how to laugh at the humour of another part."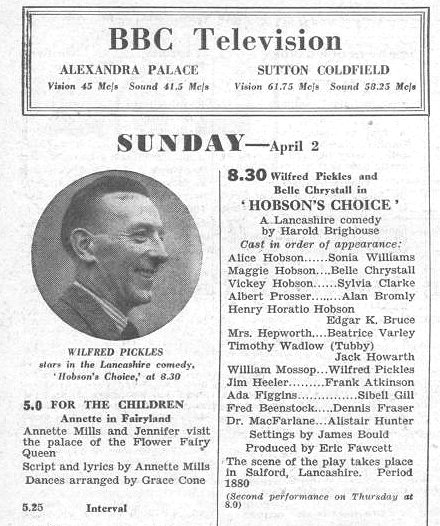 Austin Welland, the critic for the short-lived publication Television Weekly, reviewed the play in the 15 - 21 April edition. 'Not many plays share with "Hobson's Choice" the distinction of having their title adopted into the colloquial phraseology of the language. This gem of a Lancashire comedy made very pleasant entertainment for television, and one hopes it is a foretaste of similar productions aimed at the family circle rather than the exclusive coterie.
The story of the unmarriageable daughter who eventually captures a real matrimonial prize is one that rarely goes far wrong in its acceptability to most tastes, and "Hobson's Choice" is no exception.
Naturally, the lady who is the subject of the controversy is bound to dominate proceedings, and one doubts if a more suitable actress than Belle Crystal (sic) could be found for this part. My only criticism is that she seemed rather too attractive to the eye to have been so persistently passed over by the eligible males of the district, though it must be admitted that her biting tongue could well have counterbalanced her visual appeal. Throughout the long and trying part she never faltered once, and the only time the action tended to drag a trifle was when she was off the scene.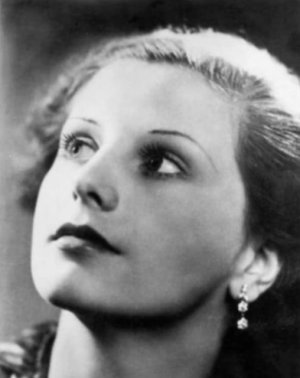 Wilfred Pickles chose his first straight television part with some foresight. It was not too strenuous, yet offered plenty of scope for his real talent for homely Northern comedy. His was a masterly study of the "gormless" Lancashire type, whose character slowly changes under the forceful influence of a masterful spouse. A film version of this play, with Wilfred Pickles and Belle Crystal in these parts, should be a sure-fire bet for any British cinema's box-office.
(In fact, Belle Crystall had already appeared (as Vicky Hobson) in the 1931 film by British International Pictures. In 1954 Hobson's Choice was remade by London Film Productions, directed by David Lean and starring Charles Laughton and John Mills. The part of Vicky was played by young Prunella Scales).
There was some effective support from Sonia Williams and Sylvia Clarke as the scatter-brained sisters, with Alan Bromly and Denis Fraser as their lively beaux. As Mr. Hobson, Edgar K. Bruce's performance was more suited to the stage than screen; it lacked light and shade, and his ranting and raving tended towards monotony, thereby robbing the part of much of its effect. I preferred the quieter studies of Frank Atkinson, as his crony, and Jack Howarth (later Coronation Street's Albert Tatlock) as the shop foreman.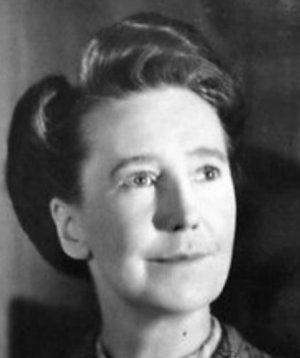 Alastair Hunter was another whose part as the doctor was too heavily underlined, but Beatrice Varley was as trenchantly effective as ever in a short but concentrated cameo of a wealthy woman customer. Her appearance gave the scene a distinctive lift, and I hope to see her one day in a really big part.
These comedies from the early Manchester repertory school have all made good viewing, and there are still several more which could no doubt be adapted successfully to this medium.'
Published on December 9th, 2020. Written by Laurence Marcus for Television Heaven.