Hobson's Choice
1950 | United Kingdom
The first TV adaptation of Harold Brighouse's black comedy starred Wilfred Pickles in his television acting debut as Will Mossop, a gifted but unappreciated boot-maker employed by the tyrannical Henry Horatio Hobson (Edgar K. Bruce) in nineteenth-century Salford.
Hard-drinking Hobson, a widower, tries forcefully to run the lives of his three unruly daughters, who have worked in their father's establishment without wages for many years and are eager to be married and free of the shop.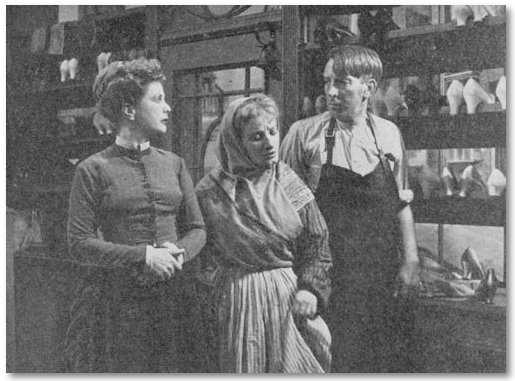 Alice has been seeing Albert Prosser (prolific producer Alan Bromly in a rare acting role), a young up-and-coming solicitor, while Vicky is keen on Fred Beenstock (Dennis Frazer), the son of a respectable corn merchant. But Maggie (Belle Chrsytal - pictured left) is far too useful to Hobson and when her father decrees 'no marriage' she turns to unambitious, browbeaten Willie and bullies him into an engagement in spite of the fact that Willie is seeing Ada Figgins (Sibell Gill - pictured centre).
Broadcast live on 27 May as part of the BBC Sunday-Night Theatre strand.
Pickles went on to play the same role on stage. Brighouse's play has been adapted for television numerous times, not only in the UK but also in Austria, Belgium and the USA. It was also serialised in September 1967 for BBC Schools Television.
Published on March 8th, 2020. Written by Laurence Marcus for Television Heaven.