It Ain't Half Hot Mum
1974 | United Kingdom
Following the runaway success of Dad's Army, co-creator Jimmy Perry drew on his experiences as a member of a Royal Artillery Concert Party in Deolali, India, to create (with his partner David Croft) another war-bound comedy series. 
Based in India it was the concert party's job to entertain the troupes and although these were hardly ever in evidence the 'boys to entertain you' were kept on their toes by their loud mouthed Sgt Major Williams (Windsor Davies), or 'Old Shut Up' as they preferred to call him. In turn he referred to them (in the days before political correctness had been invented) as 'A bunch of pooftahs', content to sing and dance their way through the hostilities rather than fight. Even less PC was the fact that Michael Bates was asked to put on brown make-up for the part of local servant (or Walah) Rangi Ram, a fact that led to the odd suggestion of racism. However, in his defence Bates would always claim (somewhat tongue in cheek) that as he was born in India and spoke Hindustani before he had learned English, and as the other two locals in the cast, Punka Wallah Rumzan (Babar Bhatti) and Char-Wallah Muhammed (Dino Shafeek) were born outside of India themselves, that he was in fact the only true Indian in the cast! Controversy aside It Ain't Half Hot Mum with its band of misfits never quite lived up to Perry and Croft's finest hour although it survived for eight series'.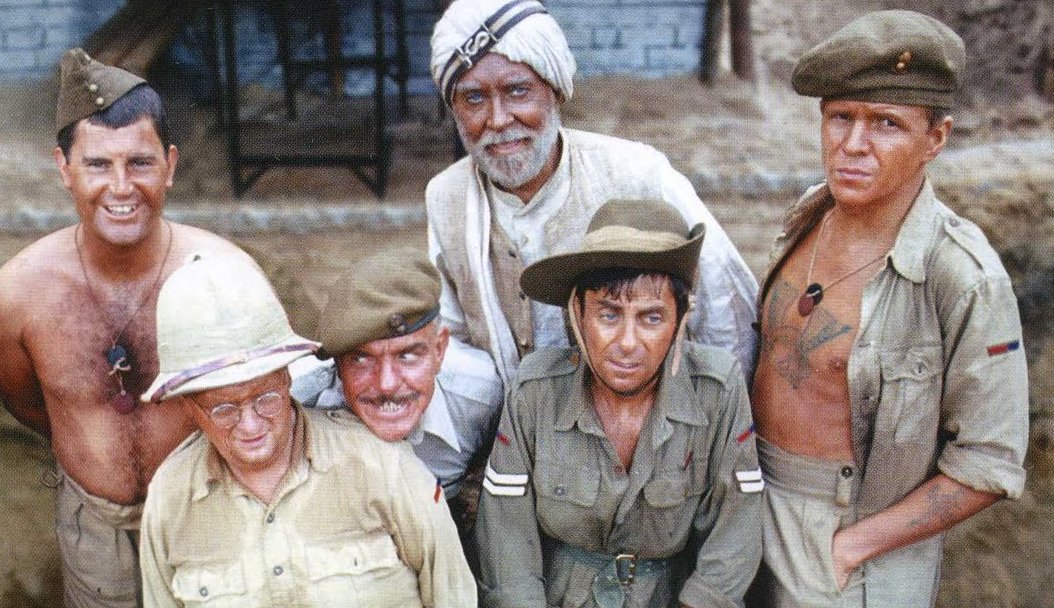 The concert party themselves mainly consisted of Bombardier Solomons (George Layton -although he left after series two), Bombardier Beaumont (Melvyn Hayes), who because he was somewhat effeminate and dressed up in drag for the concerts was referred to throughout as 'Gloria', an intellectual pianist referred to by Williams as 'Mr Lah-de-Dah' Gunner Graham (John Clegg), Lofty (Don Estelle) - so called because in stark contrast to his nickname he was extremely small, and Gunner 'Lovely Boy' Parkins (Christopher Mitchell), the only member of the troupe that Williams had a soft spot for-but only because he believed the youngster to be his illegitimate son. (The series title was taken from the closing line of Parkins' letters back home to his mother). To add further to the Welsh BSM's frustration, the entire troupe was run by a couple of buffoons in the shape of Colobnel Reynolds (Donald Hewlett) and Captain Ashwood (Michael Knowles). 
By the time Michael Bates died (between series 5 and 6), the show was already established in the minds and hearts of the British public. Davies and Estelle formed something of a double act and recorded a single 'Whispering Grass' -which, not unsurprisingly, given Britain's love of novelty records, went straight to the top of the charts upon its release in 1975.
Published on December 23rd, 2018. Written by Laurence Marcus for Television Heaven.