Joan and Leslie
1955 | United Kingdom
Debuting on only ITV's second Sunday of transmission (October 2nd 1955) as Leslie Randall Entertains - Joan and Leslie featured real-life husband and wife team Joan Reynolds and Leslie Randall in commercial television's first home-grown sitcom. 
Leslie was a lonely-hearts columnist who went under the pen-name of Dorothy Goodheart, whilst his wife played the true-to-life role of an actress. Interviewed before the start of the series Leslie Randall said, "I am a great admirer of 'Burns and Allen' but we do not intend to imitate them in any way." Nevertheless this didn't stop the scripts (for which both stars made contributions) from depicting his wife in the traditional (for that time) role of the guileless female. However the series proved popular enough with the public for the original 15-minute episodes to be expanded to 30 minutes and the fortnightly transmissions to be increased to weekly at the behest of ATV supremo Lew Grade, who also gave the stars a raise to a reported 7,000 pounds a year. 
Some of the episodes were transmitted from London's Hackney Empire and as all the episodes went out live which restricted most of the action to the couples flat which was above their friend Mike's garage. Apart from the husband and wife team, Harry Towb appeared as Mike and Noele Dyson played a housemaid by the name of Mrs Henshaw (something of a type-casting comedic role for Dyson, who later became cook and cleaner to Patrick Cargill's family in Father Dear Father).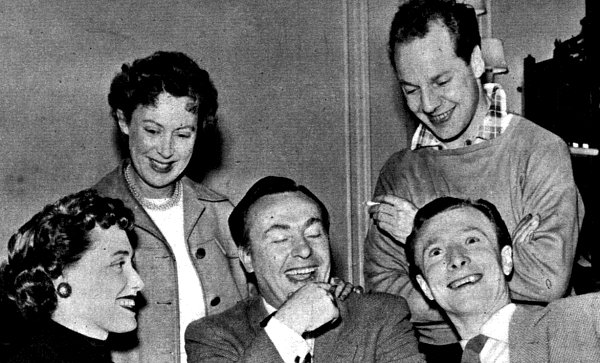 For the first time in the UK four writers were employed permanently engaged in preparing one weekly script. Dick Sharples, Gerald Kelsey, John Law and Bill Craig were the collaborators and the series was produced by Hugh Rennie. Although the series finished in 1958, the Randall's were seen on British screens almost entirely throughout the 1960's, firstly in the follow-on comedy entitled The Randall Touchbut more famously in a series of TV advertisements for Fairy Snow, which ran for almost ten years. Furthermore, in 1969 they made a brand new series for the Seven Network in Australia* (also called Joan and Leslie), although it was never aired in the UK. This was a continuation of the earlier UK effort: Randall again was writing a lonely-hearts column as Dorothy Goodheart, which is mentioned in several of the episodes, and Joan mentions in the first episode that she's an actress...

*Chris Keating, presenter / Production Manager at Inner FM Community Radio, presenter / producer at Plenty Valley Community Radio and long-time researcher of Australian television says: "I've also a sneaking suspicion that some of the earlier scripts may have been used: scripts are credited to Randall, Sharples, Kelsey, Craig as well as Tony Scott, and Rosalie Stephenson."
Published on December 28th, 2018. Written by Laurence Marcus for Television Heaven.