Kipo and the Age of Wonderbeasts
2020 | United States
How many post-apocalyptic science fiction stories are both tremendously heartwarming and uplifting, and perfect viewing for the whole family? In 2015, Radford Sechrist began publishing the webcomic Kipo, the adventures of the thirteen-year-old Kipo Oak on a far future Earth transformed into something bizarre yet wonderful. In 2018, the comic abruptly stopped, as Sechrist had been approached by Dreamworks to turn his story into an animated series.
Fast forward a little to 2020. Three seasons of Kipo and the Age of Wonderbeasts have been released by frequent Dreamworks collaborator Netflix, made available in January, June and October. A complete story for Kipo and her friends, the series has been a huge hit, gaining critical and audience praise.
The series begins when Kipo is forced to flee from the undergound city that is her home, separated from her father (her mother long since missing), and left to survive on the surface. The world is seemingly abandoned by humans, and she searches the city of Las Vistas for food and shelter. In spite of her seemingly desperate predicament, Kipo is incredibly upbeat and optimistic. It isn't long before she starts to meet other human survivors, who have been living on the surface for years; First she meets Wolf, a young orphan girl hardened by her experiences on the surface world, followed by Benson, a boy who has grown up almost alone but is far more upbeat and open (though not quite as excitable as Kipo).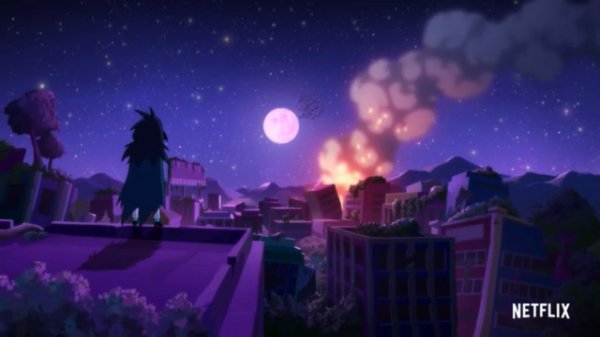 There may not be many human beings about, but that's not to say there's no life in Kipo's world. After some uncertain environmental disaster, all the animals of the world have been mutated. Now known as mutes, they exist in every imaginable size and variety, from the gigantic mega-monkey that attacked Kipo's complex (not to mention mega-bunnies and mega-puppies), to Mandu, a small blue, six-legged pig who becomes Kipo's pet. Many of the mutes are highly intelligent, having formed humanlike societies themselves, from Timber Cats (seven-foot-tall lumberjack felines) to academically-inclined wolves. My favourite group is probably the Mod Frogs. It's not even restricted to animal life; one episode sees the gang captured by Fun Gus, a sentient mould.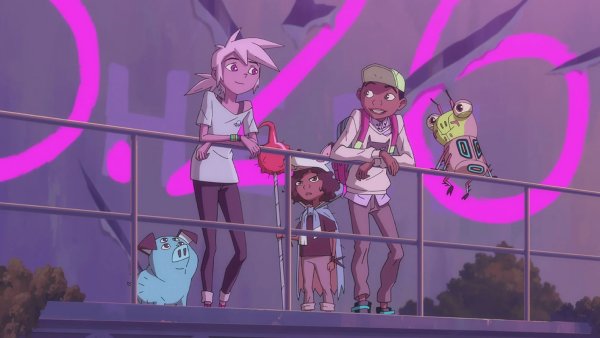 The best-known mute is Dave, Last of the Daves, a wise-cracking insect who moults his exoskeleton periodically, going from baby to child all the way to superpowered adulthood, before old age and finally returning to infancy. He's essentially immortal, mostly concerned with eating and is Benson's best friend. Together, Kipo, Wolf, Benson, Dave and Mandu become a tight-knit circle of friends, getting into scrapes as they explore their strange world looking for Kipo's people. The voice cast is excellent. Led by Karen Fukuhara (Suicide Squad, The Boys) as the almost hyperactive Kipo, the core cast includes Sydney Mikayla as Wolf, Tyson Coy Stewart as Benson and comedian Deon Cole as Dave. They all make their characters adorably likeable and sympathetic.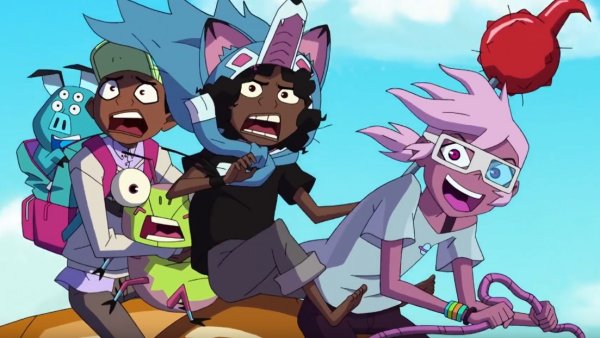 There are villains as well, of course. To begin with the main threat is Scarlemagne, a deranged power-hungry baboon who can control people with his pheromones (possibly inspired by the Marvel Comics villain the Mandrill). Scarlemagne, brilliantly voiced by film star Dan Stevens (Legion, Downton Abbey, Beauty and the Beast), is a flamboyant, regency-obsessed lunatic, yet he has an unexpected link to Kipo and over time is rehabilitated. Later, once Kipo's colony has been relocated, Dr. Emilia becomes the major threat. Voiced by Amy Landecker (Transparent, A Serious Man), she's a cold-hearted villain as dangerous as any mute.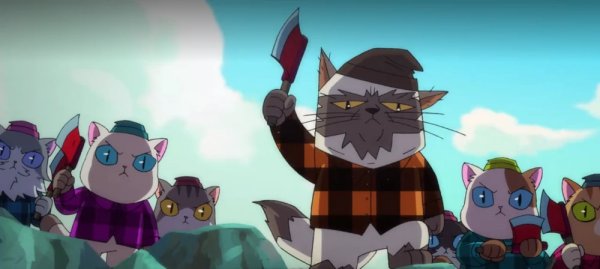 The series is an absolute marvel of worldbuilding. Based on Sechrist's original artwork, the animation is performed at Studio Mir in South Korea, with the production having an overall anime feel but a visual style all its own. It's colourful, inventive and hilarious, with each episode introducing yet another fabulously imaginative creature and situation. Sechrist co-produces the series and directs essential episodes, moving the series along from a survivalist adventure to a superhero show to a powerful story of inclusion and new beginnings. It's a hugely optimistic series, celebrating differences and teaching its young viewers that we can live together in spite of them. While in-universe it's about the different races of mutes and the human survivors, it's a strikingly inclusive series on an ordinary human level. The major human characters are mostly played by and drawn as people of colour – Kipo herself is a sort of pinkish purple due to her own mysterious genetic background, but she's actually of a mixed black-Asian background. Benson happens to be gay, and there's no hand-wringing or dramatic coming-out story. Kipo develops a crush on him and he matter-of-factly tells her he's not interested because he's gay. Later on, he gets his own very sweet romance.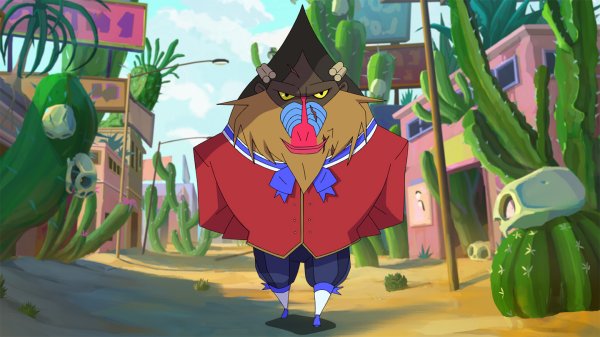 While it's deliberately inclusive, the series is never heavy-handed – not any more than any children's series which strives to have a moral to its storytelling. No, it focuses on clever, exciting and funny storylines, and never takes itself too seriously. How could it, with characters that include a psychic coven of cheese-worshipping goats, and titles such as "Real Cats Wear Plaid," "Twin Beaks" and "Don't You Forget a Meow Me" (oof). Completed by a spectacular score by Daniel Rojas with contributions by GZA of the Wu-Tang Clan and Yvonne Devaney, the series is a audiovisual triumph and a perfect example of smart, positive storytelling. Made for kids, it's got something for every age. An absolute delight.
Review: Daniel Tessier
Dan describes himself as a geek. Skinny white guy. Older than he looks. Younger than he feels. Reads, watches, plays and writes. Has been compared to the third, fourth, fifth, sixth, seventh, eighth, tenth, eleventh and twelfth Doctors, and the Dream Lord. Plus Dr. Smith from 'Lost in Space.' He has also had a short story published in Master Pieces: Misadventures in Space and Time a charity anthology about the renegade Time Lord. 
Dan's web page can be here: Immaterial
Published on December 12th, 2020. Written by Daniel Tessier for Television Heaven.