Murder by the Book
1987 | United Kingdom
By 1940, Hercules Poirot had become insufferable. That wasn't the view of literary critics nor the millions of fans worldwide, who couldn't get enough of the mysteries of the diminutive Belgian detective. It was actually the opinion of Poirot's creator, Agatha Christie. It was this disdain that led Christie to write Curtain, Poirot's final case, in readiness to kill off her most famous creation. It was a controversial choice resisted by her publishers, and in 1987 Nick Evans wrote an intriguing one-off special for television in which Christie was confronted about the manner of Poirot's departure by none other than the detective himself, in the quirky Murder by the Book.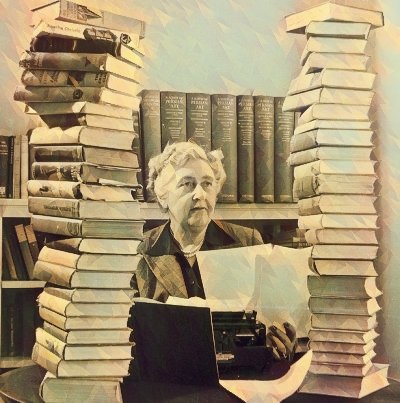 Christie wrote Curtain long before it was published. It was only Christie's own ailing health that edged her closer to its publication. The advance alone warranted a seven-figure sum, with the rights to the work signed over to Christie's daughter Rosalind. Despite Christie's apparent boredom with Poirot in 1940, she was well aware that his popularity was almost a licence to print money, and so Curtain, along with the final Miss Marple novel Sleeping Murder, were locked away for some future use – if indeed they were ever to be published at all.
It's difficult to present the full circumstances of Poirot's end without spoiling the end of Curtain. Suffice to say, Poirot had hit the most difficult murder enquiry of his career and the solution and his demise were remarkable. There was no apparent backlash from fans – it went straight to the top of the bestsellers lists, as did most of Christie's works. But the premise of Evans's story is that the manner and original timing of Poirot's farewell earned scorn from one very important person – Poirot himself!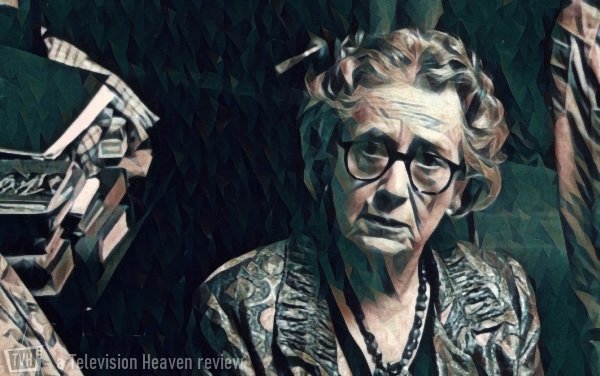 Christie's publisher has come for dinner. It's now 1975 and Agatha herself is in poor health and Edmund Cork, Agatha's literary agent, has arrived with the manuscript of Curtain, locked away all those years ago for safe keeping. He and publisher William Collins believe maybe now is the time to give Poirot his send off, if for no other reason than to stop others publishing Poirot stories after Christie's death. Christie is convinced into giving the 35-year-old manuscript another read for potential updates, but the belief is it remains one of her finest mysteries.
While reading the pages, Christie drifts off to sleep and when she hears her faithful dog Bingo barking she begins to wander the family home looking for the cause of his unrest. She finds it in the unexpected arrival of Poirot at the front door, who is not calling round to be sociable. He has arrived to voice his displeasure at the curtain being drawn on his career.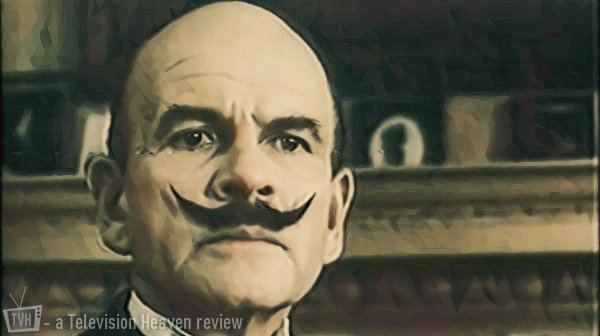 In true Christie style, Poirot dramatizes his arrival in the drawing room. Rather than challenge her directly, he implores Christie to use her grey cells in a planned murder he is seeking her help with. He knows who is to be killed and by whom, but cannot fathom the motive. He cannot understand why Christie wishes to kill him off.
He has deduced by the typing on the manuscript, the age of the paper and the name of the firm where the manuscript was stored that the decision to end Poirot's career is not one made as a result of Christie's own poor health, but one made when the two were both, in Poirot's view, at the pinnacle of their careers. This is the point he cannot cope with. Why, when they were both at their peak, had she wished him gone?
Unable to get his answers, Poirot eventually engineers a way to get access to the coveted manuscript, only to be caught by Christie and in the tussle that ensues the famous detective takes what pages he has managed to acquire and locks himself in the bathroom to read about his farewell. Horrified by the arthritic, aged condition that he is in within the pages of the book, he returns to confront Christie, who confesses the reasoning behind why she felt the urge to kill him off in 1940.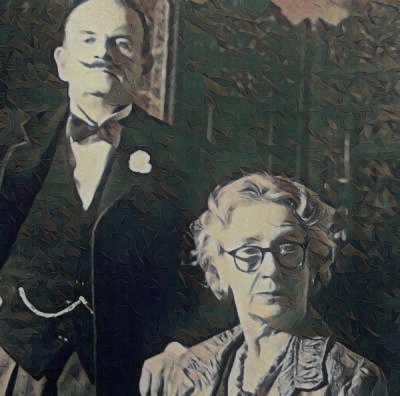 The regular Christie hallmarks are there – the manor house, the seemingly lower class staff, the ideas being scribbled in a notepad. The end of the programme cannot of course be given away – that would be in the worst of spirits, as it would for any of Christie's actual stories. Suffice to say that as Poirot becomes more distraught at his fate that he has deduced from the minimal pages he has read, Christie enjoys taunting him with the ordinary farewell she has in store for him. Anybody who has seen or read Curtain knows this is not quite the case.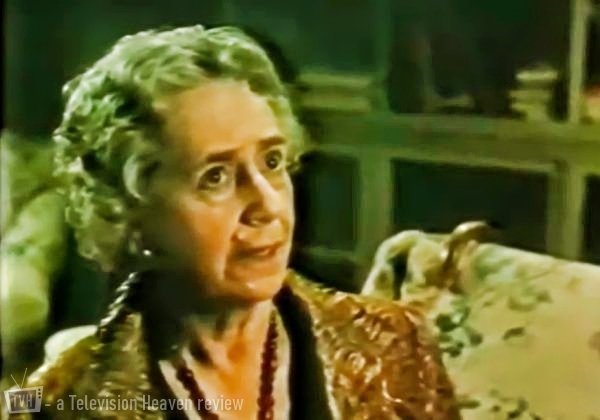 Alongside its quirkiness, the casting of the programme is superb. In what is to all degrees a two hander aside from a minute or two either end (Richard Wilson in a brief role as Christie's husband Max), the acting talent is spot-on. Dame Peggy Ashcroft takes the role of Agatha and plays it superbly, flitting from giggling innocent to hard-nosed author at whim. For Poirot, one could be forgiven for thinking that this was exactly how the famous detective was intended to be depicted keeping in mind this was made in 1987, long before David Suchet became the most acclaimed Poirot television has offered. Ian Holm is excellent, offering the arrogance that Poirot exhibited, but falling into despair and outrage at both the perceived manner of his departure and the apparent jealousy and contempt Christie had for her main literary creation.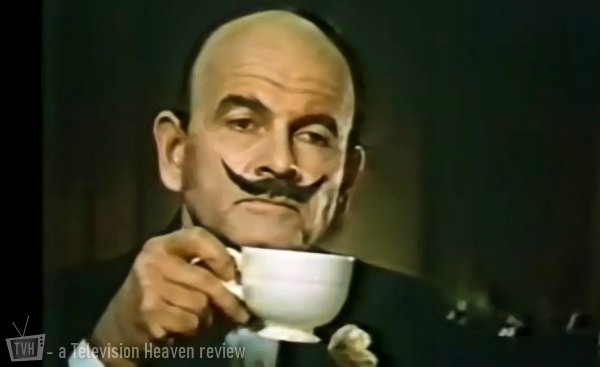 It would have been easy for Murder by the Book to have been a cruel lampooning of the Christie legacy, but in actual fact the affection and knowledge that surrounds the script makes it an extremely touching gesture. The facts about Curtain's publication and Christie's career have been carefully researched and there are many side-swipes at Miss Marple, frequently lauded as Christie's favourite creation. There is an amusing section in which Poirot and Christie critique the various Poirot actors in film and television, and there is even time for Poirot to take a swipe at two of the Margaret Rutherford Miss Marple films, Poirot stories adapted to replace him with the spinster.
For Christie fans, and indeed those who simply like an intriguing, darkly humorous piece of escapism, Murder by the Book has it all. The warmth and affection clearly involved in its creation is what gives it its charm and, mon dieu, it's a hugely enjoyable way to disengage the little grey cells for an hour.
About the writer of this article:
Born and raised in Dorset, Brian Slade turned his back on a twenty-five-year career in IT in order to satisfy his writing passions. After success with magazine articles and smaller biographical pieces, he published his first full-length work, `Simon Cadell: The Authorised Biography'.
Brian is a devoted fan of the comedy stars of yesteryear, citing Eric Morecambe, Ken Dodd, Harpo Marx and Dudley Moore amongst his personal favourites. He was drawn to the story of Simon Cadell through not only `Hi-de-hi!' but also `Life Without George', a programme he identified with having grown up in the Thatcher era.
Published on April 8th, 2021. Written by Brian Slade for Television Heaven.