Randall and Hopkirk (Deceased) - Remake
2000 | United Kingdom
Whether termed remake or revival, the resurrection of a well-loved series from the past is at best dangerous, and at worst disastrous. 
However, BBC television's lavish prime-time Saturday night incarnation of the fondly remembered ITC series originally starring Kenneth Cope and the late Mike Pratt, is that most rarest of televisual beast's; the revival done right. 
Retaining all the core ingredients which made the original a success, yet infusing them with a knowingly affectionate nod towards the basic absurdity of the concept, writer/producer Charlie Higson remoulded Randall and Hopkirk (Deceased) into a consistently amusing romp which unashamedly sets out to offer its audience light-hearted, purely escapist entertainment, which is a direct hark back to the less cynical decade that spawned the original. Unlike the original, the new version, with it's state-of-the-art special effects, became an instant hit.

In the central roles of ghost and detective respectively, comedians Vic Reeves and Bob Mortimer exhibit their inexperience as actors, but these dramatic shortcomings on the duo's part are most successfully negated by the wise decision to surround them with a plethora of seasoned guest stars. Alongside regular support from the talented Emilia Fox as Jeannie Hurst, (Marty's widow in the original, now his fiancee) and reinvented as a kick-boxing equal to her male co-stars, is the effortlessly charismatic presence of former Doctor Who Tom Baker, as Wyvern, Marty's spectral mentor. And as usual, Baker's performance is a delight to behold.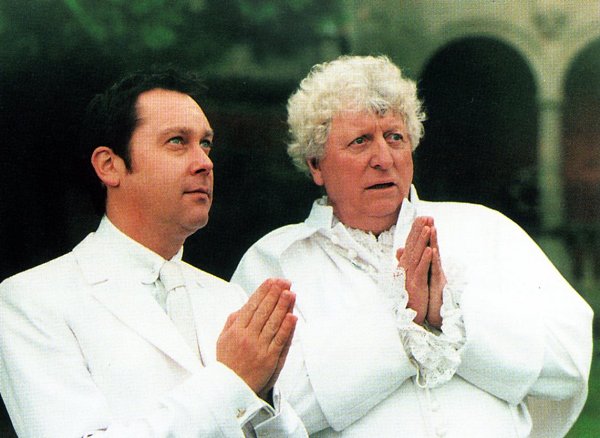 In its two seasons both the series, it's stars and the production team as a whole made a massive leap forwards in terms of confidence in the ability of the series to step out of the impressive shadow cast by its sixties counterpart. Both Reeves and Mortimer made genuine progress in their acting ability, and grew comfortable enough with their interpretations of the characters of Marty and Jeff to dispel unfavourable comparisons with the Cope and Pratt incarnations. Their new found relaxation and obvious enjoyment of the roles resulted in the characters taking on a new depth and comedically humorous subtly of shading that went a long way to making them both more believable as a team, as well as endearing for the viewer. 
Slick, glossy and with a genuine sixties feel to the supporting characters which is almost Avengers-like in its eccentricity, the fledgling series proved an instant ratings winner for the corporation in its first season, and succeeded in impressing even more in its second.
Published on January 24th, 2019. Written by SRH (2001) for Television Heaven.