Redgauntlet
1970 | United Kingdom
Following its success with Flight Of The Heron in 1968, Scottish Television (STV) took another excursion into children's drama with this adaptation of Sir Walter Scott's 1824 novel. To bring this robust tale of Britain's 'last frontier' cost STV £80,000 - a good deal more than the BBC's earlier adaptation in 1959 - as it was filmed extensively, as in Flight Of The Heron, in many of the genuine locations from the book. 
The story is set in the Dumfriesshire Border around 1765, twenty years after the events depicted in Flight Of The Heron: the Jacobite rising and the Battle of Culloden. The tale deals with a feud within the Redgauntlet family, with one side trying to restore Bonnie Prince Charlie to the British throne and the others convinced the cause is lost and concerns itself with the fortunes of Mr Darsie Latimer, who is given an allowance by a mother he never sees and orders not to step foot on English soil until he is twenty-five. The lack of an explanation only fuels his curiosity until it eventually gets the better of him and he sets off for the Solway Firth and Cumberland. Once there he is kidnapped on the orders of Redgauntlet, a fanatical Jacobite leader who is also known as Herries of Birrenswork. Darsie's young friend, Alan Fairford, sets out to rescue him and it is eventually revealed that Darsie is the son of the previous Laird of Redgauntlet who was killed at the battle of Culloden, and is therefore the rightful heir to the Redgauntlet fortune, which his uncle had usurped in order to fund another Jacobite uprising.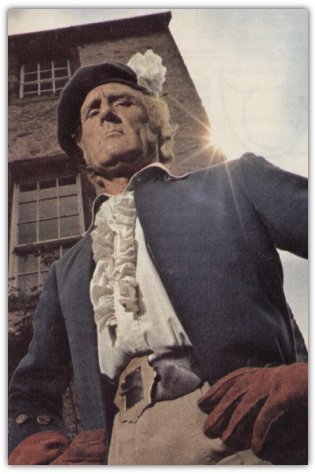 The cast and crew spent three months on location filming among the barns, cottages (and ghosts) portrayed in the original story and were based at the Rockall Hotel, reputed to have been the home of the original Redgauntlet family. 
Scott's novel was adapted by Ian Stuart Black whose daughter also starred in the series. The novel contains many other colourful characters and is generally regarded as one of the finest examples of Scott's writing.
Published on January 24th, 2019. Written by Laurence Marcus (2000) with adaptions from an original TV Times article for Television Heaven.