Sez Les
1969 | United Kingdom
Review: Brian Slade
When people recall their favourite comedy programmes of the 70s, they will rightly hail the warm memories of Morecambe & Wise and The Two Ronnies, or the anarchy of Monty Python's Flying Circus and various guises of Qfeaturing Spike Milligan. And if people wanted something a little bawdier, there was always The Benny Hill Show or The Dick Emery Show.
Surprisingly, one programme gets a little overlooked, despite the fact that it crammed eleven series into the space of eight years, was a huge ratings hit and starred one of the most recognisable and loved comedians of the 70s and 80s. Les Dawson's Sez Les was a glorious success, taking its host from Opportunity Knocks winner to a household name, establishing him as one of the most popular comedians of his generation and unleashing the likes of gossiping housewives Cissy & Aida and rubber-faced sex-crazed Cosmo Smallpiece.
Dawson had left home for Paris to become a writer after a succession of failed jobs in the UK. But after failing to make a living across the channel, he returned home to work the clubs in the evening while trying to hold down daytime work. His style of complaining about the pains of his daily grind in an extended monologue, often while at the piano, struck a chord with the British public and in 1969, two years after his Opportunity Knocks success, Dawson got his own variety show. Sez Les provided a television vehicle that propelled him to a level of stardom that remained with him throughout the rest of his career.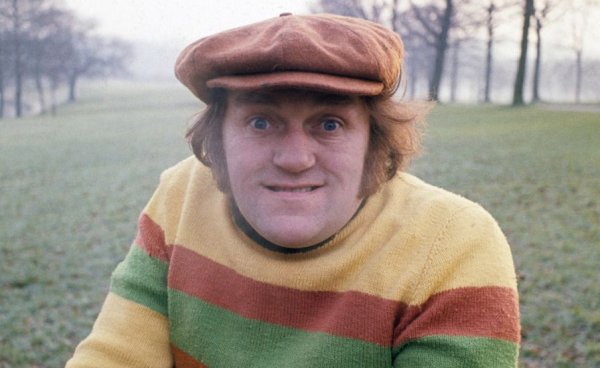 Looking back, Sez Les offers a curious mixture of comedy. There was a heavy dose of musical segments which to the modern eye look dated and out of step with the comedy around it. However, at a time where we're used to dissecting old shows simply for the classic sketches, it's worth remembering that the greats like Ken Dodd and Morecambe and Wise at the peak of their powers included numerous musical guests, many of whom would achieve no greater moment than their appearance on their hosts' show.
Musical segments aside, Les adopted his outwardly grouchy persona for a host of quick-fire sketches in familiar settings – grocery stores, libraries, doctors' surgeries were all a wealth of source material for comedies of the time.
Although Les was front and centre for the programme, he had a stock of guest stars including long-time admirer and central Python comedian John Cleese, Brians Glover and Murphy and most famously of all, Roy Barraclough.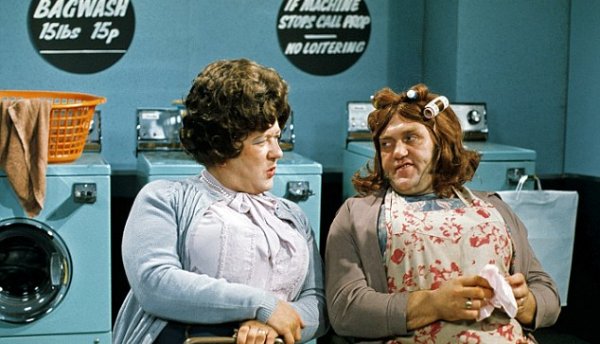 Although not a double act, Dawson and Barraclough would form an on-screen partnership of comedy gold in the form of Cissy & Aida. Dressed as portly housewives, usually with kitchen aprons or hefty overcoats, the pair would gossip away at anything and everything. No subject was off limits, with men rarely emerging with any credit, but the closer to the knuckle their discussion, the less likely you were to hear it as the pair would merely mouth anything too risqué. It was a style some believed mirrored how such ladies would chat across factory production lines in order that their audience would be able to understand what they were saying across the noise of the machines.
Away from the sketches, Les Dawson also delivered the monologues for which he became so famous. Rambling stories told either sat at or leant against a grand piano were some of the highlights. Normally perpetuating the stereotypical dragon-like mother-in-law, Les would bemoan the mythical life he led, usually combating his own downtrodden luck against the wishes of the women who controlled his make-believe world.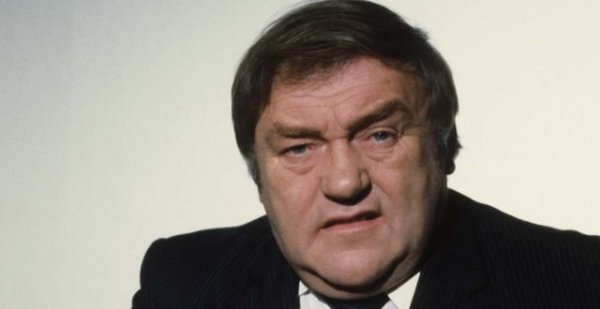 Throughout the run of Sez Les, he remained loyal to his roots. His comedy style had been developed in front of tough audiences in the northern clubs, and this style remained consistent throughout his career. Likewise, he made his home in Lancashire and remained there for the entirety of his life. If there is such a thing as a typical northern comic, Les was it.
When Sez Leswrapped up in 1976, it did so after eleven series and a number of specials, the regularity of the programmes a testament to how successful it was. Its successor over on the BBC, The Les Dawson Show was by contrast sporadic in its frequency and success, although Dawson himself would be a permanent fixture on television thanks to the success of comedy quiz show Blankety Blank.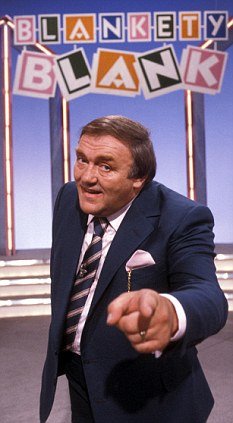 There is no question that Sez Les was the glowing success that made Les Dawson's career. By the time Blankety Blankappeared he was already in the hearts of the nation. Although not all the seasons remain courtesy of the BBC's much criticised wiping policies of previous decades, there is plenty enough of Sez Les to remind us of why we loved Las Dawson, what made him so uniquely British and why it was such a tragic loss when he passed away at just 62 years of age.
About Brian Slade
Born and raised in Dorset, Brian Slade turned his back on a twenty-five-year career in IT in order to satisfy his writing passions. After success with magazine articles and smaller biographical pieces, he published his first full-length work, `Simon Cadell: The Authorised Biography'.
Brian is a devoted fan of the comedy stars of yesteryear, citing Eric Morecambe, Ken Dodd, Harpo Marx and Dudley Moore amongst his personal favourites. He was drawn to the story of Simon Cadell through not only `Hi-de-hi!' but also `Life Without George', a programme he identified with having grown up in the Thatcher era. 

Related Article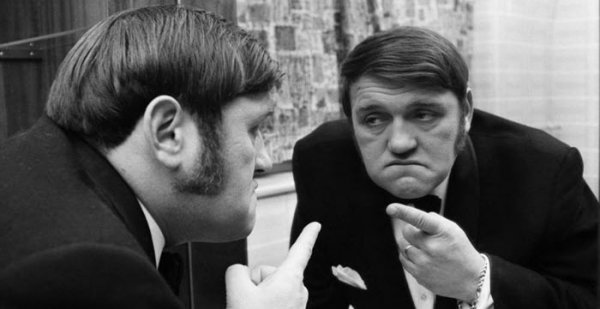 Published on March 15th, 2020. Written by Brian Slade for Television Heaven.