Space Dandy review by Daniel Tessier
"Space Dandy is a dandy guy... in space!"
So goes the narrator's opening line in the lurid titles for each episode of Space Dandy, setting us to expect at least one thing: this isn't a series that takes itself too seriously. Beyond that though, what this anime delivers is anything but predictable. Produced by Studio Bones, responsible for hit anime series including Fullmetal Alchemist and My Hero Academia, it has animation directed by Shingo Natsume (One Punch Man, Sonny Boy), responsible for much of the bizarre and vibrant visuals of the series. Its chief writer, general director and ultimate creative force Shinichiro Watanabe is also responsible for the hugely influential Cowboy Bebop and Samurai Champloo. That's a strong pedigree, but in spite of the irreverence and anarchy those series display they have nothing on the sheer, joyful oddness of Space Dandy.
While a Japanese series, Space Dandy actually premiered in the United States, on the Cartoon Network block Adult Swim, albeit only beating the Japanse airing by mere hours. It's always a tricky thing adapting the scripts for western audiences. Space Dandy's English dub is an absolute triumph, adapted by Funimation and using its regular talent pool of American actors. Watching the series with the English subtitles, based more literally on the Japanese scripts, reveals lost details and differences, but the spirit of the series is best captured for English speakers by the dub. It helps, of course, that the Funimation voice actors are charismatic performers at the top of their game. I don't speak a lick of Japanese, so this is naturally a review of the English-dubbed version.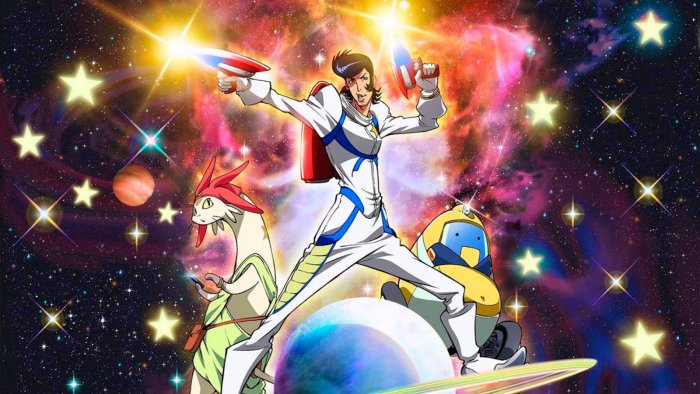 A space opera set in the distant future, Space Dandy centres on the eponymous Dandy, an intergalactic rogue, layabout and charmer with an Elvis quiff. A sort of combination of Guardians of the Galaxy's Star-Lord, Star Wars' Han Solo and Johnny Bravo, Dandy is an alien hunter, who "combs the galaxy like his pompadour" searching for rare, undocumented alien species. In theory, he then takes these to the Alien Registration Centre (ARC) for a hefty reward (paid in woolongs) but he's not usually very successful, and prefers to spend his time loafing about. When he does make money, he invariably spends it at BooBies, a "breast-aurant" with space stations across the known universe. With the rich, charismatic voice of Ian Sinclair (One Piece, Baccano!), Dandy has an eye for the ladies, isn't quite the catch he thinks he is, and altogether comes off as a childish idiot.
Dandy is, in fact, a perfect illustration of the series itself. On the surface he is puerile, shallow and foolish, but underneath, he has hidden depths, showing himself to be far more intelligent, sensitive and complex than we first realised. This echoes the series as a whole: while the colourful, comical show, with plenty of smutty fan service, mindless action and explosions, looks shallow, it features ingenious, creative science fiction concepts, brilliantly witty writing and remarkably moving stories.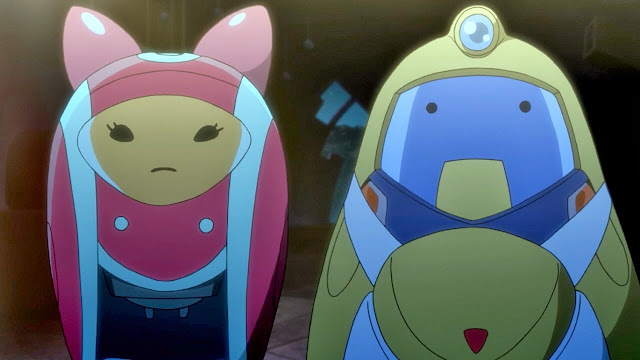 Dandy travels the universe in his Hawaiian-themed spaceship, the Aloah Oe, along with his obsolete robot QT (Alison Viktorin – Case Closed, A Certain Magical Index), an "intelligent" vacuum cleaner who runs out of power at vital moments. In the first episode, they pick up Meow (real name Mrrrmmrrrmmrrmmwww), a cat-like alien from Betelguese. Voiced by Joel McDonald (Once Piece, Initial D) Meow is as shallow and stupid as Dandy appears to be, although both he and QT have their sweeter, more sensitive sides too. Further recurring characters include Honey (Alexis Tipton – My Bride is a Mermaid, Fairy Tale), a waitress at BooBies who is far more intelligent and mysterious than she appears, and Scarlet, voiced by the wonderfully-named Colleen Clinkenbeard (Case Closed, One Piece, Fairy Tale), the no-nonsense, terrifyingly capable inspector at the ARC.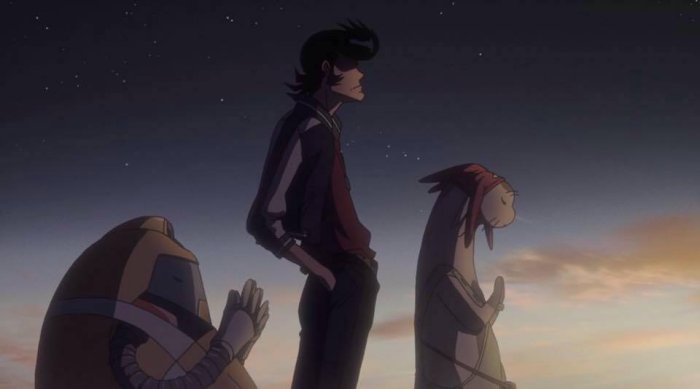 The major villains of the piece are the Gogol Empire, a vast galactic polity ruled the skull-faced Admiral Perry (Kent Williams – Dragon Ball). Dandy is pursued by Gogol scientist Dr. Gel (J. Michael Tatum – Stein's Gate), a hulking gorilla-like creature who is after Dandy for some mysterious purpose, travelling in a supremely dodgy-looking starship that, for some reason, is shaped like the head of the Statue of Liberty with a ball-gag in its mouth. That's the kind of thing you see in this series.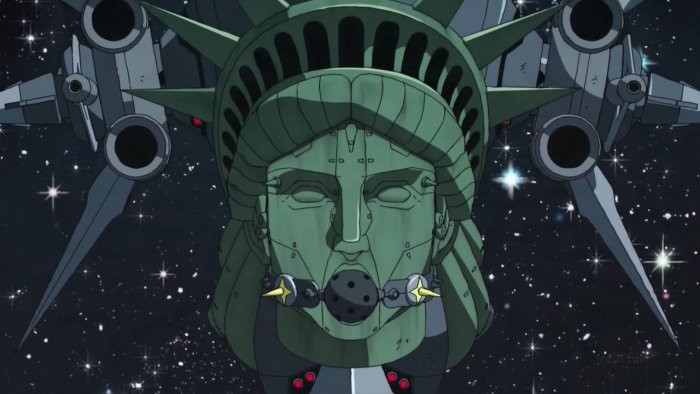 The series is narrated by a mysterious disembodied voice (R. Bruce Elliott – Case Closed) who follows Dandy and co. on their adventures, explaining the background of this universe, lampshading plot holes and mocking the characters. The Narrator's identity is crucial to understanding the truth behind Dandy and his place in the universe, but we don't find this out until the last episode. Not that there aren't red herrings and odd hints before then, but continuity is a little... unorthodox in this series. In fact, for a long time it seems that there is no continuity in the series. Dandy's background changes as often as he mentions it, with QT and Meow assuming he's just lying, but that's not the half of it. Dandy and his crew die in the first episode, only to show up happily in the second. Episode four, "Sometimes You Can't Live With Dying, Baby," sees the main characters, and eventually everyone in the universe, turned into zombies. No mention of this ever again. Episode seven, "A Race in Space is Dangerous, Baby," ends with Dandy seemingly exceeding the speed of time, stranding him billions of years in the future. Episode fourteen, "I Can't Be the Only One, Baby," hints at the truth, but it's weirder than we can guess. Dandy might just be the most important single being in the entire multiverse...
Across two seasons and a mere twenty-six episodes, Space Dandy mixes madcap adventures with genuinely clever sci-fi and an absolute bucketload of pop cultural references. If nothing else, you can spend a happy half hour just spotting the nods and winks in an episode. Everything from the obvious subjects – Star Wars, E.T, The Fly and so on – to the deeply Japanese – Gundam, Dragon Ball Z, Ultraman – to the wildly obscure – Barlowe's Guide to Extraterrestrials, The Quiet Earth and much more. Certain details hint that it's set in the same universe as Cowboy Bebop, albeit much, much further into the future.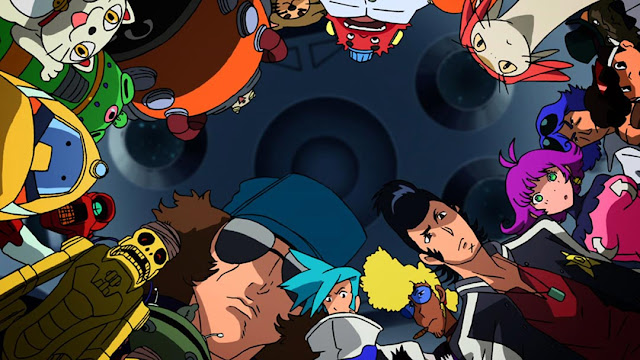 It's a wonderfully colourful universe filled with bizarre and inventive alien creatures, but most of them have hilariously on-the-nose names. There are Chameleonians (shapeshifters); Undians and Vestians (who wage war over what underwear they wear); Ambienceans (who add atmosphere to gatherings)... The planets have names like Pushy Boyfriend, Planet Trendy and C'est la Vie. Some people can't get past the, uh, boobiness of the whole thing, but even that plays like a parody of the (often much more risqué) popular animes. Dandy's eye for the ladies gets him in trouble; he even gets attacked by a ravenous, carnivorous alien made of breasts, the logical endpoint of the anime monster.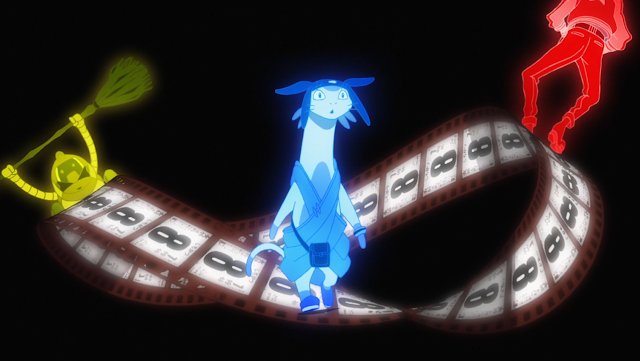 Yet there are complex, philosophical and surrealist episodes. The creepy and melancholy "A World With No Sadness, Baby," the high concept science fiction "Plants are Living Things Too, Baby" and the mind-bending "I'm Never Remembering You, Baby" play with the visuals and storytelling style of the series and stand out as unique episodes. "The Lonely Pooch Planet, Baby" is a mixed bag, but the first half, where Dandy and co. discover Laika, the first animal in space, living on a distant planet is heart-breaking. Even the second episode, "The Search for the Phantom Space Ramen, Baby," concerning a quest for the best noodles in space and time, becomes an oddly moving tale.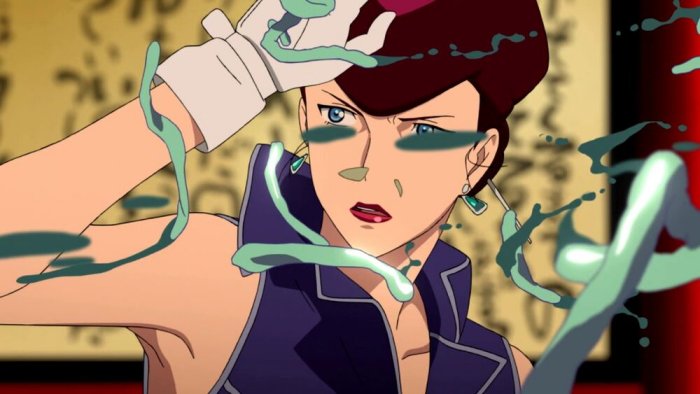 Dandy is at the centre of heart-warming stories where he bonds with children in "A Merry Companion is a Wagon in Space, Baby" and "The Big Fish is Huge, Baby," both showing us the deeper, more compassionate side of the often-selfish Dandy. He also comes off well in the consecutive episodes "Lovers are Trendy, Baby," where he shares an unlikely but touching romance with Scarlet, and the thoughtful "An Other-Dimensional Tale, Baby" in which he is reunited with his one-time love, a four-dimensional hypercube named Katherine. QT and Meow get their own focal episodes in "Even Vacuum Cleaners Fall in Love, Baby" (a robot romance and revolution) and "There's Always Tomorrow Baby" (a classic timeloop story). The finale, "Never-Ending Dandy, Baby" somehow ties everything together with remarkable revelations about Dandy and his world.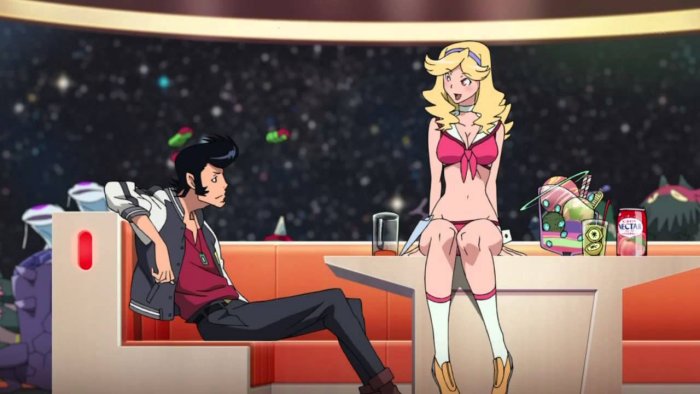 Dandy's adventures are accompanied by wonderfully eclectic music by Mountain Mocha Kilimanjaro, with the opening titles featuring the danceable "Viva Namida!" by Yasuyuki Okamura and the credits running to the peculiar "Welcome to the Xth Dimension" by artist Etsuko Yakushimaru. If that doesn't mean anything to you, don't worry - needless to say, the series has a unique musical atmosphere all its own.
Trashy, crass, non-sensical – all words that describe Space Dandy. Yet it is, beneath all that, deceptively brilliant science fiction, with real thought and heart. Its short run is a blessing, as any more episodes would probably stretch the already warped and unpredictable formula to breaking point, but the episodes are endlessly rewatchable. It's not for everyone, but those who come at it with an open mind, sense of humour and appetite for the absurd will find themselves in love with its charm and imagination. You gotta live with the flow, baby.
Published on February 26th, 2022. Written by Daniel Tessier for Television Heaven.