Take Your Pick
1955 | United Kingdom
Between 1955 and 1957 over thirty quiz shows reached British TV screens. Only two of these still remain a part of our consciousness today: Double Your Money hosted by Hughie Green and Take Your Pick hosted by Michael Miles. Take Your Pick aired on the second week of ITV and throughout its 13-year run was rarely out of the top ten. It was estimated that the show reached eight million homes throughout the country and on one particular week an audience of twenty-three million viewers was achieved.
Take Your Pick was the brainchild of Michael Miles, born in Wellington, New Zealand on 17th February 1919. On leaving school at the age of 18, Miles went straight into broadcasting. When the Second World War broke out he was working as a newsreader in Singapore. He escaped on a cattle-boat just a few days before the colony fell to the Japanese, with his new bride, Joan Shirvill, secretary to the radio station's programme controller. Michael and Joan spent the rest of the war entertaining troops in Africa, and at the same time he began formulating his idea for a quiz show. After the war, Michael went to work on Radio Luxembourg where Take Your Pick debuted in 1952. Then in 1955 it transferred to television and became an instant hit.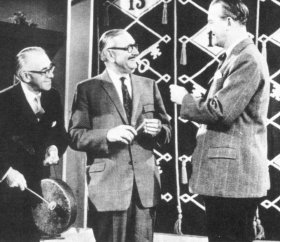 In order to qualify for the later quiz part of the show, contestants had to face quick-fire questions from Michael and for sixty seconds while they answered they were not allowed to say "yes" or "no". If they did, Alec Dane was on hand to strike a gong that would send the contestant packing. Some contestants were caught out instantly:
Michael: What's your name?
Contestant: Bert Jones. Michael: Bert Jones?
Contestant: Yes
GONG!!!
The "yes, no interlude" as it became known was much imitated on school playgrounds, in offices and on factory floors, as well as in the homes of the show's millions of viewers. The contestants that were wily enough to get through the first round would return after the commercial break to face three general knowledge questions. If they got them all right they then had the opportunity to choose a key that would open one of ten boxes each of which contained a different prize. But before they opened the box Michael Miles would attempt to buy the key back from them by offering cash (making Take Your Pick the first British TV quiz show to offer a cash prize). The audience were encouraged to shout advice to the contestant in the form of "take the money" or "open the box." Any one of the boxes could contain one of three booby prizes. There was also the mysterious box thirteen (mysterious perhaps because there were no boxes eleven or twelve). This could also contain a booby prize such as a box of matches, an old-fashioned mangle, or it could contain that week's star prize! 
The team that presented the show remained consistent for most of its run. The hostess, who brought on the contestants, was Elisabeth Kingdom (from series two onwards until Jane Murray took over for the last two years - see 'Memories of working on Take Your Pick' below), Alec Dane the gong man was also responsible for finding the booby prizes, Kay Bird bought the other prizes, organist Harold Smart played the theme music as well as the fanfare for star-prize winning contestants, and the prizes themselves were described off-screen by the dulcet tones of Bob Danvers Walker – best known as the voice of Pathé News. Director was Audrey Starrett. Michael Miles was reported to earn the phenomenal (for then) sum of £20,000 a year. He was unfairly and incorrectly accused in some quarters of being an alcoholic, but in truth Miles suffered from epilepsy and often locked himself in his dressing room, ashamed of his condition.
The series went "on the road" so that audiences from other parts of the country could attend a studio recording. The first outside transmission came from the Great Hall of Queen Mary College (formerly the People's Palace), in the Mile End Road, East London. Thousands of tickets were applied for and when the show went to the Midlands over 9,000 people applied for just 1,000 tickets. Take Your Pick only ended in 1968 because of the ITV franchise reshuffle. Michael Miles went on to host a similar show called Wheel of Fortune, (not to be confused with the later US imported game show of the same name), for Southern Television. The format was familiar-both star prizes and booby prizes could be won except this time the contestant's fate was determined by the spin of a wheel. In 1992 Thames Television revived Take Your Pick (ironically it was the arrival of Thames that led to its cancellation in the first place) this time hosted by Des O'Connor. Michael Miles was, sadly, no longer with us having died prematurely whilst on business in Spain in 1971, at the age of 52. The show was revived again, albeit temporarily, as part of Ant & Dec's Gameshow Marathon series in 2005 to celebrate ITV's 50th anniversary.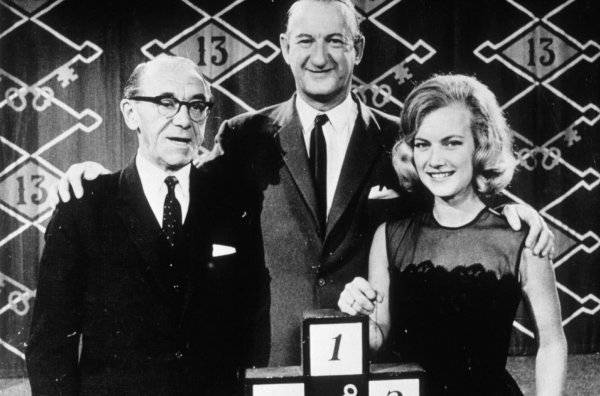 Memories of working on Take Your Pick
As mentioned in the above article the hostess for the last two years on the series was known as Jane Murray, although her real name is Mary Rose. Mary has fond memories of working on the series as she told Television Heaven:
"At the time our director, Audrey Starrett, was the only person who knew about Michael's epilepsy and I only heard about it after I had left the show. It's sad but it did, with hindsight, account for his sometime very strange and difficult behaviour. Although he could be quite tricky to work with, he somehow engendered a fierce loyalty and we were a very tight little group. He was always very good and very protective towards me. As I am sure you know, he was unlike others in the television industry in that he was his own company - which is to say he was Michael Miles TV Ltd., and he rented offices at Television House in Kingsway and hired the studio and crew at Wembley to make the show.
For my part, I had been working as a PA in Australia on Coles' $3,000 Question on Channel 7 (one of only four national programmes in Australia at the time). I applied to Rediffusion for a job as a secretary and received a letter from Michael saying that he would shortly be requiring a secretary and would I like to come for an interview. At the end of the interview, as he showed me to the lift, he said "And by the way we may also want you to be hostess on the show". So I was employed as his full-time secretary and also the hostess (two very different roles I have to say!) for the princely sum of £19 a week! I was not allowed to speak on camera at all, so it was not a very difficult role but seemed to bring a huge amount of publicity which I found quite amazing. I became Jane because on Hughie Green's Double Your Money was a lovely little hostess called Monica Rose, and Michael said we couldn't have a Monica Rose and a Mary-Rose!
The opening sequence was of me guiding a blindfolded member of the audience along the boxes dropping in the cards, so I am in a position to confirmed absolutely that Michael did not know in advance which prize was in which box! This was a subject of endless speculation by the public.
We did two stage shows while I was with Take Your Pick - one at the Winter Gardens (would it be?) in Belfast, and another at Maidstone Prison. We had great fun touring. Alec Dane was extremely talented and funny, and he and Bob Danvers-Walker would clown around backstage and in the hotel giving us private comedy routines that I wish could have been captured on film!
When Take Your Pick ended in 1968 I married and went back to Australia briefly and rejoined the $3,000 Question as Executive Producer." 

Published on February 6th, 2019. Written by Laurence Marcus (November 14th 2008) Special thanks to Mary Rose - April 2010 for Television Heaven.