Bullseye
1981 | United Kingdom
'stay out of the black and in the red – nothing in this game for two in a bed.'
Bullseye review by Brian Slade
It's unusual for a game show to gain cult status, but if any of them came close then it was surely the Jim Bowen hosted darts show, Bullseye. Central Television struck gold with a Sunday teatime ratings winner that ran for years, made its comedian host a household name and spouted catchphrases galore for years to come.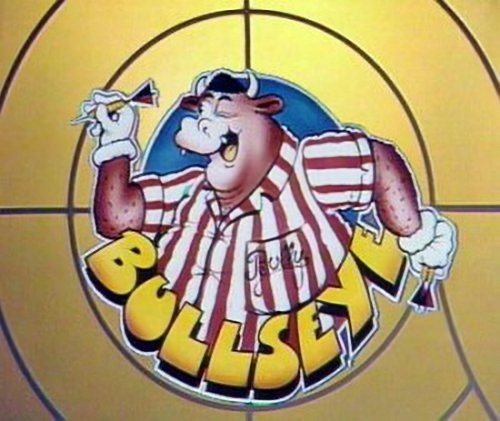 In the early 1980s, when live sport on television was still a comparatively rare thing, darts and snooker were becoming unstoppable forces. Top performers were becoming household names, while both games progressed from being seen as seedy back-street club games to something more mainstream. Snooker would have to wait a while for its quiz show debut in the form of Big Break (discounting the failed Stuart Hall-hosted BBC effort Pot the Question). But in Bullseye, Central found a formula that at its peak would bring in nearly 17 million viewers in a late afternoon Sunday slot.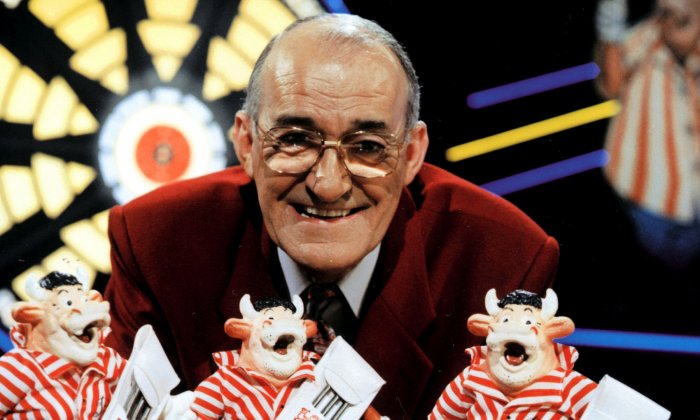 The show was created by Andrew Wood and Norman Vaughan, the latter himself no stranger to hosting quiz shows having had the poisoned chalice of briefly taking over The Golden Shot from Bob Monkhouse after Monkhouse was fired, albeit returning when Vaughan's unconvincing performance saw the show's ratings tumble. Hosting Bullseye was not a rounded television performer but a Northern comic in the form of Jim Bowen. Bowen had some minor television roles under his belt, but his principal success was as a stand-up, so it was undoubtedly a risk putting him in charge of a show in which he needed to be funny, relatable and at ease with half a dozen contestants on every show.
Bowen took to the show, but it was his floundering that sometimes worked in his favour. Mistakes were simply acknowledged and gave him comedy to play on, but even to his final interview just a few weeks before his passing, he remained convinced that he had been terrible…but it didn't matter. He was a massive success.
The premise for the programme has gone down in folklore. Three couples start the show, the theory being that one is a nominated darts player, the other is there for their knowledge, and the couples will be reduced to two and then one, who will face the prize board and if they decide to, head for the opportunity to win the star prize.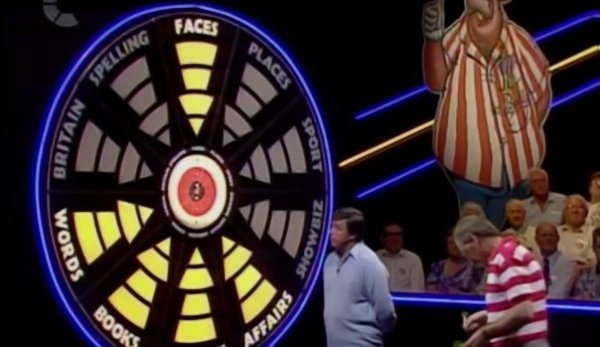 Round one was a quiz board, on that would be replicated in a 'play it at home' set introduced at the height of the show to capitalise on Bullseye's success. Here, instead of a conventional dart board was one separated into sections with categories assigned. The non-darts player would nominate a category that they would like their partner to hit, and the closer to the centre of the board their partner hit in the wedge of the board, the more money it would be worth if a corresponding question was answered successfully. Find the wrong category and the question would still be asked, but without the bonus that getting the team's chosen category awarded.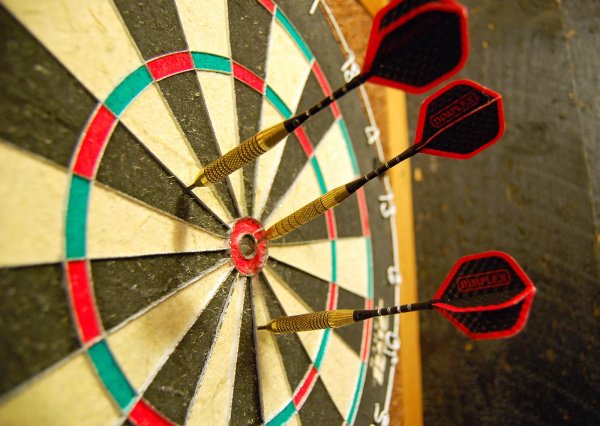 With ten categories on display, there was time for three attempts per couple and at the end of that, the couple with the lowest total would be on their way with their cash winnings and of course their commemorative tankards. The remaining two would move onto a conventional dart board. This round was a little less enjoyable, but potentially more lucrative for the teams who could achieve a pound per point upon getting questions right. Once again, the lowest scoring team took their accumulated cash from the first two rounds and waved goodbye.
After the ad breaks would come a respite for the contestants as a guest dart player would appear (or on the odd occasion, a celebrity) would attempt to get 301 or more with nine darts. Failure would see them earn a pound per point for their own charity, success would see that amount doubled. But enough of that…what awaited was the highlight of the show, the segment that would conjure up the catchphrases that are still coined to this day – the prize board!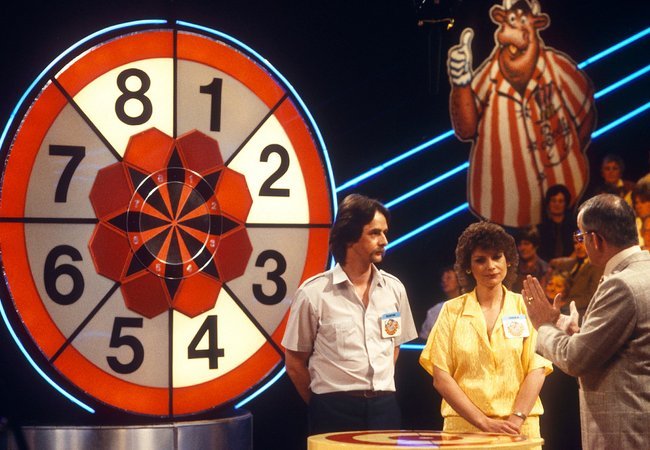 Another specially designed dart board would be divided into segments once again. Black sections offered nothing, but the other eight red all held a prize behind it, each revealed before the round began by popular scorer Tony Green with his enthusiastic, 'Iiiiiiiiiiin one' and so on. Nine darts were used, meaning that there was the unlikely prospect of all eight prizes going, along with 'Bully's special prize' for hitting the bullseye. Of course, if a dart went into a red zone that had already been won, the prize would be forfeited – as the catchphrase went, 'stay out of the black and in the red – nothing in this game for two in a bed.'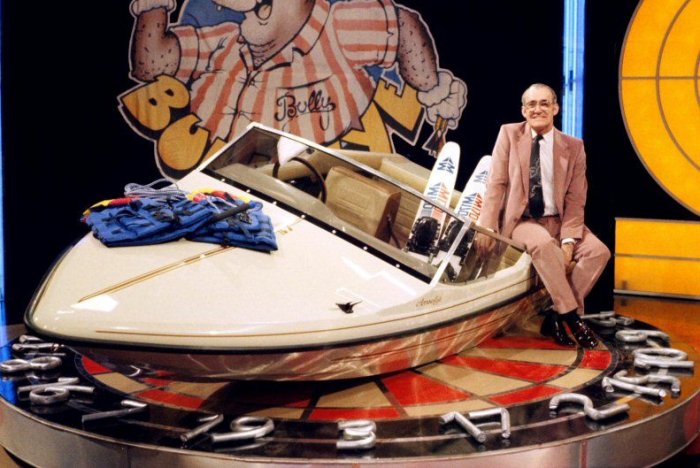 However well or badly the round went, the final couple would then have to weigh up their options. Take whatever haul they had amassed, or risk it all for whatever special prize hid behind Bully, the giant cartoon obstruction that concealed something normally on four wheels, or at the very least motorised – Bowen would joke years later that they hoped to offload speed boats on contestants who lived in the most landlocked areas of the country, like Walsall! If the pair decided to gamble, they would have six darts to score 101…failure however would cause them to walk away with nothing but damaged pride. If they chose to walk, pair number two could trade in their cash prize for the gamble, or eventually the pair that had left the show the earliest could risk their own meagre winnings.
To the viewer, failure to achieve the desired 101 was almost more desirable, as the cruel words that became known across the nation would be uttered – 'have a look at what you would have won!' – as the dejected couple would stroll around the sparkly new car or caravan (or speedboat) that could have been theirs.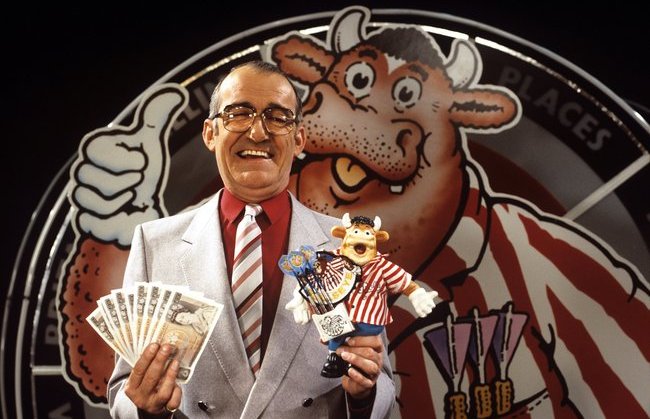 Bullseye ticked every box a programme maker could ask. Its host was funny in his own deadpan fashion, not remotely glib or glitzy, and the show's format was an instant success. Any programme that spawned a multitude of catchphrases was gold in the days of competitive three-channel tv. It was also comparatively easy television, cramming two shows a day into 13 days of filming, meaning an entire season's 26 episodes were recorded inside two weeks.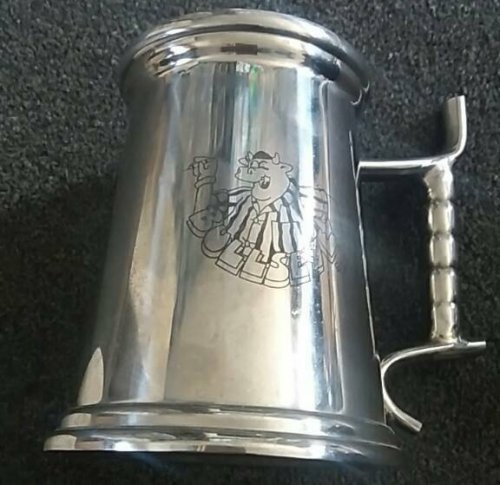 After fourteen series, Bullseye bowed out in 1995, having made Bowen and Green into stars. It was an unlikely success story that even a failed Challenge TV remake in 2006 without Bowen couldn't destroy the memory of. Bowen would later recall that the one prize that every contestant took home, a rubber Bully figure, seemed more valuable than any other to the participants, with grown men wandering their hotel clutching them to their chest as a prized possession – evidence of the programme's popularity. For any time in the schedules, 17 million viewers would have been deemed a success, but for late afternoon Sundays, to paraphrase the one missing catchphrase – you couldn't beat a bit of Bully.
Published on February 25th, 2022. Written by Brian Slade for Television Heaven.