THE GOLDEN AGE OF TELEVISED SNOOKER by Andrew Coby
An excited friend once said to me, 'If you ever need to know the order of the Great Lakes, from largest to smallest, by surface area, try and pretend that you're telling a 1980s snooker player to be quiet – 'sh meo'. He even put a finger to his lips to emphasise the point.
I don't like to be reminded of the strange friends that I have accumulated in my lifetime but I do like to reminisce about television. If nothing else, the story is a reminder that the 1980s was the golden age of snooker on TV. Invigorated by exciting players like Tony Meo, he of the mnemonic referred to above, and Jimmy White, snooker was a televisual juggernaut that crushed everything in the schedules that got in its way.
Pot Black started the ball rolling way back in 1969 but it took a few years for the game to catch on with viewers. The jaunty strains of the Black and White Rag heralded an introduction by an immaculately dressed Alan Weeks of a one frame shoot out commented on by Whispering Ted Lowe.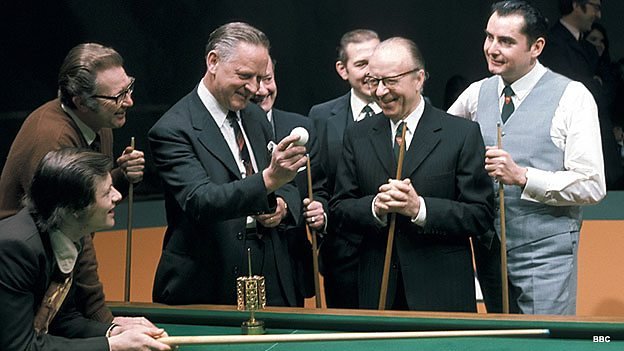 The idea of the programme was to encourage viewers to purchase colour television sets so that they could view the game to its best advantage. If your family was like ours you would have had to make do with Whispering Ted's helpful advice that, for those watching in black and white, the grey ball is behind the grey ball, just to the left of the slightly greyer ball by the right-hand cushion which is also grey.
The snooker whisperer provided low-key, unobtrusive commentary. Ted Lowe should be required listening for today's graduates of the howling banshee school of sports commentary. Such exposure should be enough to make them calm the hell down, put away the selfie stick and come to an understanding that it's not all about them.
The sub-text of Ted's commentary was that this may look easy but these players are better than you'll ever be so don't even try. I had a go once and was immediately intimidated by the flat green acreage on display. The table didn't look that big on the telly. I quickly gave up and filed snooker away under 'Not as easy as it looks'. It shares a folder with roller skating, playing the guitar and keeping a straight face while watching The Crown.
It probably never happened but there was a rumour that Ted Lowe collapsed once during his commentary and nobody noticed until the end of the transmission. If it did happen, it would no doubt have taken place during a best of twenty-five frame snooze fest between Terry Griffiths and Eddie Charlton. This would have been enough to render anyone comatose. Televised snooker in those days had no need for slow-motion cameras. It merely needed two men with a talent for playing the game very, very slowly.
Griffiths, in particular, always seemed to do everything at half pace. Before picking up a cue professionally, he worked as a postman in South Wales. I prefer not to think about how long it took the people of the valley to receive their mail when he was on duty.
In spite of this, I will hear nothing said against the potting postman from Llanelli (that would have sounded so much better if he'd come from Pontypool). He could always be relied on to bring a zen-like other-worldliness into the all too worldly atmosphere of the Crucible. He was serenity itself, even when he'd missed a sitter. His wonderful comment, 'I'm in the final now, you know' after winning his semi-final in 1979 indicates a man who doesn't take himself too seriously. All in all, there are worse traits to have. I just wish that, after winning the thing the same year, he hadn't allowed himself to be photographed in bed with the trophy.
TV snooker was an event in the 1980s. I remember settling down with my dad to watch a session of the 1980 world snooker final between Alex Higgins and Cliff Thorburn. Suddenly the screen exploded into action as the BBC switched to scenes of men in black throwing grenades, smashing windows and swinging from ropes like Tarzan into an impressive looking building in London.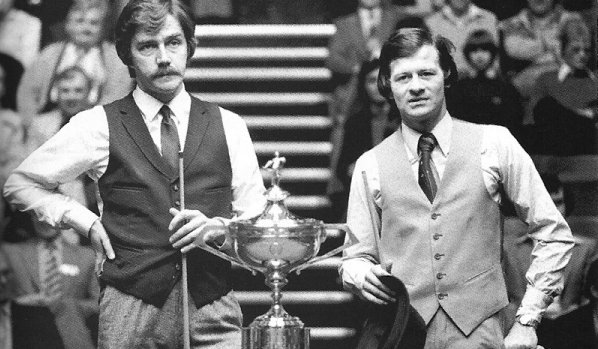 Me and my dad looked at each other in a 'What the hell's going on?' sort of way. What was going on was the SAS freeing hostages and putting an end to the Iranian Embassy siege. I, like millions of other snooker lovers, was more concerned with Alex Higgins' struggle to defeat the dour Canadian grinder Thorburn. I didn't want to see balaclava-clad action men, I wanted to see the Hurricane blow Thorburn away.
Looking back, I don't know who to feel more sorry for - the hostages, the hostage-takers or Barry Took on that week's Points of View, fielding the why oh why oh why's from a mailbag full of irate snooker fans.
For those who like to keep score, in the clash of nicknames Thorburn's proved the most apt as the Grinder quelled the Hurricane and ground his way to an improbable victory by eighteen frames to sixteen.
The year after the Hurricane's defeat, I watched him gain revenge over Cliff Thorburn in a live match at the Sycamore Club in Middlesbrough. The Hurricane's revenge came the same night that Bucks Fizz whipped off their skirts and ran away with the Eurovision Song Contest. Higgins played to the crowd, but I don't think Thorburn wanted to be there. He probably had better things to do on a balmy April evening.
The Eurovision Song Contest would have had limited appeal to a Canadian, but I think he would much rather have been watching that than playing snooker in a smoke-filled working men's club in Middlesbrough. To be fair to the Grinder, it must be disheartening to be in a room full of people who all want your opponent to win.
The ending of the Iranian Embassy siege spoilt my enjoyment of the 1980 snooker world championship final but I have long since forgiven the SAS for this. What I haven't forgiven them for is being the inspiration for the truly awful Lewis Collins actioner Who Dares Wins. Collins was a hot property at the time after his stint in The Professionals. ITV dared to show the film late one Saturday night after chucking out time and I have to agree with my dad's assessment that it was a shocking waste of Richard Widmark.
I don't agree that Widmark would have wiped the floor with the SAS and the terrorists, as my dad maintained, but I do think he would have a good chance against the whole of CI5. This is because, although charged with the security of the nation, CI5 only seemed to consist of Bodie, Doyle and George Cowley.
The most notable thing about Who Dares Wins is that the Collins character goes by the name of Peter Skellen. This is only an additional 'r' away from being the same as a singer from Bury who, from the 1970s onwards, specialised in writing songs tinged with whimsy and nostalgia. Before being wed I would often test the romantic waters with a young lady with the words 'You're a lady, I'm a man. You're supposed to understand how these things are often planned to be. How's about it then, pet?' As you would expect, such an opening gambit was usually met with a refusal, sometimes polite, sometimes impolite, but always nonplussed. I knew my wife was the one for me when she knew what the hell I was talking about. God bless the late, great Peter Skellern with the additional 'r'.
Snooker was everywhere in TV land in the 1980s and I often feel sorry for Ray Reardon because of it. He was the undisputed snooker king in the 1970s, but how he must wish he'd hit his peak ten years later. His world title victories would have been played out in the full glare of the TV lights at the Crucible Theatre in Sheffield, rather than being won furtively in dark corners of the UK.
If he'd been world champion just a few years later he probably wouldn't have had to hawk his talents around holiday camps in the south west of England. I saw him in action once at Pontins in Paignton in 1979, taking on any camper who fancied his chances. I was disappointed that he had abandoned the snooker player's usual garb of waistcoat, shirt, tie and smart trousers in favour of a mulberry-coloured, short-sleeved casual shirt, matching slacks and sandals. I was hugely impressionable at the age of 13 and the disappointment of Mr Reardon's attire has stayed with me all these years, particularly the slacks and sandals.
As if broadcasting hours and hours of competitive frames wasn't enough, the BBC also put out Give Us a Break. This was a comedy drama series starring a moustachioed Robert Lindsay as a lovable cockney wide boy and Paul McGann as his snooker-playing protégé. The only thing I can remember about this is that Lindsay attempted to give his character an edge by addressing all and sundry as 'uncle'. Surprisingly this only lasted for one series, possibly because the similarities with Arthur Daley or, more likely, Barry Hearn were too pronounced.
Snooker would pop up in the unlikeliest of places. Even Channel 4, founded with the noble idea of producing ground-breaking television, chalked its cue with A Frame with Davis. C4 must have thought it had broken enough ground with those late night green triangle films and felt like taking a break.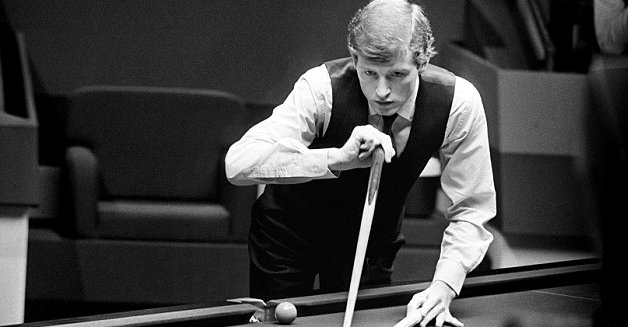 A Frame with Davis featured snooker maestro Steve Davis having a friendly game with celebrities of the day such as Bernie Winters and Dennis Waterman, interviewing them about their lives and handing out tips on snooker technique. The show was a blatant rip-off of the BBC's A Round with Alliss in which veteran golfer Peter Alliss and his showbiz pal of the day spoiled a good walk while discussing his pal's life and achievements. It is extremely helpful to TV producers that those in the public eye are always so keen to discuss themselves. I never watched A Round with Alliss but I'd be willing to guess that his pals would have included Ronnie Corbett, Charlie Drake and Bruce Forsyth.
We even had snooker doubles, a short-lived tournament so irrelevant as to be screened on ITV. The first tournament was sponsored by Hofmeister, a lager advertised on TV by a talking bear, and was won by Tony Meo in tandem with Steve Davis.
Meo might not have won many tournaments but, thanks to 'sh meo', he did manage to win me twenty quid on a quiz machine once. As I have said, I have some strange friends but some of them know what they're talking about. 'Sh meo' - Superior, Huron, Michigan, Erie, Ontario. I hope this comes in handy for you if ever you need to know the running order of the great lakes.
In the 1980s and beyond, if the sponsor didn't produce goods potentially injurious to one's health, snooker didn't want to know. Park Drive and Embassy cigarettes both took turns in putting up the money for the worlds, Benson and Hedges stumped up for The Masters and I'm sure that during one particularly cash-strapped year the Mafia bankrolled the UK Championships.
Nowadays, snooker has thrown in its lot with the rest of sport and hitched a ride aboard the betting gravy train. I was watching a biopic on Barbara Windsor recently in which the younger Barbara was played by Jaime Winstone, daughter of Ray. Ms Winstone looks nothing like the young Babs but she does strongly resemble her father. I kept expecting her to break into the mantra 'My dad's Ray Winstone. He's a member of the world's favourite online sports betting caaahmpany and he gambles responsibly with Bet999. When the fun stops, stop. Yeah right.' I think the bookie's best friend Sid James was a perfect partner for Babs.
The pinnacle of TV snooker was the 1985 final between Steve Davis and Dennis Taylor. The world series in baseball means little to anyone outside the US and it would be fair to say that the snooker world championship final means even less to those who don't reside in the UK. This is our thing. In 1985, we said to the rest of the world 'You might have Maradona and The A-Team but we've got snooker and Ted Lowe.' We were a four-channel nation then and most of the country ignored the other three channels to watch an evening of unbelievable drama - the missed black in the final frame, Ted Lowe's hushed disbelieving 'No' at the miss and Steve Davis holding his head like someone in an advert for aspirin.
It had a great punch line, too. When David Vine stuck a microphone in front of gallant loser Steve Davis at the end to ask if he could believe what had just happened, Davis delivered a witty, dry as dust observation that it all happened in black and white. His conqueror that night still turns up regularly in TV land. In between stints on Strictly Come Dancing and The Real Marigold Hotel, Dennis Taylor has also found the time to become a fine snooker commentator.
I read somewhere that Steve Davis nowadays spends a lot of his time as a DJ playing something called Techno. I assume it's true but I haven't discounted the possibility that such a story is another example of his dry sense of humour.
All it took to create the drama were two men, a table and some balls. I thought of that while sitting through an episode of the BBC's lavish, cash-strewn production of War and Peace (if you ever feel like reading War and Peace, don't bother. Read Cold Comfort Farm instead. It's shorter and much funnier).
I sometimes still watch the odd frame or two on television. It is not exciting as it was because, with the honourable exception of Rocket Ron, it's difficult to tell any of the players apart. They are all of them bedecked like mobile advertising hoardings for fast food outlets and betting companies.
To liven things up, I sometimes turn the volume on the telly down so that it is barely audible and imagine that I am listening to Ted Lowe whispering his approval of events on the green baize. 

Published on February 17th, 2019. Written by Andrew Cobby (April 2018) for Television Heaven.