The Dana Carvey Show
1996 | United States
This sketch comedy starring the former Saturday Night Live cast member had a short run for a number of reasons.  But it's still fondly remembered by fans who loved its quirky humour.  It also proved to be a launchpad for a number of performers, including Steve Carell (The Office); Louis C.K. (Louie), and Stephen Colbert (The Colbert Report).  It was also a showcase for writer Robert Smigel's TV Funhouse cartoons, which were later showcased on SNL.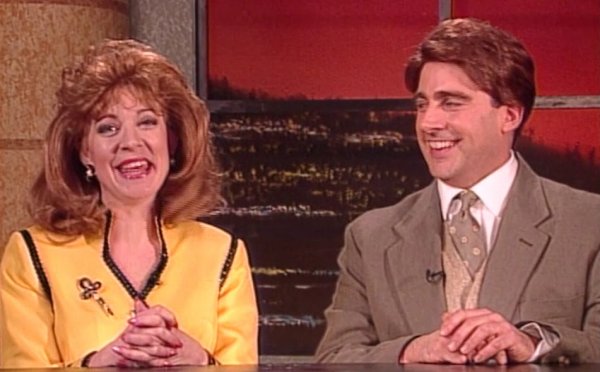 Carvey had turned down the chance to replace David Letterman on NBC's Late Night show in 1993, but after several comedy films that were never developed, he decided to return to television.  Carvey bypassed his old network and turned down an offer from CBS to sign up with ABC.  Carvey and Smigel teamed up to produce the series, and hired a number of Second City comedy performers, including Carell and Colbert.  (Carvey later admitted he was less hands-on than he should have been, because he was commuting between his family in Connecticut and New York City, where the show was taped.) 
Both Carvey and Smigel wanted to be as different from Saturday Night Live as possible, with short pieces rather than long skits.  (It did allow Smigel to present his short cartoons, including The Ambiguously Gay Duo, about a pair of crime-fighters named Ace and Gary, whose actions and dialogue led everyone to wonder if the two were a same-sex couple.)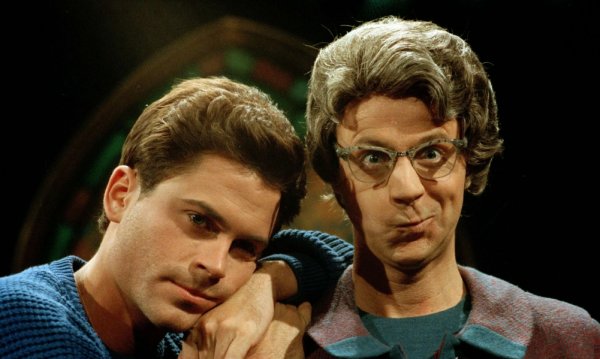 The first episode of The Dana Carvey Show (which premiered March 12th, 1996), made headlines for its opening sketch, with Carvey as then-President Bill Clinton, showing his "compassion" by having several puppies and kittens suckle from his multiple fake nipples! Years later, Carvey claimed that "having that right out of the box sent the wrong message about the show. The show got really panned because of that, and we were in trouble from that point forwards."  During the show's short run Carvey also did some of his most-popular characters from SNL, including the Church Lady, along with parodies of current events, commercials and the media. 
But ABC, wanting a strong lead-in to its police drama NYPD Blue, scheduled the series on Tuesday nights–before "Blue" but following the family-friendly sitcom Home Improvement.  Viewers who had been watching the antics of Tim Allen and his fictional family were thrust into a different world.  Not everyone liked it, however, as the ratings began falling off after the premiere episode, leading to the show's end after just seven airings. 
Most of the episodes had a single major sponsor, a throwback to the days when advertisers purchased an entire programme.  In Carvey's case, Pepsi was the show's sponsor and each episode was titled for one of the company's products–"The Mug Root Bear Dana Carvey Show" and "The Taco Bell Dana Carvey Show," for instance–with a cast of performers singing the praises of the product before introducing the star.  Another unique twist was the studio, billed as coming "from the ABC Broadcast Center in New York."  The inside joke: "Dana Carvey" was actually taped at CBS' studios on West 57th Street! But with the show's humour varying between crude and sophisticated, the sponsors were quickly put off.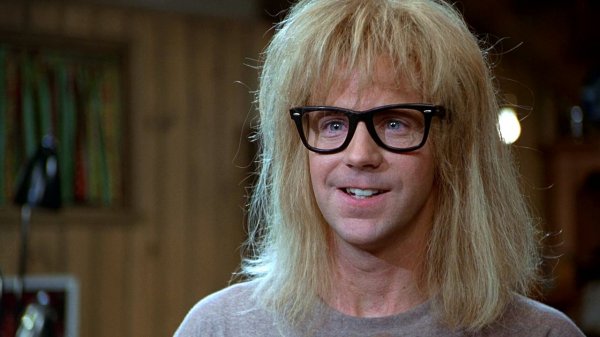 Shortly after the show's debut, PepsiCo announced that its units Taco Bell and Pizza Hut had pulled advertising which would have brought in $600,000 per episode. A spokesperson told Variety that the company didn't feel comfortable with the show based upon the premiere episode's content. An ABC spokesperson also told Variety that some sketches in the premiere "went too far." Ironically Smigel and Carvey had wanted a parental warning to go out before each show but were not granted it because of advertiser concerns. For the eighth show there was no sponsor and as a result it didn't air.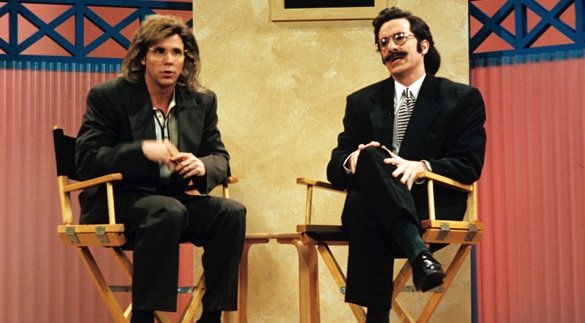 Critics were divided on the series. Joyce Millman called the series a "rousing blast of kamikaze satire" and said, "Carvey delivered prime time's funniest biting the-feeding-hand stuff since Michael Moore's short-lived NBC (and briefly, Fox) series TV Nation." Caryn James of The New York Times, however, took the opposite view, claiming, "the debut already looked tired and old" adding, "right now, the Carvey writers had better be thinking up something edgier than a dancing mug of root beer."
In a 2009 retrospective review, New York Times writer Dave Itzkoff lamented, "Comedy fans may remember it as a crucible in which many future stars were forged. But for the people who created the show, it was a stark lesson that when idiosyncratic talents are given the freedom to follow their personal muses, a mass audience does not always follow."
In a 2009 interview for "The AV Club," Robert Smigel noted "Bottom line, the network was the wrong fit, wrong timeslot.  Cable obviously would have been…we would have been given credit for what was good instead of attacked for what wasn't." 
Time has been kind to Carvey and Smigel, however: The series in its entirety (including the eighth unaired episode) are available on a number of streaming platforms such as Hulu and YouTube. The Dana Carvey Show earned a bit of respect after all.
Published on January 17th, 2022. Written by Michael Spadoni for Television Heaven.