Rowan and Martin's Laugh-In
1968 | United States
Coming to you from "Beautiful Downtown Burbank," Rowan and Martin's Laugh-In was a madcap hour of slapstick comedy, stand-up gags and satirical sketches all set against a flower power influenced backdrop of vivid colours, and in the process it made major names of its large, but hitherto unknown cast of characters which included Lily Tomlin and Goldie Hawn. 
Hosted by Dan Rowan and Dick Martin the show started as a one-off special on September 9th 1967, winning instant audience approval. Not all of the jokes were terribly funny and not all of the sketches worked, but they came at the speed of an express train, the likes of which had not been witnessed on television before. Catchphrases were seemingly invented on a weekly basis, the most memorable of which were "You bet your sweet bippy," "Here come de judge" and "Sock it to me," which was usually the cue for Judy Carne to get doused in water. Other stars included Ruth Buzzi as Gladys, a vicious senior citizen who would constantly beat Arte Johnson's Tyrone with her umbrella, in response to his advances from a park bench. Johnson also appeared from behind a large pot plant as a German soldier to inform the audience that the last sketch was "Very interesting...but stupid!" Lily Tomlin played Ernestine, the switchboard operator with attitude and Goldie Hawn was the archetypal dumb blonde, a wholly misleading persona that she shrewdly exploited as an all- important stepping stone to major super-stardom.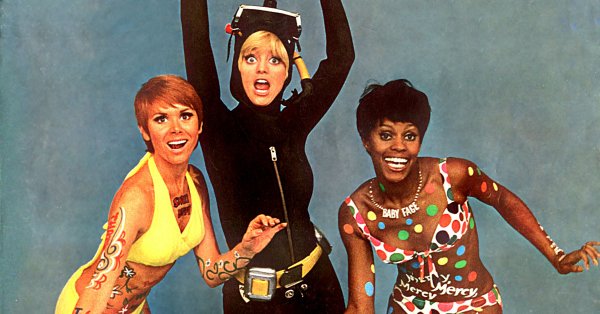 Regular sketches included the 'Flying Fickle Finger of Fate Award,' 'Laugh-In News' and "A poem, by Henry Gibson". There was also Pigmeat Markham's judge sketches (so successful that he had a hit single with his catchphrase in the UK charts in 1968) and the gags written on the body of a bikini-clad dancer. Alan Sues played a gormless sports presenter and Gary Owens, hand cupped over his ear, was the programme announcer. Rowan and Martin signed off with a parody of the old Burns and Allen farewell, "Say goodnight, Dick." To which Dick would reply "goodnight, Dick". Cast members sticking their heads through the windows of a joke wall to shoot one-liners at each other rounded off the entire proceedings. 
The show ran until 1973 but by then only four of the original cast members were left (Rowan, Martin, Owens and Buzzi). During its run Rowan and Martin's Laugh-In attracted a number of guest stars in cameo appearances and these included John Wayne and the President of the United States; Richard Nixon, who uttered the famous Carne catchphrase. In 1977 Laugh-In (minus hosts Rowan and Martin) returned to NBC as a series of specials, however, the attempt to revive the format seemed outdated and the new show flopped, the only notable fact being that Robin Williams appeared as one of the supporting performers. 
The format for Laugh-In was universally copied but only occasionally succeeded and normally in children's shows like the British series TISWAS. Laugh-In was very much a product of its time that caught and reflected the new liberated mood of the late sixties perfectly, and as such it has become one of TV's all-time classics.
Published on January 25th, 2019. Written by Laurence Marcus (15 November 2000) "Sock it to me!" for Television Heaven.