The Ed Sullivan Show
1948 | United States
In this multi-channel DVD world, it is hard to imagine that one television show could satisfy every member of the family. But for an awful long time in the USA The Ed Sullivan Show did just that.
Every Sunday night from CBS' Studio 50 in New York City, the famed newspaper columnist sought the best talent, gave a stilted introduction to each act, and (for the most part) got out of the way. Sullivan offered a little something for everybody: Opera for the upper crust, circus acts for the kids, comics, singers, dancers, Broadway showstoppers and even poetry readings, all packed into a 60-minute show.
Sullivan could be temperamental; anyone who crossed him faced career disaster, and he was roundly criticized for his deadpan delivery. But CBS hired him because he knew the talent that audiences wanted. And Sullivan delivered. His was not the first show to have Elvis Presley as a guest, but "The King's" three appearances on Sullivan in 1956 and 1957 are still considered television classics. Even more so was Sullivan's decision to sign four mop-top lads from Liverpool, England to perform.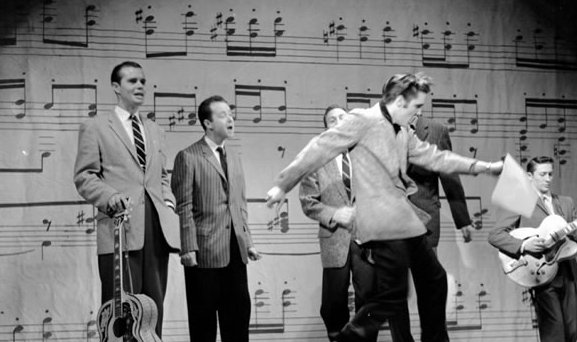 Most Americans had never heard of the group, but when The Beatles made their US debut on 'Sullivan' in February 1964, the country was more than ready for a British Invasion and it drew the highest rating ever for an American entertainment show at the time. Again, another example of Sullivan's uncanny pulse on the nation's entertainment tastes. (In fact, the February 9th, 1964 appearance of The Beatles on Sullivan ranks as the "Greatest Moment in Rock" by "Entertainment Weekly" magazine and inspired the 1978 movie 'I Wanna Hold Your Hand').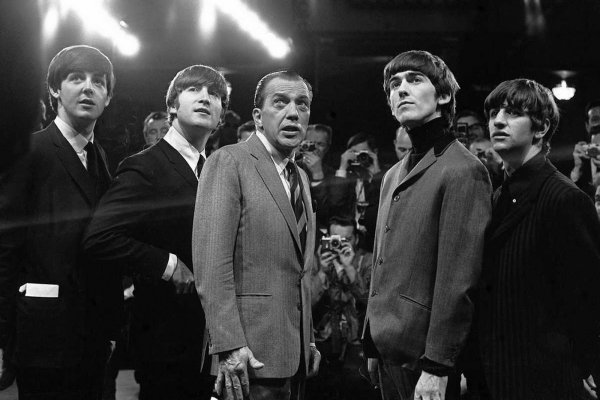 The son of a New York City customs inspector, Ed Sullivan was born on September 28th, 1901. He became a sportswriter, then moved to entertainment when he joined the New York Daily News as a Broadway columnist in 1932. His talent for spotting hot new performers became well known. It was at a promotional "Harvest Moon Ball" in 1947 that he was approached by a CBS executive with an offer to host a new variety show. The Toast of The Town (as it was first called) made its premiere on June 20th, 1948.
The first show's talent budget was only $375. Two hundred of those dollars went to a young comedy team that Sullivan thought had potential - Dean Martin and Jerry Lewis. Other acts on that first show included Richard Rogers and Oscar Hammerstein the Second, along with concert pianist Eugene List. That diversity became the hallmark of "Toast," and won it a large and loyal audience. Sullivan's popularity was such that the show was renamed The Ed Sullivan Show in 1955. In the hit musical 'Bye Bye Birdie,' an all-American family is in ecstasy when they learn the news: "We're going to be on...Ed Sullivan!"
And talking of musicals, viewers of The Ed Sullivan Show often got to see some of the big show numbers from the latest Broadway hits. Julie Andrews appeared with Richard Burton to sing 'What Do the Simple Folk Do?' from 'Camelot'(both were starring in the Broadway production at the time). Andrews also appeared as Elisa Doolittle singing 'All I Want is a Room Somewhere', clearly illustrating why she should have won the lead in the movie version of 'My Fair Lady'. (Both clips, along with a number of other golden 'Sullivan' moments are available on YouTube).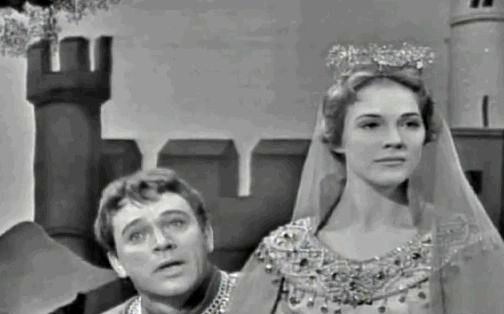 In 1967, the CBS studio where the show was taped was renamed "The Ed Sullivan Theater." Many major stars made their American television debuts on Sullivan, as well as The Beatles and Martin & Lewis there was also Bob Hope, Lena Horne, Dinah Shore, Walt Disney, and Eddie Fisher. Sullivan also featured African-American artists as well as Horne such as Sammy Davis Junior, Ella Fitzgerald and Pearl Bailey-something few television series in the 1950's would do.
But there was another side to Sullivan: He held a grudge and those who crossed him did so at their own risk. Comic Jackie Mason learned that lesson when he gave Sullivan "the bird" while on the air. Mason was banned from the show (the two eventually made up and Mason returned to the Sullivan family). Sullivan got into a feud with Tonight Show host Jack Paar over talent fees.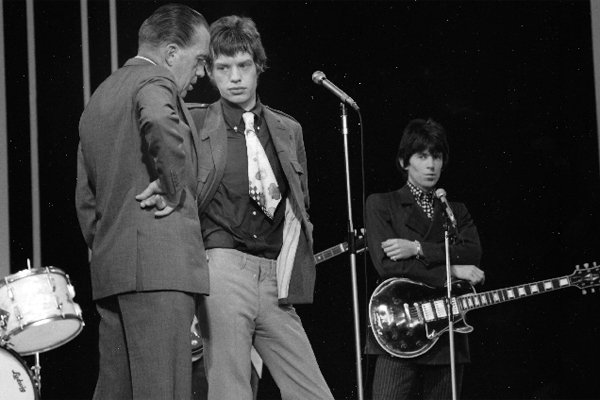 In 1967, Sullivan had lyric disputes with two major rock acts. The Rolling Stones were asked to change the title of their hit song "Let's Spend the Night Together" to "Let's Spend Some Time Together". Mick Jagger and the boys agreed. But that same year, Jim Morrison and his band The Doors were asked by Sullivan's director to modify their hit "Light My Fire" by not using the line "Girl we couldn't get much higher," for fear the word "higher" would sound like a reference to drugs. Morrison sang the song in its original version, with no changes. The Doors never performed on The Ed Sullivan Showagain.
Sullivan made his own share of bloopers on the air. One night, he gave this pitch for the fight against tuberculosis: "Good night and help stamp out TV". He once forgot the name of the group The Supremes and introduced them as "the girls." And after a 1965 Christmas show performance by singer Sergio Franchi, Sullivan told his audience "Let's hear it for the Lord's Prayer!" When British comedy duo Morecambe and Wise appeared on the show, he introduced them as Morrie, Combie and Wise and a famous blunder also helped get comic Joan Rivers on the show. Sullivan was told to plug the guest for the following week's show, singer Johnny Rivers. Instead, Sullivan said "Next week, Joan Rivers." (She showed up).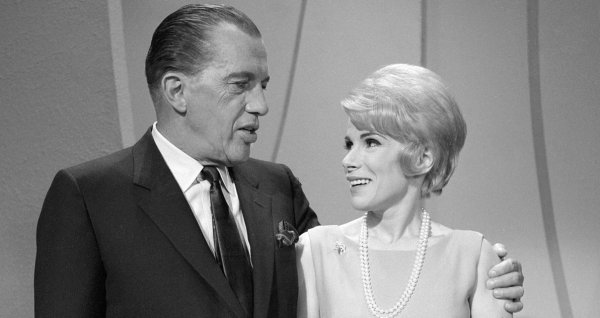 By 1971, the show was no longer in television's top 20, and its audience was mostly older people with less buying power than viewers of its direct competitor on ABC, The FBI. New CBS executives, who wanted to attract younger viewers, cleaned out virtually all of the network's oldest shows, including The Ed Sullivan Show. Sullivan was so upset and angry he refused to do a final show.
Sullivan did come back to CBS for several TV specials and a 25th anniversary show in 1973. One year later, the man known as "Old Stone Face" died of cancer. Today, there is an Ed Sullivan revival of sorts in the US, as DVDs of his show's best moments continue to sell - a reminder of a simpler time when a family could gather together and enjoy high-quality entertainment before the working week began. The Ed Sullivan Show was one of a kind and it is unlikely to be duplicated in today's television universe.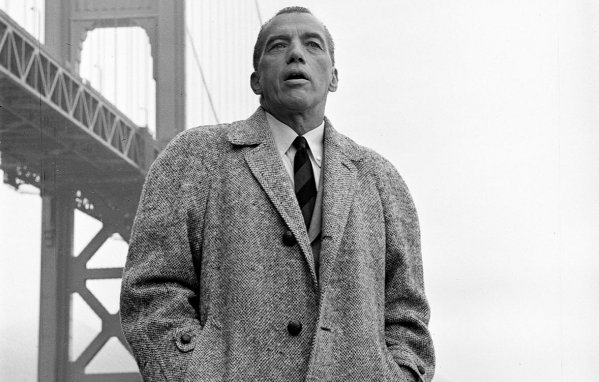 Published on March 25th, 2020. Written by Michael Spadoni and Laurence Marcus for Television Heaven.