It Seems Like Yesterday - The Beatles on Ed Sullivan
The year 2020 marks the 56th anniversary of a cultural watershed in America. On the night of February 9th, 1964, millions of television viewers were treated to their first look at a relatively new pop band from England-and nothing would be the same again.
That's a sweeping statement, but it's true. The Beatles' first appearance on The Ed Sullivan Show was nothing short of an event. They were the right people in the right place, at the right time to help Americans move on after the tragic November 22nd, 1963 assassination of President John Kennedy. Perhaps if The Beatles were a "one hit wonder" that faded by 1966, it would be just a postscript in popular culture. But the Fab Four's staying power is one reason the Sullivan appearance became a touchstone for a post-war baby boomer generation.
First, a little history about the man known as "Old Stone Face"; 
Ed Sullivan rose to fame in the 1930's and 40's with a newspaper column that reported the comings and goings of celebrities and society figures. He wouldn't have been the first choice to host a variety show, but CBS executives saw him in action, emceeing a ballroom dance contest in 1947. It led to Toast of the Town-essentially a vaudeville show that featured various acts that performed on stage every Sunday night. (One of Sullivan's first guests was a relatively unknown comic duo by the name of Dean Martin and Jerry Lewis-an early indication of Sullivan's ability to find and showcase new talent.)
By 1955, CBS renamed Toast of the Town after its host; The Ed Sullivan Show featured something for everyone. Opera lovers were treated to brief performances; segments from Broadway plays and musicals were brought to life; traditional comics and singers competed with newer acts aimed at young audiences. At a time when most Americans had a choice of three channels and few other options, Sullivan was truly entertainment the entire family could enjoy. "Time" magazine correctly called Sullivan's show "the closest thing that era had to a national entertainment forum".
The Ed Sullivan Show was NOT the first time America met The Beatles. NBC's Huntley-Brinkley Report aired a piece November 18th on the Beatles craze in London. Four days later, a similar report aired on The CBS Morning News-but since that was the day Kennedy was gunned down, the piece was rebroadcast December 10th on The CBS Evening News with Walter Cronkite .
Jack Paar's prime time NBC series was the first time Americans watched The Beatles sing an entire song. On January 3rd, 1964, The Jack Paar Show aired the Fab Four singing She Loves You from a 1963 UK television special called The Mersey Sound. Of course, the clip was a film, not live.
Ed Sullivan would change that. During a vacation to London in late 1963, Sullivan saw fan reaction to the "moptops from Liverpool". He did the unthinkable. Without seeing the band perform, he made a deal with manager Brian Epstein to have The Beatles appear on three episodes of The Ed Sullivan Show (at $3500 for each appearance).
The first Beatles appearance was scheduled for February 9th from Sullivan's New York theater. The following week, The Beatles would travel to Miami Beach, Florida, where the Sullivan show was set to broadcast live from the Deauville Hotel. The third and last appearance, which actually was taped in advance, would air February 23rd.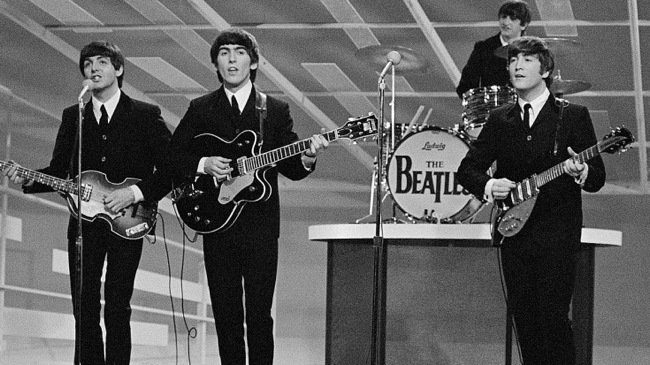 Sullivan, who had an uncanny ability to predict what Americans would enjoy, hadn't lost his touch. By late January 1964, "I Want To Hold Your Hand" topped the Billboard music charts (knocking off Bobby Vinton's "There! I've Said It Again"). Musically, the timing was right for The Beatles. By early '64, rock music had moved in different directions-folk-rock; the "surf sound" of The Beach Boys and Jan & Dean; traditional acts such as Bobby Vinton and The Four Seasons; and the Girl Group sounds of the Ronettes; the Shangra-La's and others.
The Motown sound of The Supremes and The Temptations was just months away. And the King of Rock and Roll, Elvis Presley, was forsaking his early image as a singer-actor who put out mostly mediocre films and equally mediocre soundtracks. Elvis was closer to Sinatra or other crooners than to the rock musicians of the time. All that meant a vacuum was waiting to be filled, and if the newest sensations would not come from the USA, so be it.
I myself don't remember that 09/02/64 milestone (I was only six-and-a-half years old back then). But thanks to a wonderful, now sadly deleted, two-disc DVD set called "Ed Sullivan Presents The Beatles," I can at least recreate the evening. 
It was eight o'clock on Sunday night, February 9th, just two days after The Beatles landed in New York City to thousands of screaming, mostly female fans. Millions of Americans tuned their television sets (most of them black and white) to CBS, where the Ray Walston-Bill Bixby comedy My Favorite Martian had just ended.
That night, against Sullivan, NBC aired the final half-hour of Walt Disney's Wonderful World of Color and the entire episode of the situation comedy Grindl, a short-lived effort with Imogene Coca of Your Show of Shows fame as a woman who went from job to job for a temporary employment service. ABC broadcast the second half-hour of a Western called The Travels of Jamie McPheeters , followed by the first half-hour of Arrest and Trial , a crime drama with Chuck Connors as a cop who arrested a suspect, and Ben Gazzara as the prosecutor who had to convict the suspect-an early version of Law & Order.
Sadly for history, those who watched that February 9th Ed Sullivan Show may have forgotten who else appeared. Sullivan brought out entertainer Fred Kapp, who performed a rather funny salt shaker and card trick. Then came the cast of the then-popular Broadway musical "Oliver!", featuring future Monkee Davy Jones as the Artful Dodger, performing the number "I'll Do Anything". Co-star Georgia Brown then sang another "Oliver!" tune "As Long As He Needs Me". This was followed by a young impressionist and comic named Frank Gorshin. (Gorshin would become better known a few years later portraying The Riddler on the television version of Batman.) Then, Ed brought on England's Tessie O'Shea, who was performing on Broadway at the time, in "The Girl Who Came To Supper".
The next act would be all but forgotten as the "opening act" to the final Beatles performance of the night. The husband and wife comic team of "McCall and Brill"-Mitzi McCall and Charlie Brill--thought getting on the Sullivan show would send their act to new heights. Not quite. In a much later interview for "The Washington Post" , McCall remembered the appearance as "a nightmare...We just wanted to kill ourselves".
After their five-minute sketch, Brill says he and his new bride were "in a daze. It was an out-of-body experience". Fortunately, Brill and McCall managed to survive in show business as actors and voice-over artists. Neither has ever watched their Sullivan performance, and it's unlikely they ever will.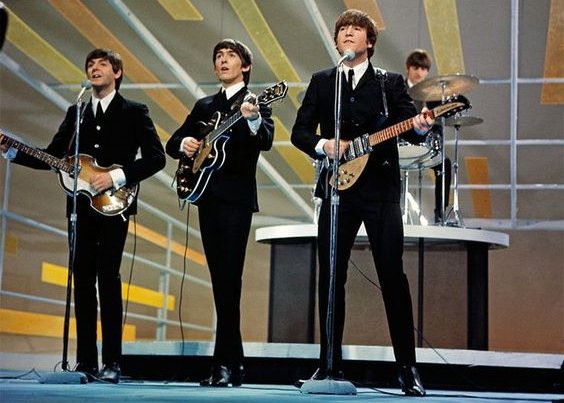 The Beatles were shown on a slightly different stage set for their final two songs of the evening, "I Saw Her Standing There" and their number one single "I Want To Hold Your Hand"-again, to the screams and squeals of the largely female Sullivan audience. After their performance, they left the stage to shake hands with Sullivan, who praised the New York Police Department and the publicists who came to the Sullivan Theater. Following an acrobatic act by "Wells & The Four Fays", Sullivan announced that the following week's show would feature the return of The Beatles, singer-dancer Mitzi Gaynor, comics Myron Cohen and Allen and Rossi, all live from Miami Beach.
"You've been a fine audience, despite severe provocation...Now get home safely. Good night!"
When the smoke cleared and the Nielsen ratings came out, it was a triumph. 73 million people watched all or some of The Beatles on "Sullivan", a record audience at the time.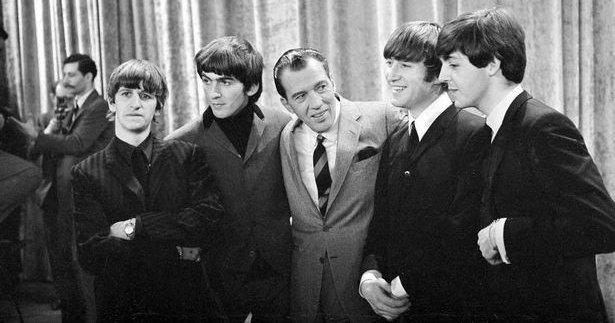 And it signalled a new era in entertainment. A telegram from Elvis Presley congratulating the Fab Four, read out live on the show by Sullivanm, was a landmark admission that he belonged to the past; The Beatles were the future of rock and roll. It all happened on the night of February 9th, 1964; a snapshot moment in American popular culture.
About the writer of this article – Mike Spadoni
Michael was a long-time contributor to Television Heaven from the earliest days of the site. A radio broadcaster and news presenter in Las Vegas, Michael began writing a weekly column on the website called 'Mike Spadoni's View from America'.
As well as his weekly column, Michael wrote reviews on many US made television series. His accuracy for details and his insightfulness was only matched by his passion for the TV shows he reviewed, and I was honoured to call him a friend.
We only met once while I was on vacation in Las Vegas. That was in 2015. Sadly, Michael was taken ill shortly after and fought a long and arduous battle with cancer, to which he finally succumbed in August 2017.
His articles on this website stand as a tribute to him. Michael Spadoni, one of the good guys in life. RIP my dear friend.
Laurence Marcus

Published on December 6th, 2019. Written by Mike Spadoni for Television Heaven.