The Importance of Being Earnest
1964 | United Kingdom
"the most enticing band of players that has ever swapped lines in a television studio"
Jack Worthing and the delicious Gwendolen Fairfax are in love. But the match is opposed by Gwendolen's mother, Lady Augusta Bracknell on the grounds that, though handsome and rich, Jack is a foundling, abandoned in a handbag in the left-luggage office at Victoria Station, and can offer no satisfactory family connections. Meanwhile, Jack's captivating ward, Cecily Cardew is living at his country house in the care of Miss Prism. Cecily believes that her guardian's younger brother, called Ernest - an invention of Jack's to escape to London - is always in scrapes. Further complications arise when Cecily takes Gwendolen's cousin, Algie Moncrieff to be Ernest.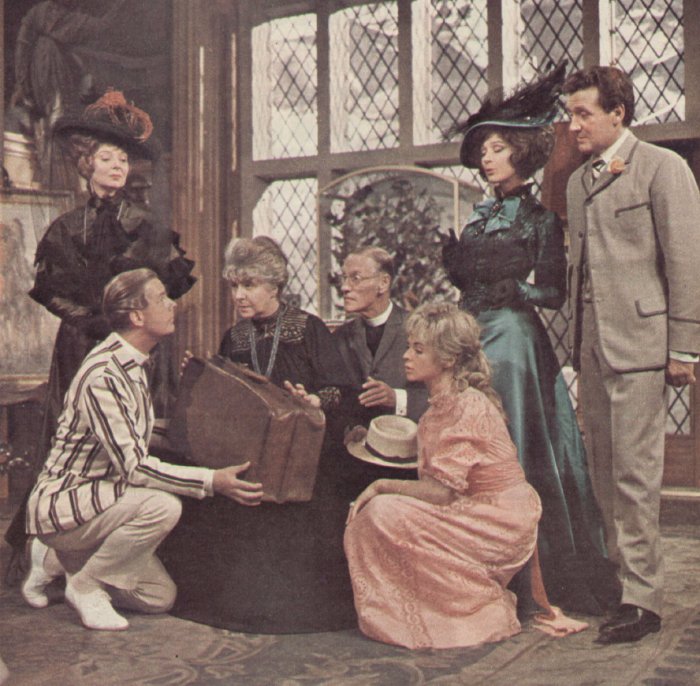 From the 1950s to the 1960s the TV play was very much the jewel in television's crown. For millions of viewers, Armchair Theatre was not only an essential part of Sunday night viewing in Britain, but an outstanding contributor of television production. This wasn't always the case. Television dramas had previously been adaptations of stage plays, but in 1958, ABC's drama producer, Sydney Newman, embarked on a plan to make Armchair Theatre as far as possible an all-British programme with every play specially written for the series and soon the tag 'domestic drama' became a running theme. So it was something of a departure for the series when, on Sunday 15 November 1964, Armchair Theatre presented Oscar Wilde's witty, elegant and absurdly funny classic, The Importance of Being Earnest.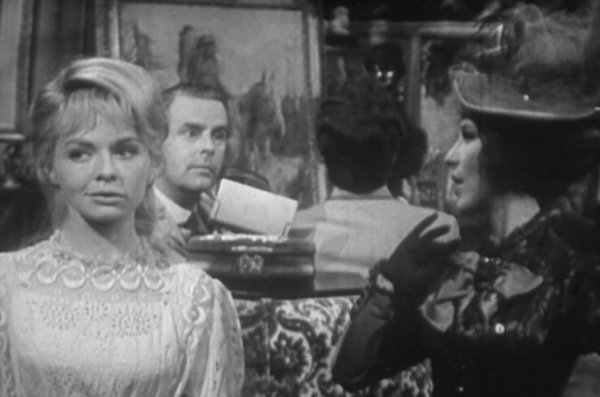 It was Programme Controller Brian Tesler's suggestion to Drama Executive George Kerr that the play should be presented in (what was another departure for the series) a 90-minute format. Sydney Newman had left for the BBC at the end of 1962 and Leonard White was now in control of Armchair Theatre. With the suggestion of Wilde's masterpiece there was one stipulation. The role of John Worthing, usually associated with classic actors, was to be played by the light comedy actor Ian Carmichael.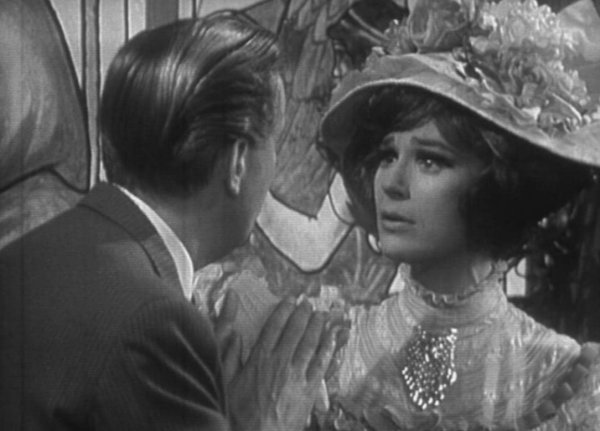 Carmichael, who was born in Kingston upon Hull, Yorkshire, had wanted to be an actor from a very early age. Though in those days, or so he told the TV Times in 1964, he was waging an inner battle, torn between wanting to be a great classic actor or a light entertainer. "I was never quite sure on which I should set me sights", he said. At the age of 17 he ran a small dance hall in Hull. "I played the drums really rather well - and the saxophone a good deal less well!" After leaving drama school, Carmichael made some early appearances on a wide range of television musical shows from Alexandra Palace, many of which he also directed, stage reviews, musicals and comedies as well as popular films such as Lucky Jim, School for Scoundrels and I'm Alright Jack.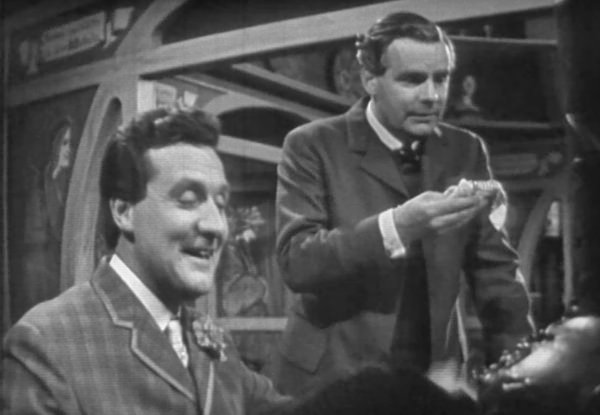 Cast as Algernon was Patrick Macnee, who was taking time out from playing John Steed in The Avengers. According to Leonard White, Macnee wanted an opportunity to make a change - 'to remind the 'biz' and probably himself that he could do other roles.' Cathleen Nesbitt, a grand dame of the theatre on both sides of the Atlantic, who was making a rare trip back to Britain from America, was cast to play Lady Bracknell, but a strike by the technicians union held up the production schedule and by the time it was resolved Nesbitt had returned to Hollywood where she was contracted to the comedy series The Farmer's Daughter (1963 - 66). She was replaced by Pamela Brown, who had appeared on Broadway in the 1947 production.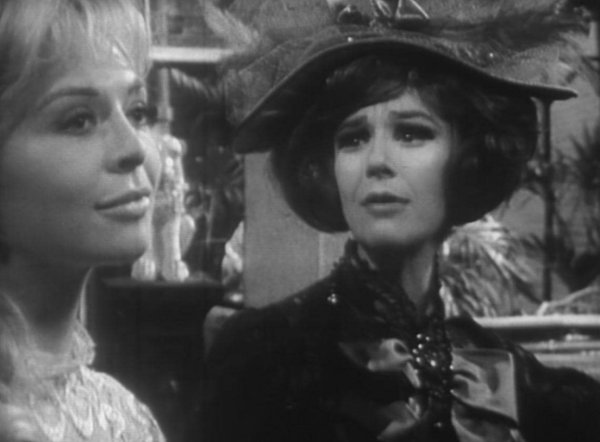 The star line-up continued with Susannah York as Cecily, Fenella Fielding as Gwendolen, Irene Handl as Miss Prism. Wilfrid Brambell (temporarily leaving behind the rag and bone world of Steptoe and Son) played Canon Chasuble. Charles Lloyd Pack and William Redmond were Merriman and Lane. Pre-publicity billed it as "the most enticing band of players that has ever swapped lines in a television studio."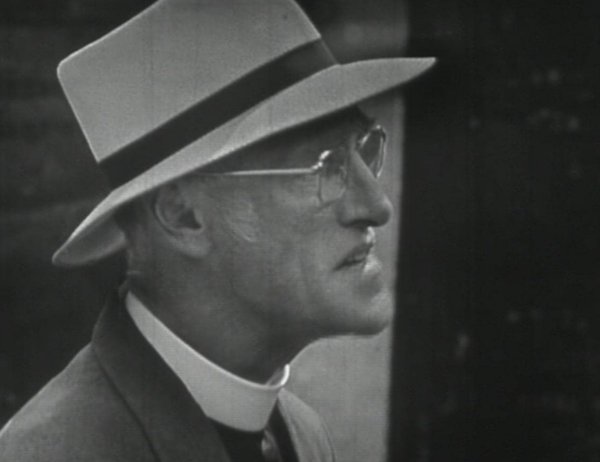 Australian Bill Bain (Manhunt, Callan, The Duchess of Duke Street) was responsible for direction and Assheton Gorton (The Martian Chronicles) was the set designer. Costume design was by Ambren Garland (The Avengers) and Margaret Morris.
Another rarity for this production was to film on location as nearly all of the Armchair Theatre productions had, to this point, been completely studio bound. The opening scene was shot at Maer Hall in Staffordshire.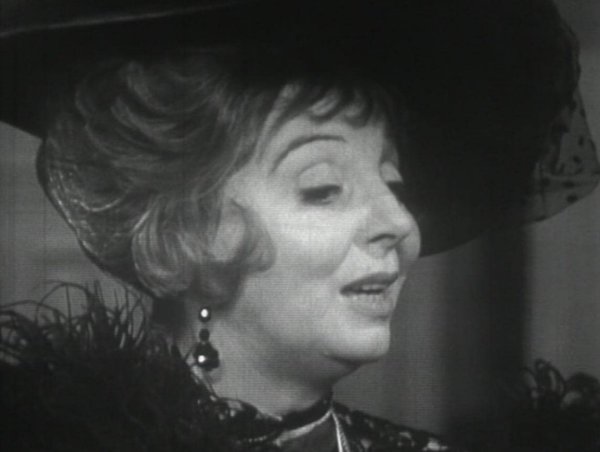 Critic Bill Edmund writing in The Stage was not overly enthusiastic, saying that Bill Bain's decision to 'break away from the expected artificiality of style and treat it more like a farce than a comedy' had advantages and disadvantages 'because much of the dialogue was thrown away. Perhaps he relied on a belief that everybody knew the play off by heart, and I was rather annoyed with Ian Carmichael and Patrick Macnee who opened the play. They began at such a rate that quite a lot of witty (and necessary explanatory) lines were lost.' He did, however, have praise for Pamela Brown as Lady Bracknell 'not least for the fact that she didn't imitate another well-known actress in her delivery of the historic "A handbag!"' He summed the whole production up with 'A new look for Wilde. Not altogether successful but it was worthwhile.'
Despite the all-star cast appearing in one of Oscar Wilde's most celebrated works, the television audience were not too enamoured by Armchair Theatre's change of fare. The audience for this play was down by a million viewers from the previous week. Even so, with 6,498,000 homes viewing, and coming in at number 12 in the National Top Twenty programmes watched that week, The Importance of Being Earnest could certainly boast being a success. It was the only single-play in the Top Twenty that week (ITV also offered a two-hour production of Crime and Punishment the following night). Only one BBC programme beat it, Miss World 1964, was placed 7th. According to Leonard White this version of Wilde's play 'probably entertained, at a single performance, a larger audience on that occasion than ever before - or, possibly, ever since.'
Published on March 3rd, 2022. Written by Malcolm Alexander for Television Heaven.