Noah Gives Thanks
1952 | United Kingdom
Described in The Television Annual for 1953 as a 'Slight' play, Eric Crozier's Noah Gives Thanks, at 60 minutes, was shorter than the usual television play length at that time. 
Noah, Sarah and Jeremiah live quietly in the old almshouses. Noah's 70th birthday is due to coincide with a visit from the Bishop and for the occasion, using his own savings and ingenuity he plans for the Memorial Chapel to be decorated with as many fruits, flowers and produce of the earth as he can muster. 
Broadcast live on 22 January 1952, with no telerecording having been made, it was repeated at the request of viewers at a time when The Beeb was finding it difficult to select appropriate programmes due to the fact that the country was in mourning with King George VI lying in state.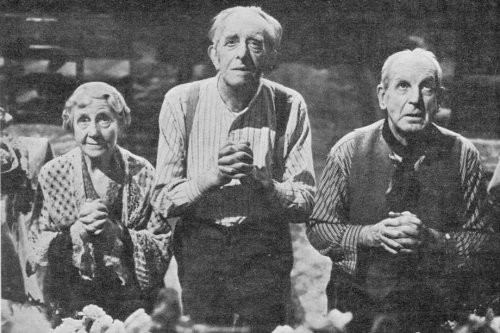 On both occasions Noah Gives Thanks caused what the 1953 TV annual describes as a 'furore'. "The BBC was bombarded with letters of enthusiastic appreciation and gratitude for this simple yet moving piece of drama; but the greater part of the bombardment fell on Herbert Lomas", the actor who played the part of Noah (pictured centre). At 66 years of age and a veteran actor of some forty years Lomas said "I have never known such fan-mail." 
Pictured with Herbert Lomas in a scene from the play are Mary Jerrold and Beckett Bould. Also in the cast, in one of his earliest TV roles, was Deryck Guyler.   
Published on April 5th, 2020. Written by Laurence Marcus for Television Heaven.