Out There
1963 | United Kingdom
It is 1915. Young Annie Hudd, in spite of her family's jeers, is determined to go to France to help the wounded soldiers. She is to suffer many setbacks before her ambition to become a nurse is realised. 
Thomas Hardy argued that "war makes rattling good history" - and in choosing four plays about the First World War, grouped together under the title For King and Country, ITV claimed it was combining history with entertainment. The plays reflected the phases and feelings of the four bitter years with their devastating new methods of warfare, disastrous casualties and sweeping social changes. In a war that for the first time moved into the air, brought tanks and gas into battlefield, endangered civilian populations and effectively, lastingly changed the role of women in the life of the nation, there was much for artists, poets, dramatists to pass on to prosperity. 
The series started in the first week of August 1963 - 49 years after that fateful week of 1914 when Britain's declaration of war against Germany on the 4th set racing a fever of patriotism and urgent recruiting drive. In the first, buoyant phase we see in Out Thereby Irish born American dramatist J. Hartley Manners, who started his career on the English stage and reached his peak with "Peg O' My Heart." Manners wife, Laurette Taylor, originally played both Peg and the heroine of Out There, Annie Hudd-the part taken in this production by Jennie Linden.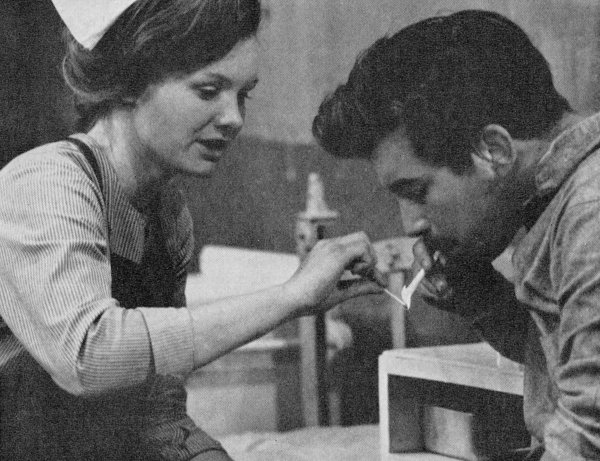 The play concerns Annie's driving determination to do her bit for the war effort and her ambition to get to France, where, with the help of Dr. Hanwell (Frank Gatliff) she is able to work in a hospital. Later she embarks on a fiercely patriotic drive, having already pressed into uniform her reluctant brother, Herbert Hudd (James Bolam). 
23-year old Linden was born after the outbreak of the Second World War and was tucked safely away in Wales with her mother and sister until it was over. "So I don't remember a thing about bombs or fighting," she said, "and really until I saw the script and started to ask around I knew nothing of the First World War." On her part Jennie said: "Annie is plain and, well normally perhaps I look rather flouncy blonde, so I have a brown wig with a bun-marvellous. It makes me look entirely different and helps a lot with the part. 
Also among the cast were Christopher Beeny, Jack Woolgar, Joan Hickson, Fulton MacKay and the part of the 'Canadian' was played by Donald Sutherland. Other plays in the "For King and Country short series: Part Two-The Barricade Part Three-Tunnel Trench Part Four-The Enemy.
Published on April 4th, 2020. Based on original TV Times article and adapted.