The Education of Corporal Halliday
1967 | United Kingdom
Armourer Class Two-promoted Corporal last year-passed four 'O' Levels-gained 'A' Levels in English Lit., Economics and Political History in three years since commencing service. 
For Corporal Halliday a life's ambition looks like being fulfilled, but where does it lead him? Was he too young to make up his mind?
The Education of Corporal Halliday tells the story of a young soldier who, having studied in his spare time, has been awarded a place at Bristol University. He wants to buy his way out of the army but as an ex-apprentice soldier he is not allowed to do this until he has served six years. And Corporal. Halliday has served only three. He is unhappy in his army job, but regulations are regulations.
Halliday is desperate enough to try anything in his bid for freedom. Gary Bond, who had the title role told TV Times magazine in August 1967; "It wasn't difficult to feel the same way as Halliday - though not in the army. Everyone at some time comes up against the unbreakable, unshakeable barrier of authority. It may be licensing laws-or London's parking regulations. We're surrounded by red tape-enmeshed in it. No good trying to rip our way out-we'd only end up entangled."
George Sewell played Sergeant. Graham, armourer at the battalion workshop. "Weapons fascinate me," said George. "Especially really old ones, flint-lock pistols and that sort of thing. I also collect head-dresses and helmets. I have around 30, some of them quite rare.
This Armchair Theatreproduction was transmitted simultaneously on all ITV regions.
Alice Frick - critic of 'Stage and Television Today' wrote: "Gary Bond was first rate…George Sewell was equally fine."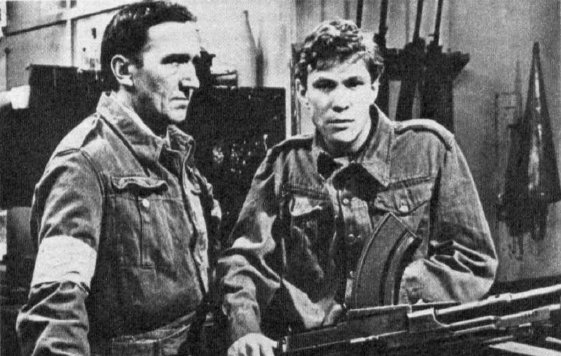 In late August 1972, Bond created the role of Joseph in Tim Rice and Andrew Lloyd Webber's musical Joseph and the Amazing Technicolor Dreamcoat at the Edinburgh International Festival. He later joined the London production to great acclaim. He later succeeded David Essex as Che Guevara in Evita. On television Bond also appeared in a number of popular series including The Avengers, Z Cars, and Bergerac, the latter of which was his last TV appearance. Five years later (in 1995) he passed away from an AIDS related virus.
George Sewell was a prolific television actor who appeared in over 100 productions. His first on-screen role was in the cinema in 1963 in 'This Sporting Life.' He made 4 movies in that year including 'Sparrows Can't Sing' in which he played bus driver Bert, Barbara Windsor's live-in-lover who worries about losing her when her husband is released from prison. Sewell often played 'the heavy' or a police officer in a numerous series including Z Cars, Spindoe and Special Branch. He also appeared in Gerry Anderson's UFO and in the Doctor Who story 'Remembrance of the Daleks.' Sewell passed away in 2007 at the age of 82.

Published on December 12th, 2019. Play details adapted from original TV Times article 1967.