The Jetsons
1962 | United States
The Jetsons was basically The Flintstones some three thousand years in the future. After the huge success of the former, Hanna-Barbera Studio, not unreasonably considered that if a modern stone age family could be such a huge hit with viewers, then why couldn't a modern space age family repeat that success. It didn't quite pan out that way.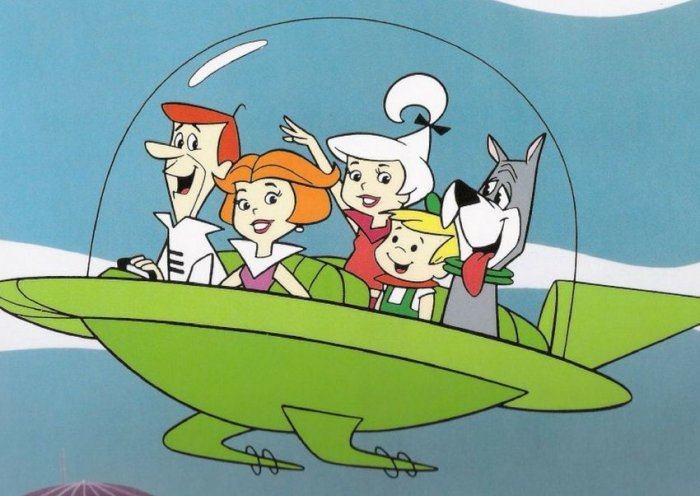 Set approximately in the year 2062 (one hundred years into the future - the show's original run consisted of 24 episodes that first aired on ABC in America from September 23, 1962) the nuclear family makeup was not unlike that of Fred and Wilma Flintstone. Head of the working-class household was George Jetson (voiced by George O'Hanlon), holder of the post of Digital Index Operator at Spacely Space Sprockets, a company owned by Mr Cosmo G Spacely (Mel Blanc - Barney Rubble in the previous show). His shopaholic wife was Jane (Penny Singleton), the mother of their two children Judy (Janet Waldo - Penelope Pitstop in Wacky Races) and Elroy (Daws Butler - previously the voice of Yogi Bear). They even had their own 'Dino' in the form of a dog called Astro and later still the alien household pet Orbity. The additional member of the 'family' was Rosie, a robot that helped with the household chores (voiced by Wilma Flintstone herself, voice actress Jean Vander Pyl). Rosie had her own personality that was more identifiable to a 21st century audience in that it was more human than programmed - one episode even attempted to find her a robot mate!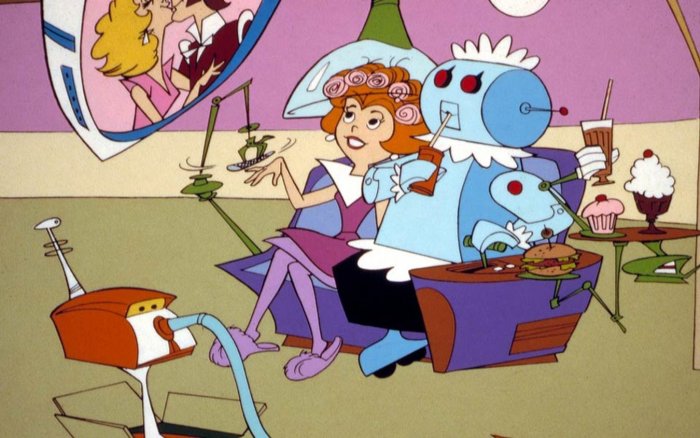 The Jetsons were equipped with every convenience and gadget that a futuristic family could imagine - in the very least every gadget that the 1960s writers could dream up. But how insightful were they? As well as a number of labour-saving devices that would not seem to be out of place today, food comes out of a push-button machine; the foodaracacycle (microwave anyone?), a robot vacuum cleaner picks up dirt, Jane keeps fit on a treadmill whilst watching a flatscreen television, George reads his daily newspaper on a tablet, a tanning bed is seen in one episode and a repairman uses a piece of technology called 'Mac'. And although we are still to see atomic-powered airmobiles and an apartment that raises and lowers depending on the weather, who's to say they won't eventually become reality?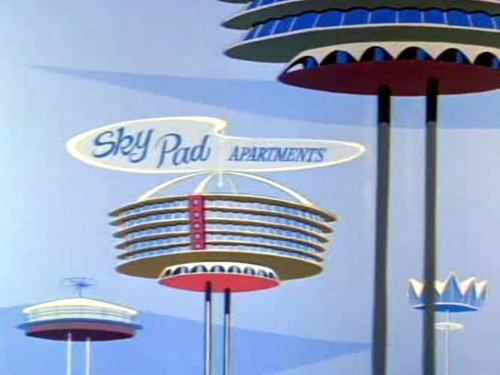 George works three one-hour workdays although he is constantly under the threat of losing his job with his boss bellowing at him in frustration "Jetsooooooon!" which is often followed by "you're fired!" In the end though, George always finds a way to keep his job. Judy is perfectly identifiable as a teenage girl who is more interested in music and fashion than school work and Elroy, the youngest member of the family, is interested in superheroes and (this being made in the 1960s) television westerns. However, as any millennial will tell you about their own children, he has a better understanding of computers and other technical gadgets than his parents.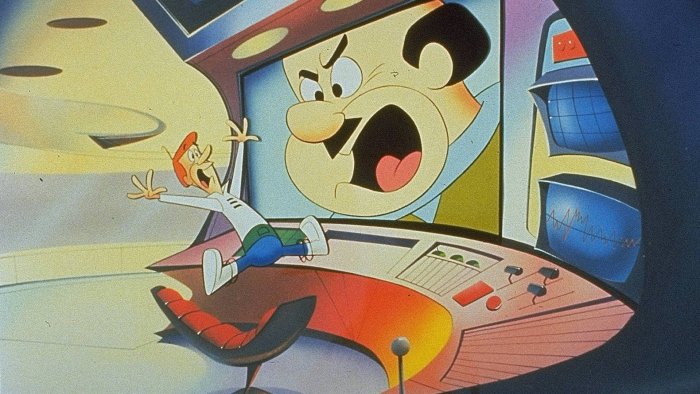 Where the show initially failed was in its scheduling. Put on opposite sure-fire rating winners Walt Disney's Wonderful World of Color and Dennis the Menace in a Sunday night time slot, the viewing audience was disappointing to say the least. After those 24 episodes it was cancelled. And that's when it became successful. ABC began broadcasting reruns to an adolescent Saturday morning audience for the 1963-1964 season where it spent the next two decades. With subsequent runs on CBS and NBC it began airing simultaneously in syndication and earned the distinction of being one of the few series to have aired on all three major television networks in the USA.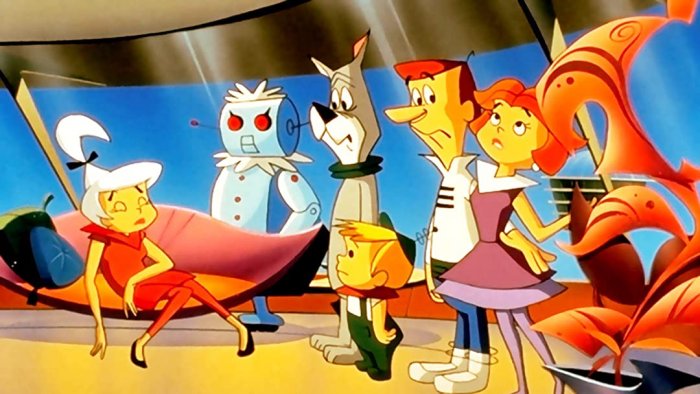 Having proved to be phenomenally durable over the years, in 1985, over twenty years after its debut, 41 new episodes were produced for syndication until 1987 with most of the original actors returning to give voice to their characters. In 1990 a film - Jetsons: The Movie (the last theatrical film to be directed by William Hanna and Joseph Barbera) served as the series finale to the television show grossing $20.3 million on a budget of $8 million during its theatrical run. Despite a relatively healthy return, the movie was much criticised by critics at the time with Charles Solomon of the Los Angeles Times slating the filmmakers for not deciding "whether they're making a with-it musical for teenagers or recreating the ingenuous humour of a '60s TV show". A sad epitaph for a series that Time magazine called "silly and unpretentious, corny and clever, now and then quite funny."
Published on April 1st, 2022. Written by Marc Saul for Television Heaven.