The Photographer
1968 | United Kingdom
In Kenneth Jupp's play, Robert Stephens plays fictional top fashion photographer Bryan Baker, whose pictures influence thousands of women, just as he could also influence, mould and make famous a model whose looks might capture his imagination. One model in particular, until her suicide three weeks earlier, was Joanne, the girl currently on nearly every hoarding and magazine cover and, in Baker's studio, in a huge portrait he comes across as he finishes work for the day. Clearly the portrait disturbs him. 
Baker's assistant Gerry (Derek Jacobi) and secretary, Anne (Mary Miller), are anxious on his behalf. For already his life of nervous tension is telling. The work may have an aura of glamour but, contrary to popular belief it's a world of hard grind. It is an alien world to Grace (Susannah York), Joanne's sister, a shy country school teacher who arrives to see Baker. Grace is fascinated by the influence Baker had on her sister's life and wants to see for herself this strange, highly charged environment that had been her sister's making-and undoing.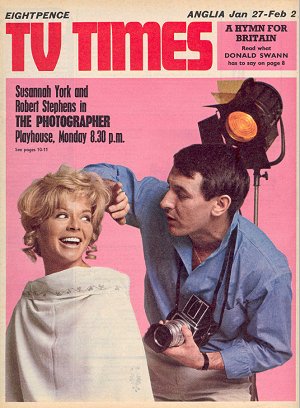 Authenticity was given to the play by having the then current top London fashion model, (and later 'Vogue' cover girl) Paulene Stone appear in the opening scene (being photographed by Baker) and the play's author, Kenneth Jupp, knew the fashion scene well as his own wife, American Debbie Condon, the daughter of Richard Condon, who wrote 'The Manchurian Candidate,' was a top fashion model at the time. She too was seen in the play, though not in person. 
The portrait of Joanne was Debbie, photographed by world-renowned photographer Norman Eales. Similarities were drawn to the 1966 Antonioni movie Blow-Up but Jupp was quick to point out that he wrote The Photographer before Blow-Up was made. 
Produced by Anglia Television The Photographeralso starred Cyril Luckham, Veronica Carlson, David Nettheim and Hoima MacDonald (the first Cadbury's Flake girl). Broadcast on Thursday 29th January 1968 at 8.30pm as part of ITV's Playhouse strand.   
Published on April 4th, 2020. Based on original TV Times article and adapted.