Topper's Tales
1978 | United Kingdom
Written and told by Julian Orchard, Topper's Tales were inspired by Canadian illustrator and author Palmer Cox's comic strips about mischievous but kind-hearted sprites, which were originally published in 1879 under the title of The Brownies.
Cox's Brownies were little men who had adventures together and one of them, Cholly Boutonniere, who wore a top hat and monocle, was chosen by Orchard as the 'story teller'. Other Brownie characters included Scottish, Irish, German, Swedish, Turkish and Chinese characters all in traditional dress, as well as a Native American and an Eskimo. According to Roger Cummins' Humorous but Wholes. A History of Palmer Cox and the Brownies "Much of the success of his books can be attributed to his treatment of the characters, who portray human nature with its goodness and strength and also its follies, but never its baseness."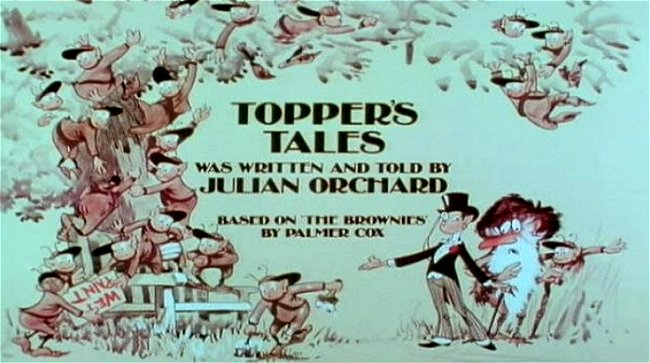 Cox's characters proved so popular that the Brownie camera was named after them. 
This 10-minute lunchtime children's series, made by Yorkshire Television, was introduced by Topper as "an account of myadventures" and was illustrated by Peter Parr. A paperback book, written by Julian Orchard was published in 1980.  

Published on November 15th, 2019. Written by Laurence Marcus for Television Heaven.