Two Pints of Lager and a Packet of Crisps
2001 | United Kingdom
Two Pints of Lager and a Packet of Crisps takes its title from the 1981 hit single sung by Splodgenessabounds. It is probably the only sitcom to be based in Runcorn but that's where series creator and writer Susan Nickson was born.
Nickson, had won the Lloyds Bank Film Challenge when only 14 years old with a ten-minute short film called Buddah's Legs. The Channel 4 comedy Life's A Bitch (starring Kathy Burke and Sean Hughes) followed, and at the age of 18 this promising young writer was signed by the BBC. They probably didn't expect to see the signing lead to a sitcom that would last a decade.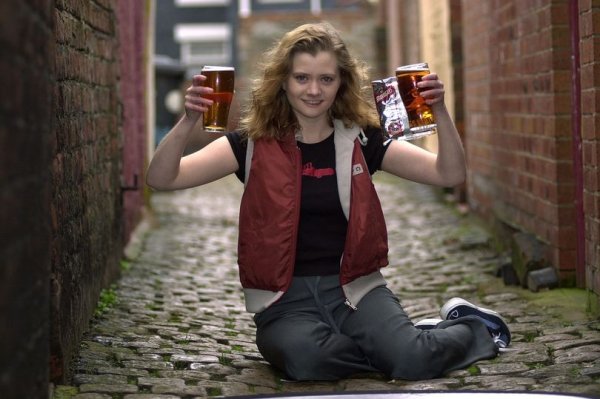 Created whilst Nickson was still a student, Two Pints of Lager and a Packet of Crisps is the ongoing story of two couples (Jonny and Janet and Donna and Gaz), their friends and a pub that seems to continually show horse racing on the big screen. A key part of the series is the incredibly rude but hilarious script. Not quite Mrs Brown's Boys though, the F word only ever uttered once during the last episode of each series.
A key reason for the success of this sitcom was the fantastic casting. Natalie Casey (Donna) and Will Mellor (Gaz) had previously been playing a couple in Hollyoaks. Sheridan Smith (Janet) and Ralf Little (Jonny) had been successful in The Royle Family and the fact the leading actors had acted together in the past is seen here. Their friend Louise is played by Kathryn Drysdale who had been seen performing at a drama school.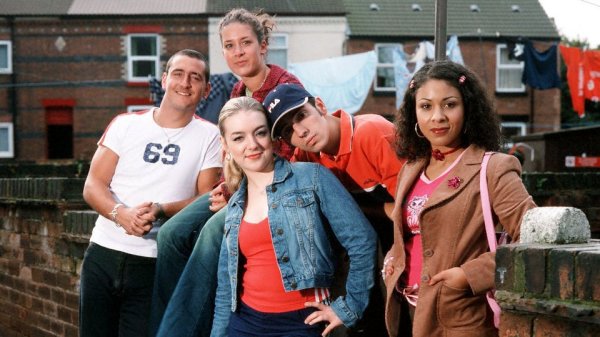 It's so much better when each episode has its own title. This series excels in this department with some cracking titles. The fact the very first episode has the title 'Fags, Shags and Kebabs' just about sums the series up. Over the years we get more classic titles such as 'On the Blob,' 'Homeless and Horny' and 'Here Bums the Bride.'
This was a series that wasn't scared of trying to do something a little bit different. The fourth series had a dramatic ending with Jonny being shot by armed police. A viewer's vote was held to decide if he'd survive the shooting.
When the next series began, viewers were concerned to see a funeral taking place, but it was Donna's mother (Beverley Callard) who had died. This series wasn't afraid to be serious too. Gaz spends time in a coma and there's the sadness of Janet and Jonny splitting up.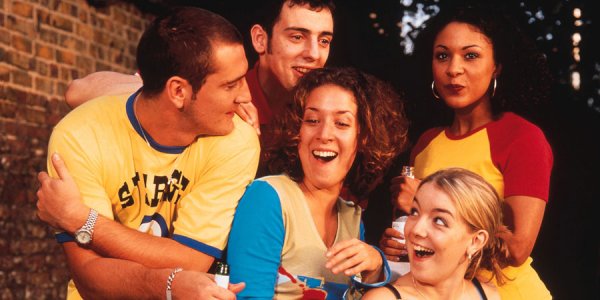 Then there was the musical episode in 2003. Considering the success that Smith and Casey have had in musical theatre, it's not surprising this was a huge triumph. Some great lyrics including "get your coat you stupid cow," "I've always had massive tits" and "We need slags."  Those are the cleanest ones! Not quite Tim Rice, who as far as I know never suggested a lyric with the words 'tit wank" to Andrew Lloyd Webber or the male members of Abba. Then again, he's probably never been involved with a song about biscuits either.
As with many long-running series, there were several cast changes over the years. Ralf Little left after series six with Smith and Drysdale departing after the eighth. At least they didn't bring in new actors to take over the roles.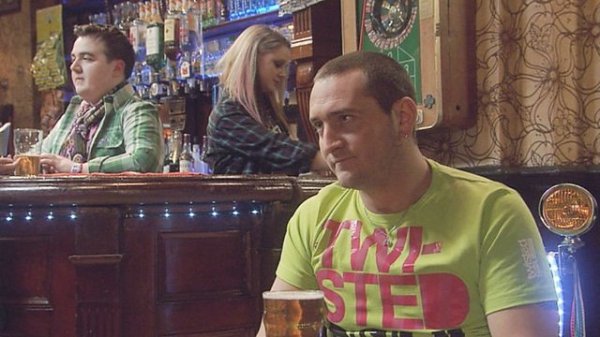 By the time we got to the ninth series, it was almost a different show and Nickson (who appeared briefly in one episode of the show, as a patient waiting to be seen in A&E while Gaz and Jonny were both patients) had stopped writing for the show after series eight. It wasn't surprising therefore that was the last series. Nickson went on to be an executive producer for Fox, BBC America, NBC and ABC. In 2017 it was reported that she and Tim Dawson (creator and writer of BBC Three sitcom Coming of Age) were writing a script for a new Carry On film, which had been due to go into production in 2020.
There continues to be calls for a reunion of Two Pints of Lager and a Packet of Crisps. The closest we have come was a planned one-off special in 2021 which had to be cancelled due to the Coronavirus outbreak. However, Will Mellor and Ralf Little reunited and starred in a podcast 'Two Pints with Will & Ralph.' Currently available on DVD and 'BBC iPlayer, this is a series well worth watching, though probably not with your grandma.
About the Reviewer: Steve Ashfield
Steve was probably born watching television. Great fan of everything from comedy to Christmas shows. Loves writing about the great shows of the past.
Published on March 18th, 2021. Written by Steve Ashfield for Television Heaven.