Wyatt's Watchdogs
1988 | United Kingdom
Review by Brian Slade
Ask most fans of classic British comedy what they recall of Brian Wilde and Trevor Bannister, they will most likely return the same answers. For Wilde, while some will remember him for prison officer Mr Barrowclough in Porridge, the majority will recall his years as Foggy in Last of the Summer Wine, a role that spanned more than 20 years. For Bannister, despite his vast stage credits and hundreds of other roles, people will normally recall Mr Lucas, verbally and physically jousting with Mollie Sugden as Mrs Slocombe in Are You Being Served?
In 1988 however, these two stalwarts of British comedy acting crossed paths for the second time in their careers in a short-lived comedy called Wyatt's Watchdogs, penned by former punk band singer Miles Tredinick and directed by Last of the Summer Wine producer and director Alan J.W. Bell.
Tredinick had written a comedy, with an initial title of Every Street Should Have One, focussing on an ex-military man attempting to run a Neighbourhood Watch scheme. When Alan J.W. Bell began casting the show, he recommended Wilde for the lead role of Major John Wyatt and it was one that fitted him perfectly. Wilde had left Last of the Summer Wine in 1984. After nine years of playing Foggy, he felt that it was time to try something new. Alongside Major Wyatt, sparring with him constantly, was the womanising alarm system salesman Peter Pitt, played by Bannister. Bannister had been working consistently in the theatre, his real acting passion, but since departing Are You Being Served?had not found a starring vehicle on screen bar a one-off pilot called Call Earnshaw that didn't get taken up.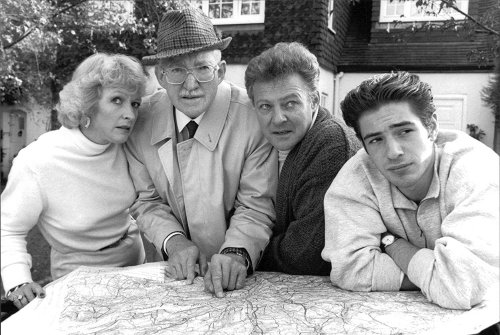 The premise Wyatt's Watchdogs is that Major Wyatt, well retired from his military days, has taken it upon himself to form a Neighbourhood Watch scheme in the quiet and affluent village of Bradly Bush after his sister was the victim of a burglary. Wyatt's team are at best, inefficient. Wyatt clashes frequently with Pitt, whose interest is limited to sales of burglar alarm systems and the women that might come along in the process. In Bannister's own summation of the characters, 'he hates me and I can't stand him.'
Wyatt's creation of the group is his own doing, so his lack of involvement of the appropriate authorities leads the group to be poorly supported and badly organised. He remains reluctant to go through the proper channels, or indeed admit to his failings, but that doesn't stop him attending the village hall to hear a talk from the local Crime Prevention Officer, nor from pursuing his desire to access marking and engraving equipment owned by the local police.
Wyatt is, in Wilde's summation, 'a pompous old fool.' He attempts to map out the neighbourhood on a recruitment drive, highlighting his own home as a kind of military HQ, and he consistently attempts to use his World War Two past as a means of beating down opposition to his plans – his way is best. He represents himself, unsuccessfully, in a legal challenge to have travellers moved on from the village, and he sets up a lookout in a pottery shed as he insists to his group that military techniques are the way to catch the thieves who have been robbing neighbours Mr and Mrs Lawton.
Wyatt's ego is further driven by rivalry. Other Neighbourhood Watch schemes are expected to marvel at the crime prevention video that his team will create, and there is a rivalry with a neighbouring village for the prettiest village competition that Bradly Bush is consistently beaten in.
Tredinick initially created Wyatt's Watchdogs to focus on Major Wyatt entirely, but after securing Bannister as Peter Pitt, he expanded the role from the minor one which it was initially intended to be. As a result, Bannister excels as the rebellious member of the group, always keen to burst the bubble of pomposity permanently generated by the Major. Wilde plays Wyatt himself in a very similar style to his most famous character, Foggy, permanently trying to convince those around him that he has the answers to all of the problems facing him when in reality, his stoic arrogance inevitably leads to his failure.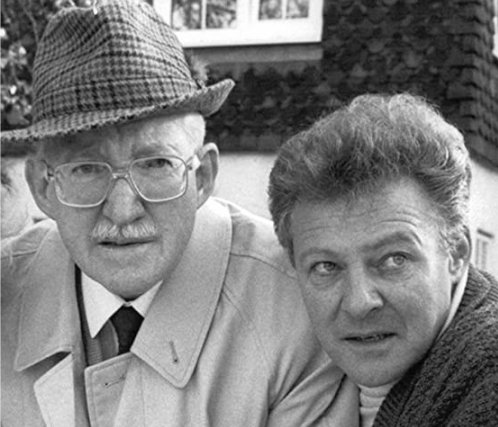 Wyatt's Watchdogs aired on Mondays at 8pm, competing with ITV's The Benny Hill Show which even in 1988 was still a viewing success. It is entirely possible that it would have fared better in a slot more similar to Last of the Summer Wine, with a Sunday evening more suited to a gentler style of comedy. Bannister certainly felt that Wyatt's Watchdogswas a welcome relief from the alternative comedy that was clogging the network at the peak of the decade's rebelliousness. He felt that such comedies were, 'terribly juvenile and undergraduate, with a lot of swearing disguising old material.' He also knew a thing or two about Neighbourhood Watch schemes, co-ordinating his own group in Thames Ditton, just a few minutes from where Wyatt's Watchdogs was filmed.
If one were to criticise, it is possible that Wilde struggles to escape Foggy as he tries to enforce his opinions on the rebellious group around him with military precision and much reflection from his years of wisdom. That shouldn't detract from the definite comic chemistry between he and Bannister, who first worked together on The Dustbinmenin the late 1960s.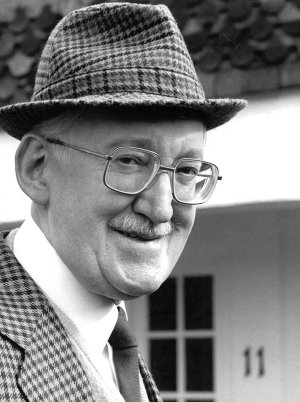 By 1990, Wilde had been offered the opportunity to return to the Last of the Summer Winefold, and there would certainly be no way the two characters could be on our screens at the same time, so Wyatt's Watchdogs was condemned to a single series. The BBC have developed a habit of keeping some programmes from the 1980s under wraps, and Wyatt's Watchdogs is one such victim, with no apparent repeats or releases since its original run in Autumn of 1988. What still exists in the public domain is certainly worthy of comedies of its time and it certainly does not detract from the careers of its two leading stars. Maybe one day, the Major and his band of incompetents may yet be given a deserved return.
Brian Slade
Born and raised in Dorset, Brian turned his back on a twenty-five-year career in IT in order to satisfy his writing passions. After success with magazine articles and smaller biographical pieces, he published his first full-length work, `Simon Cadell: The Authorised Biography'.
Brian is a devoted fan of the comedy stars of yesteryear, citing Eric Morecambe, Ken Dodd, Harpo Marx and Dudley Moore amongst his personal favourites. He was drawn to the story of Simon Cadell through not only `Hi-de-hi!' but also `Life Without George', a programme he identified with having grown up in the Thatcher era. 
Published on May 13th, 2020. Written by Brian Slade for Television Heaven.