Bob Hope was a one-of-a-kind entertainer. Vaudeville, stage, film, radio and television-he did it all. Friend to presidents, pal to soldiers in battle, master of the quick one-liners. His performances won him the admiration of such comedians as WC Fields, Charlie Chaplin and Woody Allen. When he died at his Southern California home on July 27th, 2003, aged 100 years old, surrounded by wife Dolores and their children, many of us felt as if we had lost a good-natured, funny, upbeat and down-to-earth friend. It's unlikely we'll see the likes of this British-born, but all-American actor and comic again. 

Born Leslie Townes Hope in Eltham, South London, England on May 29th, 1903, the family moved to Bristol before immigrating to Cleveland, Ohio, five years later. By 1920, he had become an American citizen and gone through several careers, (including that of a boxer) before taking up dance lessons and starting his showbusiness career (at the age of 17) as one half of a comedy dance act in vaudeville.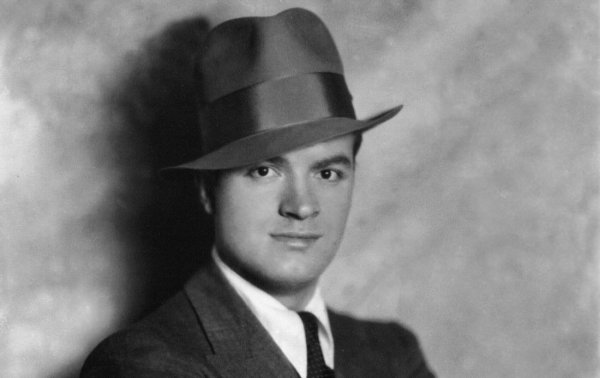 Seven years later, he and comic partner George Byrne made their Broadway debut in "Sidewalks of New York". One year later, the two went their separate ways. In 1929, Lester Hope changed his stage name to Bob Hope. His first film was a short feature, "Going Spanish" in 1934. Two years later, he introduced the Cole Porter classic "It's De-Lovely" in the Broadway musical "Red, Hot & Blue".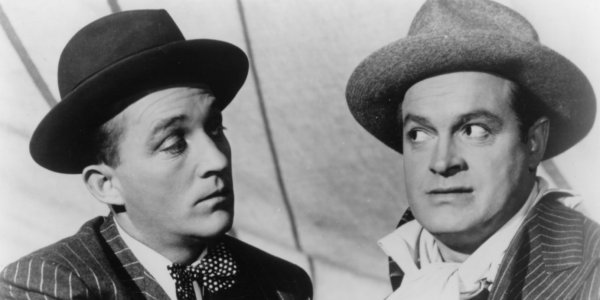 His film career-more than 60 of them including the seven famous "Road" pictures with Bing Crosby"-would continue through the mid-1980's. Although he won honorary Academy Awards, Hope never won a competitive category at the Oscars. Still, he hosted, co-hosted or was a presenter at the event more than 20 times between 1939 and 1978. (A 1989 Oscar night appearance with Lucille Ball, one of his favourite female co-stars, showed the two in top form. Sadly, it would be Ball's last television appearance before her death a short time later.)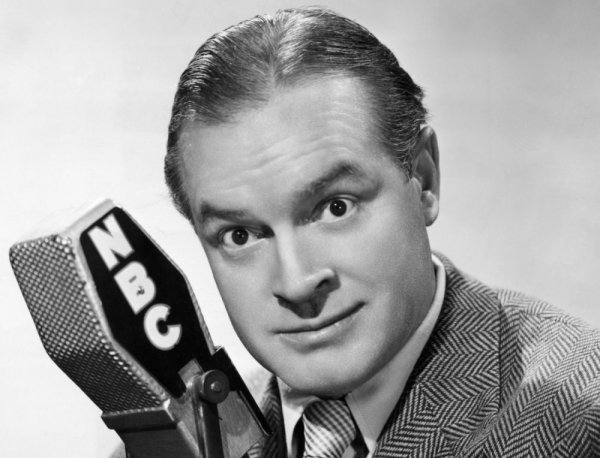 Hope first appeared on radio in 1932, but it wasn't until 1937 when NBC Radio signed him to host the "Woodbury Soap Show"; it lasted 26 weeks. It was the beginning of a record 60-year association between Hope and the National Broadcasting Company. 1938 would prove to be a vintage year for the comic. He appeared in the film "The Big Broadcast of 1938", where he introduced what would become his theme song "Thanks for the Memory". Also that year, Hope returned to radio as the host and star of NBC's "Pepsodent Show", making it the highest-rated radio program on the air (and selling a lot of toothpaste in the process). Every Tuesday night, Hope would do a topical monologue on issues and events of the time (thanks to a staff of talented writers that included Sherwood Schwartz (who later created Gilligan's Island and The Brady Bunch); and Larry Gelbart. (To his credit, Hope gave public thanks to his writing staff for supplying the humour that kept him on top.)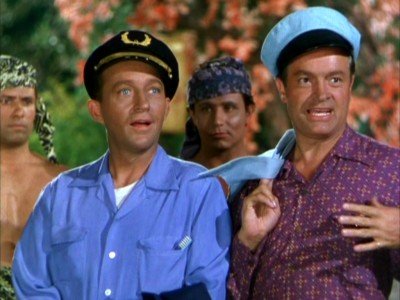 Hope would joke with his guests and feature such singers as Doris Day and Judy Garland on his radio shows. (He also poked fun at his sponsor; on one show he urged listeners to "use Pepsodent twice a year, see your dentist twice a day".) Hope also proved to be a bit naughty; on a 1940's show, Dorothy Lamour joked that she was pulling the comic's leg. Hope's response: "Dottie, you can pull my left leg and you can pull my right leg, but don't mess with Mr. In-Between!"
In all, an estimated 88,000 jokes-all alphabetized and cross-referenced by Hope himself-were kept in file cabinets at his home; (those quips have been donated to the Library of Congress.) But the rise of television ended Hope's radio era; his final radio broadcast came in 1956.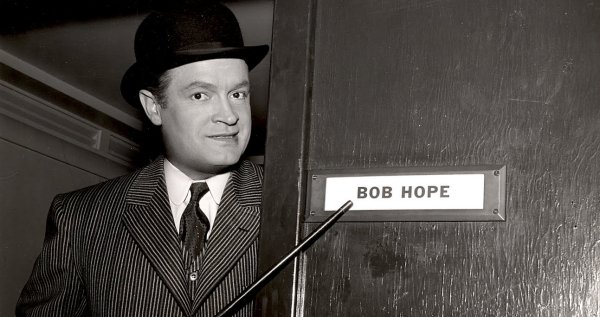 Hope's first television appearance actually goes way back to a 1932 experimental station owned by CBS. In 1947, he was a featured star on the first commercial television broadcast on the West Coast (it was the launch of KTLA in Los Angeles, then owned by Paramount Pictures, Hope's movie studio.) In 1950, Hope appeared on NBC for his first national special-an Easter Sunday show sponsored by Frigidaire appliances. It was essentially Hope's radio show with cameras, but it was a tremendous success. More specials followed; Hope kept people interested in him because he wisely avoided a weekly series for many years; in the 1950's and early 60's, he would appear on TV once or twice a month. His only stab at a regular series came in 1963 with Bob Hope Presents the Chrysler Theater, weekly hour-long dramas with the traditional Hope variety special airing once a month. 
After Chrysler Theater went off the air in 1967, Hope would continue to do dozens of specials for NBC; his last appearance came in 1996, ending Hope's six decade relationship with the Peacock Network. Sadly, by that time his health began to deteriorate; the fast quips were not as speedy as they once were, and Hope's use of cue cards-a well-known fact-became all-too-familiar to viewers.
Hope's TV specials, for the most part, didn't vary much. Familiar stars would be featured alongside new talent, a few sports figures and the latest female "sex symbol" who would make jokes at Hope's expense.
But viewers loved them.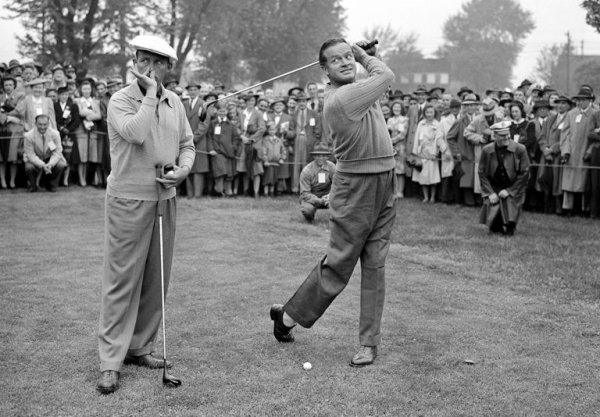 Many American veterans owe Bob Hope a great thanks for his efforts to keep them entertained in times of war. It began in May 1941, when Hope brought his radio show to March Field in Riverside, California. It gave a boost to morale just months before the U.S. became involved in World War II. From that point on, Hope took his USO shows to bases and war zones in Europe, Africa and the Pacific Rim. Hope's shows for the military went far beyond World War II; over the years he also went to entertain the troops in Korea; Vietnam; Lebanon and the Persian Gulf.
1990 would turn out to be his last overseas visit "for the boys". He also took his shows to American bases every Christmas for more than two decades; more often than not, the televised shows were among the highest-rated specials of their respective seasons. During the Vietnam years, however, opponents criticized Hope for his support of the conflict. At one point, responding to his critics, Hope lashed out, saying "How can anyone who has seen war, who has seen our young men die, who has seen them in hospitals, possibly love war? War stinks!"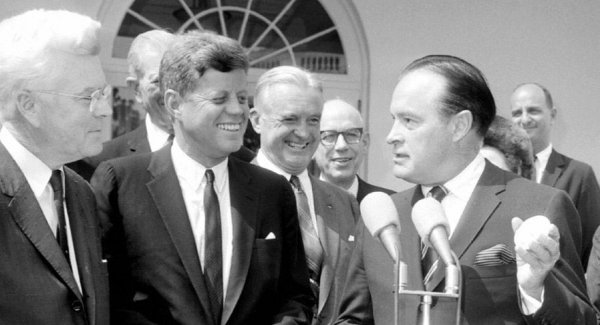 Starting with Franklin Roosevelt, Hope became a pal to U.S. presidents. His jabs at FDR and other commanders in chief pricked but never hurt. Although his personal politics leaned toward Republican conservatism, Hope was to the public the bipartisan clown jester who got laughs at the expense of the party in office. Roosevelt's fireside chats; Harry Truman's piano playing; Dwight Eisenhower's love of golf; John Kennedy's youth; Lyndon Johnson's Texas roots; Richard Nixon's Watergate woes; Gerald Ford's alleged lack of athletic skills; Jimmy Carter's Southern upbringing; Ronald Reagan's age; George Bush Senior's dislike of broccoli; and Bill Clinton's prowess with the saxophone-all were fair game for Mr. Hope.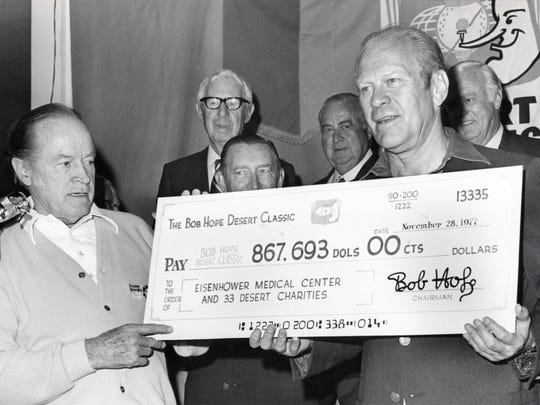 Bob Hope was a tireless worker for charity who visited the UK on many occasions appearing on both television and the stage (including several Royal Variety Performances at the London Palladium) and was, for many years, associated with the charity golf event The Bob Hope Classic. Despite his ill-health he continued to raise money for good causes well into his nineties. He wrote several well-received biographies including "I Owe Russia $1200" and "The Road to Hollywood".
In 1976 he was rewarded by the Queen with an honorary CBE, followed two years later by an honorary knighthood.
Bob Hope's success came because he wasn't a great intellectual whose humour went over everyone's head. He was simply Bob, the nice guy who we invited into our homes on a regular basis when we needed a laugh or two. And when the nation needed to smile, he was there too. He was rarely outstanding in any one field, but he was-at his best-consistently good at just about everything he tackled.
For so many Americans (and fans around the world), "Thanks for the Memory" is not just Bob Hope's theme song; it's also a heartfelt feeling that continues to resonate.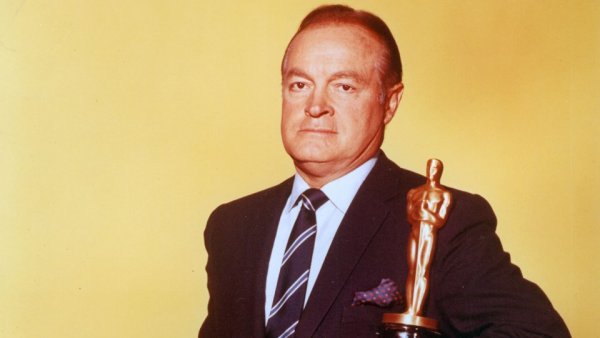 About the writer of this biography – Mike Spadoni
Michael was a long-time contributor to Television Heaven from the earliest days of the site. A radio broadcaster and news presenter in Las Vegas, Michael began writing a weekly column on the website called 'Mike Spadoni's View from America'.
As well as his weekly column, Michael wrote reviews on many US made television series. His accuracy for details and his insightfulness was only matched by his passion for the TV shows he reviewed, and I was honoured to call him a friend.
We only met once while I was on vacation in Las Vegas. That was in 2015. Sadly, Michael was taken ill shortly after and fought a long and arduous battle with cancer, to which he finally succumbed in August 2017.
His articles on this website stand as a tribute to him. 

Published on December 16th, 2019. Written by Laurence Marcus for Television Heaven.